Special from
Zoo Tennis
CARSON, Calif. - Although their final steps were markedly different, two No. 13 seeds captured their first ITF Grade 1 titles last Sunday in the International Spring Championships at the Stubhub Center. Brandon Nakashima breezed through his final with a 6-0, 6-0 victory over No. 2 seed Tristan Boyer, while Hurricane Tyra Black came from behind for the second straight match, beating No. 5 seed Georgia Drummy of Ireland 6-7(6), 6-4, 6-1 in the championship contest.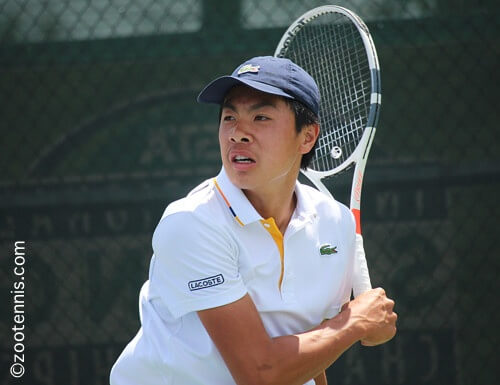 ITF Grade 1 Champion Brandon Nakashima
©
Zoo Tennis
Nakashima didn't lose more than four games in any of the 12 sets he won during the tournament, with a 6-3, 6-0 victory over top seed Drew Baird in the third round an indication of his form. In contrast, Boyer, who had reached the Easter Bowl ITF Grade B1 final, had four straight three-set victories to start the tournament until that streak was broken with a 6-3, 6-3 semifinal win over No. 8 seed Tyler Zink.
In the final, played under sunny skies with temperatures in the 70s, Nakashima took control early, not allowing Boyer to earn a game point until Nakashima had already built a 5-0 lead. Nakashima didn't let up, breaking Boyer in a four-deuce game to close out the set.
In the second set, Nakashima lost only one point on serve and Boyer didn't have a game point on his own serve until the last game, and he failed to convert that opportunity to get on the board. After saving two match points, Boyer was given a point penalty for unsportsmanlike conduct on the third, with his comments to the chair umpire when she called for a replayed point abruptly ending the match.
"I thought it would be a closer match, but I played really solid today," said Nakashima, who saw his ITF junior ranking rise more than 50 places to No. 40. "I could see he wasn't playing his best tennis like he was the whole tournament, but I just stayed focused. It was pretty similar to how I played the whole tournament, every match. Maybe today wasn't his best day, but I think I played similar to all the other matches, played well."