College Feature
UNC's Makenna Jones Bounces Back With Big Season
by Rhiannon Potkey, 16 May 2018
Makenna Jones was pressing. She wanted to win so badly for her team that it became self-defeating on the court.
Having tried everything to help the freshman regain her confidence, University of North Carolina head coach Brian Kalbas finally pulled Jones from the lineup last season.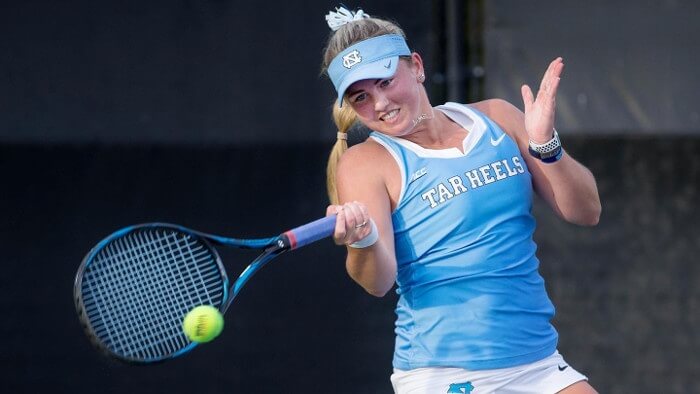 Sophomore Makenna Jones Is Ranked No. 2 In The Nation
©
UNC Athletics
He wanted to give her a break, hoping the time away from matches would help Jones reignite her passion and love for the game.
"Last year was really a roller coaster ride for Makenna," Kalbas said. "She cares so much and has such a huge heart that sometimes she tried too hard and couldn't find the balance for understanding how to compete right away and not get so down. She felt like she was letting people down."
Jones persevered through the struggles and has emerged as a stronger player. The transformation from her freshman year to her sophomore year has been striking and rewarding.
Jones has gone from out of the lineup for parts of last season to UNC's No. 1 player and ranked No. 2 in the nation this season.
The former blue chip recruit posted only the second 14-0 conference record in program history, and was named the MVP of the ACC tournament.
Riding a 17-match win streak and 12-0 at No. 1 singles, Jones is trying to help the Tar Heels capture the program's elusive first NCAA title.
No. 2-seeded UNC (28-3) plays No. 15 Stanford (20-3) in a blockbuster Round of 16 match on Thursday at the NCAA Championships at the Wake Forest Tennis Complex that could easily pass for a Final Four showdown.
It's a rematch of last year's quarterfinal that saw Stanford outlast UNC 4-2 in a four-hour marathon that was moved indoors because of rain.
"Obviously Stanford is one of the best teams in the country and underseeded. We are really excited to play them and have a lot of respect for them and what they have done," Kalbas said. "We are trying to earn respect for our program in the NCAA tournament. We've done really good in the regular season, but it's a whole new season now."