Special from
Zoo Tennis
Rain was a constant companion to the USTA Level 2 National tournament in Grand Rapids, Michigan, but for top seed 18s champion Amber O'Dell and 16s champion Daniella Benabraham, the No. 3 seed, the move indoors was no problem at all.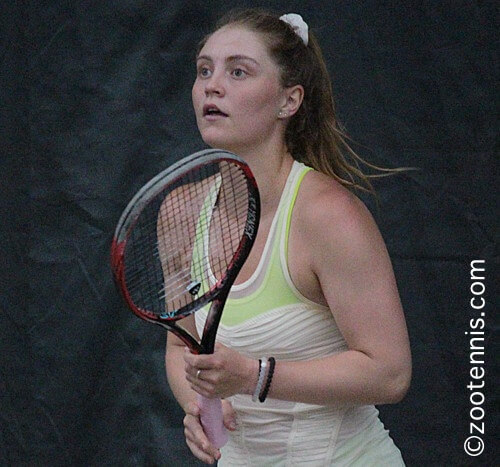 Grand Rapids L2 Girls 18 Champion Amber O'Dell
©
Zoo Tennis
"I was actually hoping that we were playing inside, because I'm so used to it," said O'Dell, a 17-year-old from New Milford, New Jersey, who defeated No. 7 seed Rosie Garcia Gross 6-4, 6-3 in the final.
"It was OK with me once I got adjusted to it a bit," said Benabraham, who posted a 6-3, 6-1 win over unseeded Qavia Lopez in the final. "I live in New York, so I mostly train indoors."
One of the downsides of all the rain was the necessity of match tiebreakers rather than full third sets throughout the tournament. O'Dell played only one, in a third round win over No. 13 seed Halli Trinkle, while Garcia Gross had two nail-biters in the late stages of the tournament.
In the quarterfinals, Garcia Gross defeated No. 2 seed Carolyn Campana 0-6, 6-3, 13-11, and in the semifinals took out No. 4 seed Karina Miller 6-1, 5-7, 10-8. O'Dell's 6-4, 7-5 semifinal win over No. 15 seed Ava Catanzarite was as tough as the score indicates, but she was able to come through with a late break and hold after failing to serve out the match at 5-4.
The weather was expected to cooperate for the finals, yet the fog and drizzle persisted through the morning, sending the players back to the Grand Rapids Racket and Fitness facility, where the semifinals had been played.
Despite being comfortable on the indoor courts, O'Dell confessed that nerves got the better of her to start the match against Garcia Gross, a training partner at West Rock Tennis Academy whom she had never faced in a tournament.