Commitment Profile
Countdown: Jacob Brumm to California
by Keith Kropp, 23 March 2017
As a promising junior growing up in Southern California, Jacob Brumm was simply content to be on the court, working on his game and playing tournaments. The idea of college tennis, particularly when competing in the younger junior divisions, was not exactly on his radar.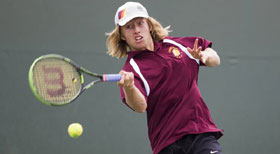 Brumm, a lifelong Californian who turned 18 in November, eventually began focusing on college as the next step in his tennis development.
"Once I learned there was college tennis, I wanted to go to a top (academic) school with a strong tennis program," Brumm said.
As the Rancho Sante Fe resident began proving himself more and more on the court, college recruiters eventually took notice. The blue chip recruit also became an avid follower of college tennis, so much so he would livestream matches during the NCAA Championships.
One of the teams that reached the semifinals at last year's NCAA Championships was the University of California at Berkeley, which during the offseason not only signed Brumm but four other elite standouts.
Brumm, who signed his letter of intent last November, is thrilled to be heading to Berkeley even though he had to say no to several other prestigious schools like Virginia and Columbia.
"This was the hardest decision of my life," Brumm said. "It was really tough. But the reason I chose Cal was I have lived in California my whole life. I love it here. I also had the chance to attend one of the best schools in the whole world with a great tennis program. They also have the No. 1 recruiting class for next year."
Cal coach Peter Wright, who sees his 2017 team positioned at No. 13 in the ITA men's rankings, is thrilled to have a player of Brumm's ability join his program.
"Jacob is a highly committed tennis player who also excels in the classroom," Wright wrote via e-mail. "We were drawn to his passion for tennis and his enthusiastic pursuit of trying to become the best tennis player he can be."
Before he emerged as one of the nation's top juniors, Brumm was drawn to basketball as well as tennis. Eventually, though, it came time to pick one exclusively. Brumm chose tennis.