Commitment Profile
Spring Signing Week '17: Sarianna Kuuttila is Excited to be a Spartan
by Marcia Frost, 15 April 2017
Sarianna Kuuttila, who is best known on and off the court as "Sara," has committed to the Michigan State Spartans for the 2017-18 season.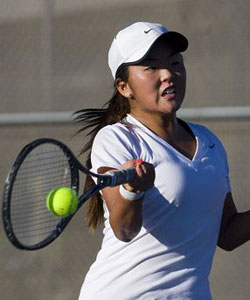 The 5-Star recruit has decided to trade in the desert for the cold beauty of East Lansing, Michigan, but the change is not as surprising as it may seem.
When asked if climate was part of the decision, Kuuttila's answer was unexpected, "It was an issue. I prefer indoor courts with my style of game. I don't mind the cold, but I don't like playing in humid weather."
In addition to the chance to pay indoors, another factor for the Albuquerque native is closer to her heart, "My parents (Bill and Lisa) are from Michigan, and we have a lot of family there. I like the idea that I have family nearby that can watch our matches."
Sara Kuuttila has already started making the adjustment. She's been traveling around competing on the USTA, ITF Junior, and pro circuits, ranking as high as 38 in the Babolat Class Rankings. She's also been commuting to the Midwest for months, thanks to a major change in her coaching.
Kuuttila trained with Max Jones, a former college tennis player at the University of New Mexico, for years, but she needed to look for a new arrangement in 2016.
"Max retired from coaching last fall," she explained. "I am now training with Mike Flowers in East Lansing, so I travel back and forth from Albuquerque to East Lansing now."
She's had plenty of time to start getting used to the Michigan college town, and the commute is made easier by the fact that she's been doing online school with Laurel Springs since the seventh grade. It was at that time her family decided it would be best for her tennis to leave regular school.