Commitment Announcement
Spring Signing Week '17: Top Texan Shin Makes Cardinal Commitment
by Clair Maciel, 12 April 2017
Throughout her entire college decision process, senior Blue Chip recruit Janice Shin visited several of the country's top universities, all of which have strong women's tennis teams and solid academic reputations to match. Among the schools she considered were Vanderbilt, Northwestern, Rice, UC Berkeley, Florida, Michigan and Texas. But despite the string of offers and interest from these top schools, there was only one school that truly tugged at the heart of Texas' top-ranked player. For years, Stanford University had been the school she had envisioned in her future. And given her level of work ethic and determination, such a prestigious school seemed the perfect fit.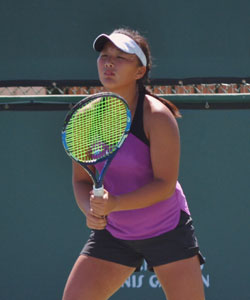 So it was no surprise when, during the middle of a training session, she finally got the call with good news from the coaches at Stanford and announced that she would be joining the Cardinal tennis team this fall.
"Everyone has that one school that they've always dreamed of going to, and Stanford has been my dream school since I was about 12 years old," Shin said. "In my opinion, it's a school where both the academics and the level of tennis are superior, and knowing the success of the many great players that have come out of that school sparked my interest in it from the beginning."
For Shin, meeting the coaches while on a visit to the campus helped solidify her choice, and she found that Stanford would provide the ideal environment to hone her game should she decide to turn pro after obtaining a degree in either business, law or public policy.
"Academics are just as much of a priority for me as tennis, so I definitely want to finish all four years and get the full experience before deciding if I want to turn pro," Shin said. "Until then, my goal will be to contribute as much as I can and just enjoy being a part of a team. I love team sports because it's like having a second family. It's a great feeling to be a part of something like that and to have that sense of camaraderie. I'm really looking forward to it."
Shin's junior career résumé includes a host of noteworthy achievements, including winning the high school state championship title as a freshman; holding the No. 1 ranking in Texas for girls' 14, 16s and 18s; reaching the singles quarterfinals at the Clay Court Championships in 2016; winning the doubles title at the 2016 Texas Grand Slam, where she was awarded the Mary Lowden Award; winning the doubles title at the Witchita Falls ITF event; and reaching a USTA national ranking of No. 2.
Prior to her 2016 success, Shin was faced with a few obstacles that began affecting her on-court performance at big events. But she faced those issues head-on and overcame them to get back on track as a better player.