by TennisRecruiting.net, 2 April 2017
The 10th Annual DecoTurf High School Tennis Team Championships presented by IcyHot were a rousing success. The national high school invitational tournament featured its largest field in tournament history hosting 64 teams from 13 states including 16 defending team state champions and 12 defending state finalists. The event hosted nearly 1,100 matches at various facilities throughout Chattanooga on March 24-25th. The event saw former champions claim titles in four of the five tournament divisions.
Boys A Division
The 2017 Boys A Division featured a loaded field of eight defending state champions and three former tournament champions. The 2017 finalists, Spartanburg and Northview, took very different paths to the tournament finals.
The top seed and defending Boys A Division Champions, Spartanburg Vikings (Spartanburg, SC), advanced to their second straight tournament final with lopsided victories in their first three matches over Jesuit (7-0), Baylor (7-0), and Rock Bridge (6-1). The Titans of Northview (Johns Creek, GA) become the first team from the Peach State to advance to the Boys A Division finals in tournament history. Their route to the finals got progressively tougher with victories over Marist (6-1), Heritage Hall (5-2), and defending finalist Saint Xavier (4-3).
The Titans had no problem adjusting to the pressure of the finals jumping out to an early 1-0 lead with victories by Jeremy Yuan and Gavin Segraves at No. 1 and Kenneth Limyadi and Joseph Zhang at No. 3 Doubles. The defending champions had the upperhand in singles with victories at No. 2 (Chambers Easterling), No. 3 (Spencer Brown), and No. 4 (Omar Williams) to find themselves in a familiar position. They were all tied up at 3-3 in the match with freshman Ashe Ray on the deciding court, just as it was in 2016. The freshman delivered a clutch performance once again with a 6-3, 7-6 victory over senior Will Claussen that saw him carried off the court on the shoulders of his teammates for the second straight year. Spartanburg senior Chambers Easterling, a Clemson commit, finished the weekend 4-0 in singles and 1-1 in doubles earning Most Valuable Player honors for the second straight year, marking the first time in Boys A Division history that a player has repeated as MVP.
In other notable matches, Rock Bridge (Columbia, MO) claimed their best finish in tournament history with a 5-2 victory of defending tournament finalist Saint Xavier (Louisville, KY) for third place. Southlake Carroll (Southlake, TX) claimed a fifth place finish in their first tournament appearance with a 5-2 victory over two-time tournament champion Hinsdale Central (Hinsdale, IL). Tennessee (Bristol, TN) won three straight after a first round loss to claim the consolation title. Notable individual performances came from Southlake Carroll senior
Alec Reusche
(4-0), Ransom Everglades sophomore
Sam Rubell
(4-0), Catholic junior
Nick Watson
(4-0) and Saint Xavier junior
Alex Wesbrooks
who earned All-Tournament Team honors.
Boys B and C Divisions
In the Boys B Division, it was Niceville (Niceville, FL) who took advantage of a flurry of upsets to claim their first championship in the event. The Eagles opened tournament play with victories over Hinsdale South (5-2) and Carrollton (5-2) before a squeaking out a tough 4-3 victory over Webb School of Knoxville in the semifinals. The opponent Dunwoody also pieced together a trio of victories over Starr's Mill (7-0), Etowah (4-3) and Brookwood (4-3) to claim their first title berth. A pair of doubles wins gave Niceville the early lead in the final before sophomore Wesley Shackelford gave the Eagles the 4-1 lead and clinched their first tournament championship. Air Force commit Jefferson Hobbs earned Most Valuable Player honors going 4-0 in singles and 3-1 in doubles over the weekend.
In the Boys C Division, it was George Washington (Charleston, WV) who claimed their second straight title. The Patriots earned a 7-0 victory over McCracken County in the opening round had to pull out two tough 4-3 victories over Saint George's and DuPont Manual to claim the title. The championship is the third overall tournament title for George Washington, the most for any boys team in tournament history. George Washington sophomore
Anthony McIntosh
went 2-1 in singles and 3-0 in doubles to earn Most Valuable Player honors.
Girls A Division
In a Girls A Division that featured six defending state champions, it was two familiar faces that advanced to the tournament finals. Four-time and defending tournament champion Baylor (Chattanooga, TN) made their sixth championship appearance with victories over Pensacola Catholic (7-0), Southlake Carroll (6-1), and Webb School of Knoxville (4-3). Their opponent, Walton (Marietta, GA), spent slightly more time on court in dispatching Pace Academy (5-2), North Oconee (5-2), and Jackson Academy (4-3) to advance to the tournament finals for the first time since claiming the title in 2015.
In the battle of the previous two Girls A Division champions, it was Walton who took the early 1-0 lead with victories at the top two doubles positions. The Walton lead grew to quickly with Liz Norman earning a 6-1, 6-0 victory at No. 1 Singles and freshman Samantha Buyckx and senior Grace Gaskins clinching the tournament championship with victories at No. 4 and No. 5 singles respectively. James Madison signee Liz Norman earned Most Valuable Player honors finishing the weekend with a 3-1 record at the top singles position.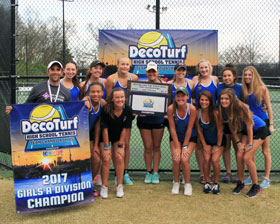 In other notable matches, Webb School of Knoxville (Knoxville, TN) claimed third place with a 5-2 victory over Jackson Academy (Jackson, MS). Southlake Carroll (Southlake, TX) clinched a fifth place finish with their 4-3 victory over North Oconee (Bogart, GA). McCracken County reeled off three straight wins after a tough first round loss to claim the consolation title. Notable individual performances came from Southlake Carroll junior
Ashley Kim
(4-0),
Indiana
signee and McCracken County senior
Michelle McKamey
(4-0) and
TCU
signee and Jackson Academy senior
Meredith Roberts
(4-0).
Girls B Division
In the Girls B Division, defending champions Milton (Milton, GA) flexed their muscles as they rolled through the tournament field with victories over Saint George's (6-1) and Sacred Heart (6-1). Their opponent in the finals had a much tougher route squeaking out wins over Assumption (4-3) and Morgantown (4-3). The Panthers were overmatched in the finals though as Milton rolled to a 7-0 victory dropping only the No. 1 singles position. Milton freshman Juliana Mascagni claimed Most Valuable Player honors finishing the weekend 3-0 in singles and 2-1 in doubles.
For complete tournament results - including match-by-match results, all-tournament team selections, and final standings - visit the tournament website at www.hstennischampionships.com.
Leave a Comment
More Tournament Features
10-May-2021
Perera Overcomes Wind, Torres To Claim Level 1 Boys 18s Title
Masato Perera overcame weather challenges and numerous opponents over five days in Indianapolis to capture the USTA Level 1 Boys 18s title. Perera beat fellow Californian Ryan Torres in the final.
12-Apr-2021
Shang, Hovde, Razeghi, Rabman Capture Easter Bowl Titles
The second week of the San Diego fortnight, which featured two of the biggest events on the US junior tennis calendar, concluded with the Easter Bowl ITF and 16s championships. Collecting the first gold balls awarded since the 2019 Winter Nationals were Juncheng "Jerry" Shang and Liv Hovde, who claimed the ITF championships, and Alexander Razeghi and Theadora Rabman, who took the 16s titles.
9-Apr-2021
Easter Bowl Crowns 12s and 14s Champions in New Location
A last-minute location change made the 2021 Easter Bowl possible this year, with Iva Jovic and Cooper Woestendick winning the 14s titles and Shannon Lam and Sebastian Bielen taking the gold balls in the 12s division.