College Feature
Macdonald has Commodores Ready for a Run
by Rhiannon Potkey, 10 May 2017
A 4 a.m. text message from players is typically a reason for coaches to panic.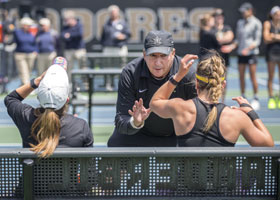 But
Vanderbilt
women's tennis coach Geoff Macdonald had nothing to worry about in late January. As he awoke early to watch Roger Federer and Rafael Nadal battle in the Australian Open final, his phone began buzzing.
The Vanderbilt players were gathered in their locker room watching the match. Macdonald had no idea they were planning to get together, but it didn't surprise him.
"That love of the game is what we really look for in recruits," he said. "If she loves to play, that is worth its weight in gold as opposed to someone we have seen at national championships and they are not having any fun or are burned out a bit. Winning is more of a relief than a joy. That is not what we want."
Vanderbilt is in the midst of a historical season on the West End. The Commodores won the SEC regular-season and tournament titles in the same year for the first time in program history.
Vanderbilt (20-5) is seeded fourth overall in the NCAA tournament, and will host Washington, Clemson and SIU Edwardsville (21-0) in Nashville. The Commodores play SIU Edwardsville in the first round on Friday.
The last time Vanderbilt was seeded No. 4 was in 2015 when the Commodores won the program's only national championship.
"I think we played the hardest schedule in the country. [Editor's Note: Our sister site, SLAM.tennis, ranks Vanderbilt's schedule as No. 1.] We are certainly up there, and we take early losses and are not worried about it. They are resilient and this team does a really good job of not worrying about record or ranking. It's more about improving," said Macdonald, who was named SEC Coach of the Year for the fourth time. "This is also one of the better competing teams I've been privileged to coach. One of the things about losing early is you realize the sun comes up the next day. You learn you don't need to be afraid to lose. If you are like that in tennis, I don't think you play very well. This team keeps competing."