College Feature
Silverio Finds Spiritual Coaching Connection at Notre Dame
by Rhiannon Potkey, 8 August 2018
Any time they were in need of inspiration or entertainment, Alison Silverio and her older brother would stick Rudy in the VCR and watch the 1993 movie about the Notre Dame walk-on football player.
Like many Catholic kids growing up in the Midwest, Silverio imagined herself possibly playing tennis at Notre Dame.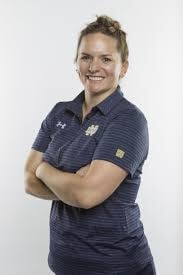 Alison Silverio
But Silverio wasn't recruited hard by the Fighting Irish, something she largely attributes to a ranking that "wasn't quite where it needed to be in juniors."
The Louisville, Ohio native opted for Georgia Tech, developing into an all-conference standout that helped the Yellow Jackets capture an NCAA title.
Given a second chance 15 years later to sign Silverio, the Fighting Irish didn't miss.
Notre Dame hired Silverio as the head women's tennis coach last month, bringing her back to the Midwest after spending the last four seasons in the same role at Oregon.
Silverio replaces Jay Louderback, who retired after 29 seasons leading the Notre Dame program.
"The opportunity to continue to grow professionally and personally is the main reason I came to Notre Dame," Silverio said. "Notre Dame is built on a foundation of ethics and high moral standards, which I felt matched up very well with my values and morals. Faith and family have always been extremely important in my life, and the integrity and character piece that Notre Dame instills throughout not only its student-athletes but community as a whole really attracted me to this opportunity."
In her first stint as a head coach after being an assistant at N.C. State and Georgia Tech, Silverio orchestrated a turnaround at Oregon.
Her first signing class in Eugene was ranked No. 15 in the nation by TRN, the highest in Oregon history. The Ducks gradually increased their win total each year under Silverio, capped last season by their first NCAA tournament win in 14 years and highest-ever national ranking of No. 17.
Although Silverio will make a few tweaks in South Bend to fit the new environment, she won't stray from her three coaching cornerstones. She wants her players to graduate with a quality education, become better people who "leave Notre Dame a better place than they found it" and pursue NCAA titles.
"I truly believe we will win a national title and multiple national titles at Notre Dame," Silverio said "I know that does not come overnight, and it's certainly something that takes consistent discipline and hard work and taking care of details and making the right choices day in and day out. It is definitely a process, but I certainly believe in the vision that we can attain at Notre Dame."
Silverio knows from experience what it takes as a player to win national titles. Her college career ended in storybook fashion when she helped lead Georgia Tech to the NCAA title in 2007. The senior clinched the national championship with a victory at No. 2 singles, and earned MVP honors.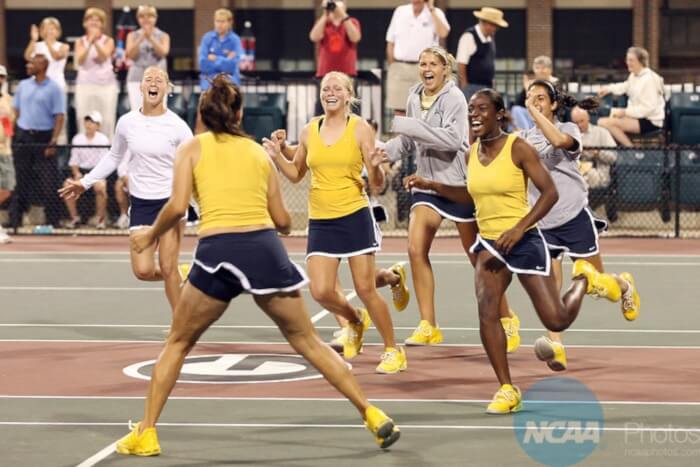 Silverio's Win Clinched Georgia Tech's 2007 NCAA Title
©
NCAA
"It was an experience you will always remember and a bond that keeps you together for the rest of our lives," Silverio said. "That is something special because we were able to accomplish something greater than ourselves by coming together and attacking and executing as a group. All the workouts, all the practices and years and hours and minutes of hard work and dedication and discipline that went into that moment is something that inspired me to be a coach."
Silverio departed as Georgia Tech's all-time leader in doubles wins (98) and second in singles (107). She won the ITA Scholar-Athlete Award (2005, 2007), the ITA Arthur Ashe Sportsmanship and Leadership Award, the Cissie Leary Award for Sportsmanship and an ACC Postgraduate Scholarship.
Silverio's Notre Dame players may have Googled her to learn more about Silverio's background before their inaugural introduction last month.
"They certainly had some great questions when we first met just about my experience and about the national title, so I do believe they did their due diligence and did some research," Silverio said with a laugh. "Ultimately, it's all about us being able to come together and work together and grow together and be in the moment that we are in now, and I will certainly draw from my experiences and hope they see that as opportunities to learn and grow."
After graduating from Georgia Tech with a degree in business, Silverio worked in the corporate world for a few months because it seemed like the prudent path to take.
"I quickly realized how much I missed tennis and how much I knew my passion was not only for coaching but for being able to impact young student-athlete's lives positively and help develop them during this special time in their lives," Silverio said. "I just believe the college athletic experience is such a unique environment. It is a motivating environment and inspiring environment."
Silverio grew up in a tight-knit family in Ohio, with her parents, Ed and Debra, providing unconditional support. Her grandmother, Jo Czekanski, lived across the street and her aunt and uncle lived just a few houses down.
Silverio would head to her grandma's house after school most days to play checkers and learn how to play Scrabble.
"My grandma has definitely been the rock of our family. She is still living at 93 years old," Silverio said. "She is just awesome and full of energy and I have always loved the conversations she and I were able to have during the 18 years of my life I lived at home. She's always been a part of every big event in my life."
During Silverio's stint as an assistant coach at Georgia Tech, her aunt, Sonja Brahler, was diagnosed with ALS, a progressive neurodegenerative disease that affects nerve cells in the brain and spinal cord. After a valiant struggle, Brahler died in 2014.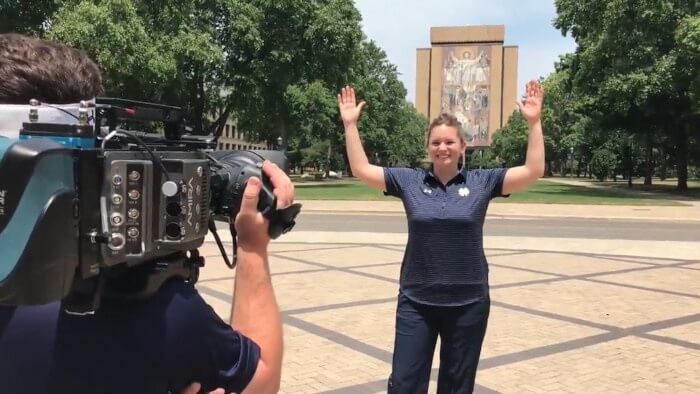 "It was extremely tough for our family and I was away from home and not able to be quite the support I would have loved to have been. But it was just a blessing to see how our family pulled together," Silverio said. "My mom and grandmother visited every day to help, and my uncle (Tim Brahler) was incredible. You talk about for better or for worse in those vows of marriage; he certainly stood by her every step of the way and was really an angel."
Her aunt's battle with ALS provided Silverio with a measure of perspective she's kept with her throughout her coaching journey.
"The grace and positivity she displayed was a great learning lesson," Silverio said. "If she can handle this, I should be able to handle a tough loss or other adversities that I have gone through as well."
Silverio hopes to instill a similar mindset at Notre Dame. She's in San Diego this week at the USTA Girls 18s & 16s National Hard Court Championships trying to find players that will fit with her program.
"The core of my recruiting philosophy has always been character and integrity first, especially when you are coming into a new program or a new place," Silverio said. "The culture is extremely important for the foundation you want to build and develop. I am a firm believer character is the piece that is going to win out in times of adversity and in the heat of the battle."
Although leaving Oregon wasn't easy, representing Notre Dame has been a vision Silverio has encompassed since childhood. It's finally become a reality all these years later.
"I believe whole-heartedly we can achieve big things here," she said. "I am excited to have the opportunity to really attack our goals with these amazing young ladies that I know are going to be successful."
About K-Swiss
College Content at TennisRecruiting.net is sponsored by K-Swiss.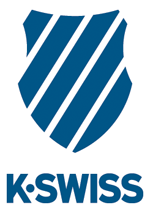 At K-Swiss we are 100% invested in the sport of Tennis and committed to helping players play their very best and win at every level. From a competitive junior or adult player to the greatest doubles team of all-time, Mike and Bob Bryan. For over 50 years we have been making some of the most innovative, high quality tennis footwear in the game featuring the very best in comfort with a consistent fit.
We encourage you to try the K-Swiss shoe that is best for your game.
Connect with K-Swiss on Facebook, Twitter, and YouTube - or on their website.
Leave a Comment
More College Coverage
31-Jul-2018
Injuries Didn't Dampen Lipman's Love for Tennis
Chronic hip injuries ended any hope of a professional playing career for Ryan Lipman. But the Vanderbilt All-American has remained involved in the sport as an assistant coach at his alma mater and through a new website, Tennis Takes, he started with his brothers.
12-Jul-2018
Maymi Brings Diverse Coaching Background to Nebraska
New Nebraska men's head coach Sean Maymi has been on staffs at nearly every level of college tennis and coached players from the juniors to the pros. He hopes the wide-ranging background serves him well in his first chance running his own program.
5-Jul-2018
Dolehide Makes Swift Ascent to Head Coach at Georgetown
Courtney Dolehide was named the head men's and women's coach at Georgetown University this week. The former UCLA team captain was promoted after one year as an assitant for both programs. She's only 26 and is pursuing her MBA while coaching.
About Rhiannon Potkey
Rhiannon Potkey is a veteran sportswriter with more than two decades of experience in journalism. Potkey has covered many sports at many levels and has a passion for finding great stories. Potkey has covered the U.S. Open, junior sectional and national events, college conference championships and Davis Cup matches. Potkey is currently Content Strategist for Tennis Recruiting.