College Feature
Silverio Finds Spiritual Coaching Connection at Notre Dame
by Rhiannon Potkey, 8 August 2018
Any time they were in need of inspiration or entertainment, Alison Silverio and her older brother would stick Rudy in the VCR and watch the 1993 movie about the Notre Dame walk-on football player.
Like many Catholic kids growing up in the Midwest, Silverio imagined herself possibly playing tennis at Notre Dame.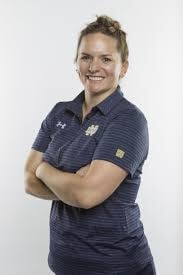 Alison Silverio
But Silverio wasn't recruited hard by the Fighting Irish, something she largely attributes to a ranking that "wasn't quite where it needed to be in juniors."
The Louisville, Ohio native opted for Georgia Tech, developing into an all-conference standout that helped the Yellow Jackets capture an NCAA title.
Given a second chance 15 years later to sign Silverio, the Fighting Irish didn't miss.
Notre Dame hired Silverio as the head women's tennis coach last month, bringing her back to the Midwest after spending the last four seasons in the same role at Oregon.
Silverio replaces Jay Louderback, who retired after 29 seasons leading the Notre Dame program.
"The opportunity to continue to grow professionally and personally is the main reason I came to Notre Dame," Silverio said. "Notre Dame is built on a foundation of ethics and high moral standards, which I felt matched up very well with my values and morals. Faith and family have always been extremely important in my life, and the integrity and character piece that Notre Dame instills throughout not only its student-athletes but community as a whole really attracted me to this opportunity."