Who's Hot?
Hot 100 List - June '17
by Amelia Thomas, 19 June 2017
Intro paragraph. We take a look at a few players who climbed the ranking charts over the past month in the June edition of the Hot 100.
As schools let out across the country, junior players are quick to put their free time to good use by getting out on the courts. We check in with a few players who have posted notable performances in the July edition of the Hot 100.
The Hot 100 lists are published each month, and the July Hot 100 lists feature the one hundred boys and girls who most improved their rankings during the month of June. You can find out more about the Hot 100 - and how the lists are calculated - by reading here.
The latest lists, published today, are available here:
Let's take a look at a few of these players ...
Roundup
Kayla Wilkins (Charlotte, N.C.)
Four-star rising junior Kayla Wilkins made a major change in her tennis game a few years ago. She switched from a western forehand to a semi-western forehand. Her tennis-playing parents, Chris and Lisa Wilkins, credit this difficult transition for much of their daughter's growth as a player.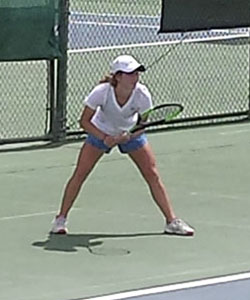 "Not only is it a grip change but it is a complete swing path change. It took a good year before she was comfortable on the match court," they said. "She did not take time off from tournament play and gritted through many losses to get where she is today."
Wilkins's parents believe that the switch also influenced her mental game. "A lot of kids would have given up, but her determination, fight and perseverance not only helped her through, but it is what she continues to draw upon to be the best she can be," they said.
More recently, Kayla Wilkins has been working on minimizing her errors. "I felt that I had the skills to compete with the top players but I was always coming up a bit short," she said. "I have now found the balance between still playing aggressively but in a more controlled manner."
Wilkins works with coach Tiago Ruffoni, former ATP tour player and current coach at the Charlotte Indoor Tennis Academy. Wilkins also points to Ruffoni as a catalyst for her improvements.
"I credit him for helping me formulate a game plan that works for my personal style of play and my mind set," she said. "We continue to work on all aspects of my game, technical, tactical and strategical."
Wilkins named the Midlothian Tennis Club National Tournament as her best result to date. She started the month of May strong by winning this tournament with defeats over four highly-ranked players. "They were all close matches which required me to stay focused and to fight for every point," she said.
The Charlotte, N.C. native went on to reach the consolation semifinals of a National Level 2 in Rome, Ga., and won the consolation semifinals of the N.C. State Tarheel Qualifier. She earned a 12-2 record for the month of May.
Wilkins believes that her mental toughness will continue to set her apart from her peers. "Whether I am down in a match or I am winning, my attitude is the same. I just try to focus on one point at a time," she said. "I try to learn from every experience and every match and take it forward."