Special Feature
Hall of Famer Tracy Austin's Two Roles: Tennis Mom and Tennis Commentator
by
Colette Lewis
, 24 May 2017
Tracy Austin was the definition of a tennis prodigy, reaching the 1977 US Open quarterfinals at age 14. She went on to win two US Open titles, with the former WTA No. 1 still holding records as both the youngest US Open women's champion(16) and youngest inductee into the International Tennis Hall of Fame. After injuries cut short her career, Austin stayed involved in the sport by providing television commentary at major events while raising three boys with Scott Holt, her husband of 24 years.
Tennis analyst and former WTA No. 1 Tracy Austin
©
Zoo Tennis
All three boys, 21-year-old Dylan, 19-year-old Brandon and 16-year-old Sean, played tennis, but it was Brandon who developed a passion for it. An outstanding player throughout his Southern California junior career, Holt reached the US Open boys doubles final in 2015. Despite limited ITF play, Holt rose to the Top 50 on the international junior circuit, while finishing as the No. 1 recruit in Tennis Recruiting Network's Class of 2016. Holt, a freshman, now plays No. 1 singles at the
University of Southern California
, clinching the Pac-12 tournament title for the Trojans last month
in Ojai
.
Austin drove to Ojai from her home in Rolling Hills, having just returned from the WTA tournament in Stuttgart Germany, where she won her first title as a professional. Prior to USC's semifinal match with Cal, I had opportunity to speak with Austin about her philosophy on tennis parenting, the advantages of her experiences as a young professional, Brandon's pathway and her own thriving career at the Tennis Channel.
Questions and Answers
Colette Lewis (CL): What role did you play in Brandon becoming a tennis player?
Tracy Austin (TA): Scott and I wanted to make sure we gave all of our kids an opportunity to play a variety of sports and let them choose what they liked. Then when they chose what they liked, to let them choose how seriously they wanted to take it.
They all played the same sports; they played soccer, baseball, basketball and tennis - no hockey and no football. Then little by little they said which ones they wanted to stop. For Brandon, the last two he was playing were baseball and tennis. All of a sudden he came into our office and said, I don't want to play baseball anymore, it's going to get in the way of my tennis. We were like, oh, ok. He made the decision that he wanted to be serious about tennis, and about that time, the USTA offered him to come to Carson to train, with a great group of kids and a great group of coaches, obviously, and he just seemed to thrive.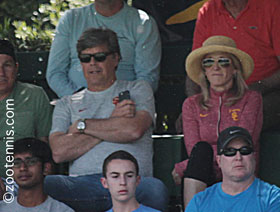 Austin with her husband, Scott Holt, at The Ojai
©
Zoo Tennis
We're only about 20 minutes away from there, so between myself and Scott and Scott's parents, we were getting him there and back every night. It's a big commitment for the family, but it's also a big commitment for him, because you're getting home at 7 o'clock and you've got homework to do, and you're tired, you've already worked out three hours, four hours if you count fitness. It's a big commitment, but he seemed to love it.
We're really proud of the fact that Dylan, the older one at 21, and Sean, who's 16, actually decided that tennis was the sport they wanted to pick as well, but just on a level where they play three or four times a week, high school team, like that. They can't even imagine doing what Brandon's doing. They're just like, he's crazy, why would he want to play that much tennis? Which is great, because each is doing it, taking it, to their own level, choosing what they want to do.
CL: How much does a parent need to, not push, but guide in a situation like Brandon's?
TA: Well he was with the USTA, so it was them guiding him, it wasn't me. And I think it was important to take it out of my hands and let me just be mom. You probably haven't seen this, but he doesn't listen so well. So that's why it's great.
When he went to college, Scott and I were worn out. It's nerve-wracking, you're traveling a lot, it's expensive and it's a big commitment. Often times in the summer, Scott was gone three, four weeks, so that's three or four weeks away from the other two boys. So it was great to say, Peter [Smith], he's all yours.
Brandon is a very independent boy. If you make them make decisions, it's much better to make those failures at 10, 11, 12. If they forget their book, or their shoes for Carson and they have to run, whatever it is, if they do it a few times, they will remember the next time.
And they have confidence, confidence that you build up in yourself that you're independent, that you can count on yourself, and I believe that feeling translates to the court. I personally think that's a lot of what's missing on the WTA right now. As soon as something goes wrong, or starts to go in the wrong direction, they're not able to problem solve as quickly I think as the generation in the past.
CL: Was Brandon always going to go to college?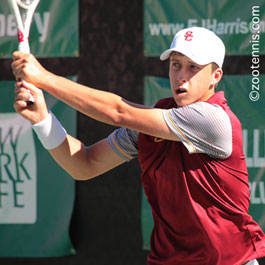 TA:
We never really talked about it. I never knew what he was ranked, we just kind of went with the flow. We never said, you've got to play this tournament and get to this round. I had a friend who'd get the tournament draw, fill out who was going to win and then who you're going to play, and that's just pointless to me. You wake up in the morning, you see who you are going to play and you go warm up and do your best.
I'd always say, I'm so proud of you, do your best, and that's it. I gave him a little tidbit or two, but I know my limit. If I would start to give him too much, it was actually detrimental. Brandon doesn't like to be told and he likes to problem solve. He doesn't get extremely high with wins and doesn't get extremely low with losses. He's very even-keeled and I think it's really because he enjoys the process of competing.