College Feature
Evacuated UNCW Programs Give Back to Community
by Rhiannon Potkey, 4 October 2018
The inconvenience of having their fall season interrupted seemed trivial to the University of North Carolina Wilmington tennis teams.
The city most players had adopted as their second home was under siege. Hurricane Florence dumped more than 23 inches of rain on Wilmington, causing widespread flooding and downed trees and power lines.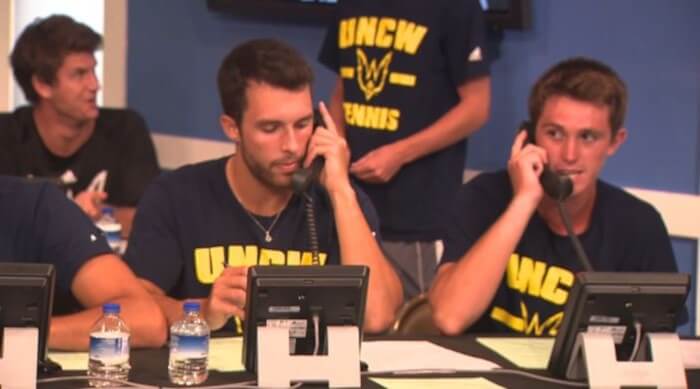 The UNCW Men Volunteered at a Red Cross Telethon
The roads to the city were cut off from the flooding, stranding some residents and restricting access.
The UNCW teams were safe, having evacuated before the storm hit. But as they watched the news each night and saw the devastation, they wanted to find a way to help the community.
The men's team volunteered at a Red Cross telethon, answering phones and writing down financial donations. Once it was safe to return to the city, the women's team worked with the Red Cross handing out hot meals in local neighborhoods.
"The community and the university are like our family and Wilmington is now our home. It was nice for us to give back from where we came from," said Agustin Savarino, a senior from Argentina. "When they asked us to volunteer, we all said, 'Absolutely. We can do as much work as you guys want' because we wanted to give back the best way we could."
Both teams spent nearly a month away from campus after evacuating. Classes are scheduled to resume at UNCW on Oct. 8, a week later than originally anticipated because of significant repairs to buildings at the university.
The teams were able to hold their first practice at their home courts on Monday. The facility escaped major damage, aside from an old tree falling near a fence corner.
The players can't move into their dorms until Saturday, so some are staying with players who have apartments in the city.
"Everyone is glad to be back. We are definitely playing catch up since we missed weeks of training together," men's head coach Matt DuBois said. "I am hoping the NCAA is going to give us those weeks back. Maybe we can train a little longer in the fall."
Although they weren't able to practice together on campus, the teams still managed to train on their own to stay in shape.
Immediately after playing at the Southern Intercollegiate at the University of Georgia, the men's team evacuated to Charlotte to stay with the family of freshman Dillon Gooch. All 10 players spent at least a week rooming together.
"It's a pretty big house, and some of our neighbors also lent us mattresses to use," Gooch said. "We had about three or four players in every room and everyone had a mattress to sleep on. It actually worked out pretty well. We ate all our meals together, went bowling and went to the movies."
The men's team organized their own training sessions without the supervision of coaches and practiced every day while in Charlotte.
"Our older guys on the team are really good leaders and everyone likes to work hard and likes to practice, so our team captains made sure we worked out together," Gooch said. "Everyone was definitely on board doing that and trying to still work through the storm."
The evacuation period became an unprompted team retreat for the men's players.
"We took advantage of the time for team bonding and to make the chemistry of the team even better," Savarino said. "We have great chemistry already, but this brought us even closer together. It turned out to be a really, really great thing for our team."
Unlike the men's team, the women's team was more scattered during the evacuation. Some returned to their home states, and a few stayed in Charlotte with the family of freshman Rachel Marthinsen.
The team is traveling to Annapolis this week to participate in the Navy Invite, which begins Friday.
"It was definitely tough to be away from each other, but from the very beginning we came up with a plan and created a training schedule over the three weeks so we didn't fall behind," said junior Sabrina Barisano. "We made sure to communicate almost every day to find out who ran on the track and who played tennis just to keep each other in check until we could get together again."
Once they were allowed to return to Wilmington and saw the destruction, the women's team volunteered to help. The players met at Grace United Methodist Church and were sent into the community to hand out hot meals to residents in need.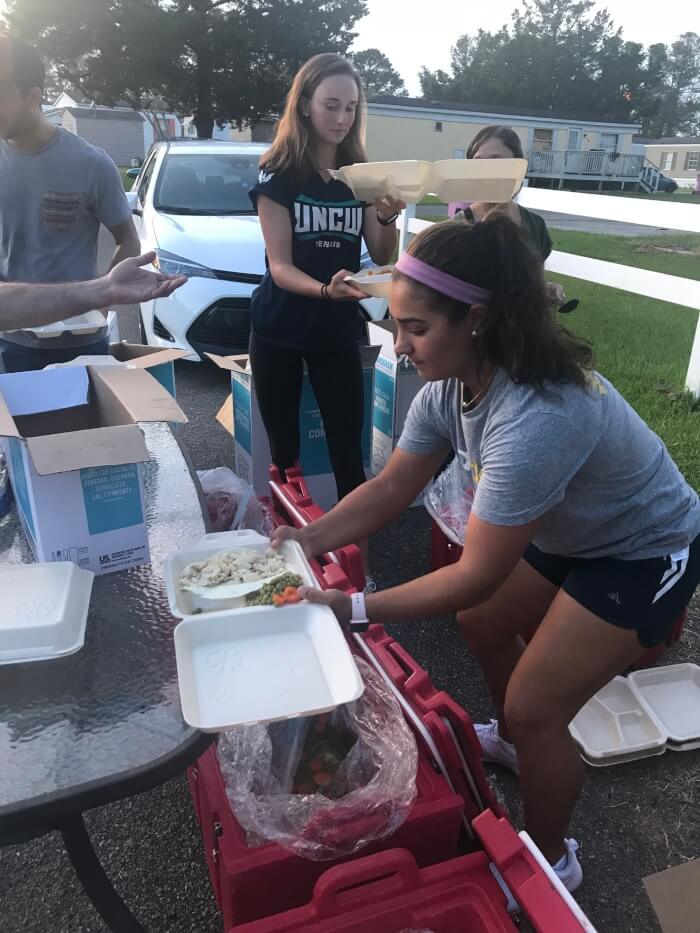 The UNCW Women Handed Out Meals to Families in Need
They were separated into three groups, and paired with translators. They visited primarily Latino neighborhoods, and set up tables at the end of each block.
"It was really awesome just to see the whole neighborhood start to come out and be so thankful for the meals," said women's head coach Hans Olsen. "They were encouraged to take as many meals as they needed. You could see the word starting to spread through the trailer homes in that area, and people were just so appreciative for us being there."
The team spent nearly three hours scooping food into containers until there was nothing left and every family had meals to take home.
"It wasn't mandatory, but it was something we all wanted to do to help people that didn't have as much as we did right now," Barisano said. "We really felt for them, and just handing them chicken nuggets, chicken fajitas and vegetables made them happy and put a smile on their face. That was really nice."
The aftermath of the storm has only reinforced a sentiment the women's team talks about frequently.
"We always emphasize the word appreciate, and now we really know the meaning of it," Barisano said. "We truly appreciate that we are back together playing tennis. People don't have food to eat or their homes were washed away, so we have a lot to be thankful for."
As the UNCW players finally got back to training at their facility on Monday, they felt a sense of normalcy returning. Nothing will be exactly the same, but they hope the community can emerge stronger together.
"It was so nice to be back on our courts and be around the people from the university. The city took a hit, but it's nice to see it coming back to life," Savarino said. "It is hanging in there, and we will try to help any way we can."
About K-Swiss
College Content at TennisRecruiting.net is sponsored by K-Swiss.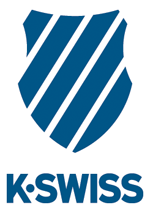 At K-Swiss we are 100% invested in the sport of Tennis and committed to helping players play their very best and win at every level. From a competitive junior or adult player to the greatest doubles team of all-time, Mike and Bob Bryan. For over 50 years we have been making some of the most innovative, high quality tennis footwear in the game featuring the very best in comfort with a consistent fit.
We encourage you to try the K-Swiss shoe that is best for your game.
Connect with K-Swiss on Facebook, Twitter, and YouTube - or on their website.
Leave a Comment
More College Coverage
13-Oct-2018
Texas Tech's Masi Inspired By Wife's Cancer Battle
Texas Tech men's head coach Brett Masi can point to his wife as an example of resiliency for his players. She battled cancer twice and is now in remission. Learn more about Masi and his background in this month's "Meet The Coach."
1-Oct-2018
Bickford Hits the Ground Running at William & Mary
Toni Bickford was hired last week as the women's head coach at William & Mary. Although the late start is not ideal, Bickford is using the late start as motivation to work even harder. The former Iowa star wants to prolong the Tribe's legacy of success.
18-Sep-2018
Garay is Getting a Second Chance to Pursue His College Dream
Former five-star Christian Garay didn't make academics a priority during his junior career and couldn't fulfill his dream of playing college tennis. But the 22-year-old has worked to earn a second chance as a 22-year-old freshman this season on the Point University men's team.
About Rhiannon Potkey
Rhiannon Potkey is a veteran sportswriter with more than two decades of experience in journalism. Potkey has covered many sports at many levels and has a passion for finding great stories. Potkey has covered the U.S. Open, junior sectional and national events, college conference championships and Davis Cup matches. Potkey is currently Content Strategist for Tennis Recruiting.