Tournament Feature
Gonzaga's Whittle Completes Historic Run at ITA All-American
by Rhiannon Potkey, 9 October 2018
Retiring was never an option for Sophie Whittle. She had come too far, and the match meant too much.
The Gonzaga senior badly sprained her ankle in the second set of the singles final on Sunday at the ITA/Riviera All-American Championships.
Having worked her way through qualifying to earn a shot at the title, Whittle wasn't about to hobble off the court prematurely. Because she wasn't just playing for herself. She was playing for her teammates, for her coaches, for everyone at Gonzaga.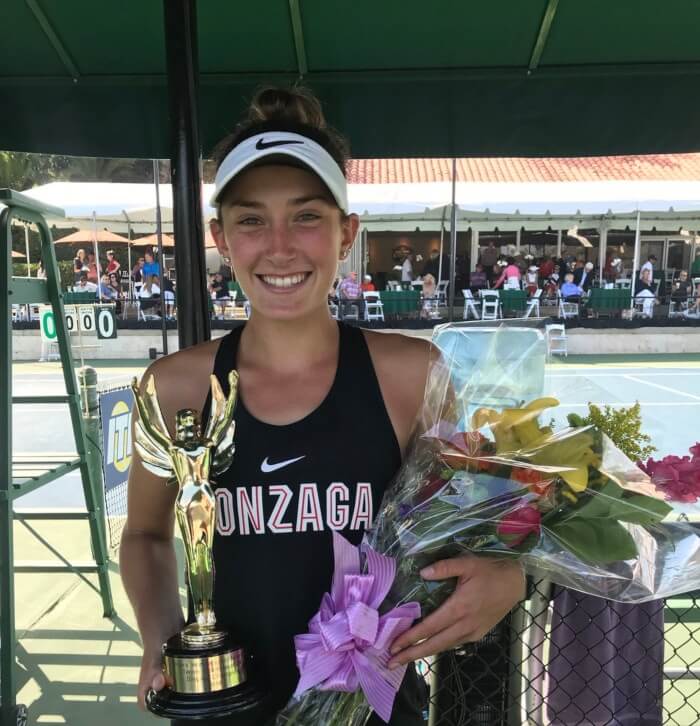 Sophie Whittle Won The ITA All-American Singles Title
© ITA
Once she got the ankle taped and the adrenaline kicked in, Whittle capped off her historical run with a third-set flourish.
She became the first ITA All-American champion in Gonzaga history by defeating Duke's Maria Mateas 6-4, 5-7, 6-3 at the Riviera Tennis Club in Los Angeles.
"I am just really happy for our conference and our school because I think that sometimes people overlook these smaller schools. I hope they don't anymore," Whittle said. "I know my program is willing to do anything and everything to help players develop and get better and I think this helps show that."
Whittle wasn't the only ITA All-American champion making history this year.
Junior JJ Wolf became the first Ohio State player to capture the ITA Men's All-American Singles Championship by defeating No. 1 Nuno Borges of Mississippi State 6-0, 7-6(3) in the final on Monday at the Michael D. Case Tennis Center in Tulsa, Oklahoma.
Next year, the men's and women's champions will be celebrated at the same location. The ITA announced on Monday that the women's event is moving from Riviera to Tulsa beginning in 2019. The dual-gender tournament matches will take place at multiple sites around Tulsa.
Whittle won eight matches in five days to capture the women's title, including five victories over ranked opponents and three over top 15 players. She beat defending champion Fernanda Contreras of Vanderbilt in the semifinals.
"I really had tunnel vision the whole tournament. I didn't look at the draw. I was just focusing on one point at a time and that really helped me," Whittle said. "I think my game followed from that and I trusted all of my shots and knew that I had put in the time and the work for it to all come together."
A Nipomo, California native, Whittle was a four-star recruit coming out of high school. Gonzaga was her last official visit and the only non-California school she visited.
"I wasn't sure what to expect when I got here, but I instantly really loved everything about it," Whittle said. "I loved the coaches and how they challenged the team and I loved all the girls that were on the team. They all worked hard and just had a little family-like bond."
Gonzaga head coach D.J. Gurule immediately noticed Whittle's selfless nature during the recruiting process, and knew she was an influence he needed in his program and around Gonzaga's campus.
"Sophie's never been about doing what is great for her. She wants to do what makes everyone else around her better," Gurule said. "She doesn't give anybody else a chance not to be their best. She picks everybody else up, and not just our players. That is me, that is our trainer and that is our bosses. She literally brings everybody else up to her level, not by pointing at herself, but by saying 'We can do it. This is what we can do if we work hard.' It's contagious."
A three-time All-WCC selection in singles and doubles, Whittle finished 22-5 in singles last season at the No. 1 spot for the Zags. It followed a challenging stretch that tested her emotional resolve.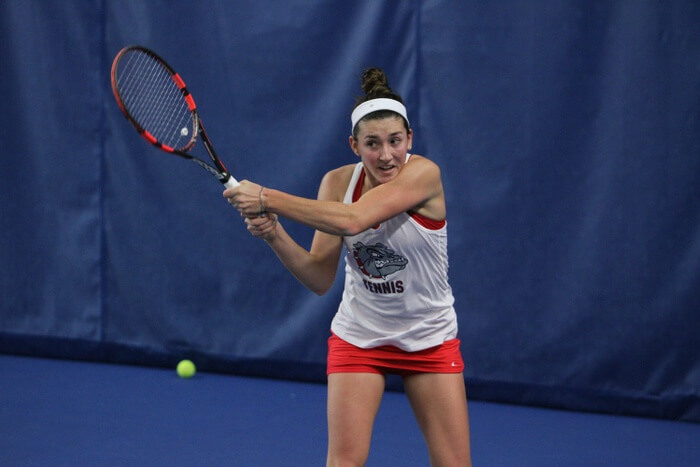 Whittle is a Three-Time All-WCC Selection
© Gonzaga Athletics
"My sophomore year was kind of a tough year mentally. I lost a couple of family members and one of my close high school friends to cancer," Whittle said. "I think I let that bring me down a lot that year. But I have been able to look at it in a different way now and use that to be more thankful and grateful for the opportunities that I have."
Whittle is studying kinesiology, and has been interning at a local gym this fall. She's also taking prerequisites for nursing, and plans to go to nursing school once her tennis career ends.
"I really like helping people," said Whittle, whose mother, Kristi, was a nurse when she was younger and played tennis at Loyola Marymount University. "If people are sad, I like to help them and give them advice and just listen if someone needs to talk. I like caring for people when they are sick or hurt."
Whittle has been the patient this week while receiving treatment for her swollen ankle. She's been wearing a boot and visiting Gonzaga assistant athletic trainer Steve Nagib as much as possible.
During the ITA singles final, Gurule could see Whittle struggling to move on the court once she tweaked her ankle and could tell she was in pain. He asked if she wanted to stop, but already knew the answer would be a resounding "No!"
"She wanted to win in the worst way," Gurule said. "I firmly believe it was because she wanted it for our program. At 5-2 in the third set, I told her this is for Gonzaga and for the girls that are still back home."
Although there was no live streaming at Riviera, Whittle's teammates found a video circulating on social media to watch the match. They were screaming with every point she won, and celebrated wildly once she closed out the title.
A four-star that developed into a champion, Whittle's legacy at Gonzaga is secure. Once she graduates, she'll leave a void that extends beyond the court.
"One of the things that has really made Sophie who she is is her ability to really understand there is more to what she does than just win a tennis match," Gurule said. "She is such an amazing ambassador for tennis, for Gonzaga, for herself, for her family and for me. She is truly an amazing human being, which is what it's all about."
Leave a Comment
More Tournament Features
14-Sep-2018
The Heat Was on Junior U.S. Open Champions
Brazil's Thiago Seyboth Wild and China's Xiyu Wang earned their countries' first boys and girls U.S. Open Junior Championship titles under the roof of the new Louis Armstrong Stadium at the USTA Billie Jean King National Tennis Center. Americans Caty McNally and Coco Gauff won the girls doubles title.
29-Aug-2018
Volynets and Klier Claim International Hard Court Titles
American Katie Volynets and Brazilian Gilbert Soares Klier Junior both earned their second International Tennis Federation Grade 1 titles last Saturday in College Park, Maryland. However, their last steps on their paths to Prince George's County International Hard Court titles diverged.
17-Aug-2018
Brooksby Breezes to Kalamazoo 18s Title
Jensen Brooksby made it 2 for 2 in winning prestigious junior tournament titles this year. A few months after winning Easter Bowl, the TCU commit captured the Boys 18s singles title at the USTA National Championships in Kalamazoo.
About Rhiannon Potkey
Rhiannon Potkey is a veteran sportswriter with more than two decades of experience in journalism. Potkey has covered many sports at many levels and has a passion for finding great stories. Potkey has covered the U.S. Open, junior sectional and national events, college conference championships and Davis Cup matches. Potkey is currently Content Strategist for Tennis Recruiting.