Tournament Feature
Gonzaga's Whittle Completes Historic Run at ITA All-American
by Rhiannon Potkey, 9 October 2018
Retiring was never an option for Sophie Whittle. She had come too far, and the match meant too much.
The Gonzaga senior badly sprained her ankle in the second set of the singles final on Sunday at the ITA/Riviera All-American Championships.
Having worked her way through qualifying to earn a shot at the title, Whittle wasn't about to hobble off the court prematurely. Because she wasn't just playing for herself. She was playing for her teammates, for her coaches, for everyone at Gonzaga.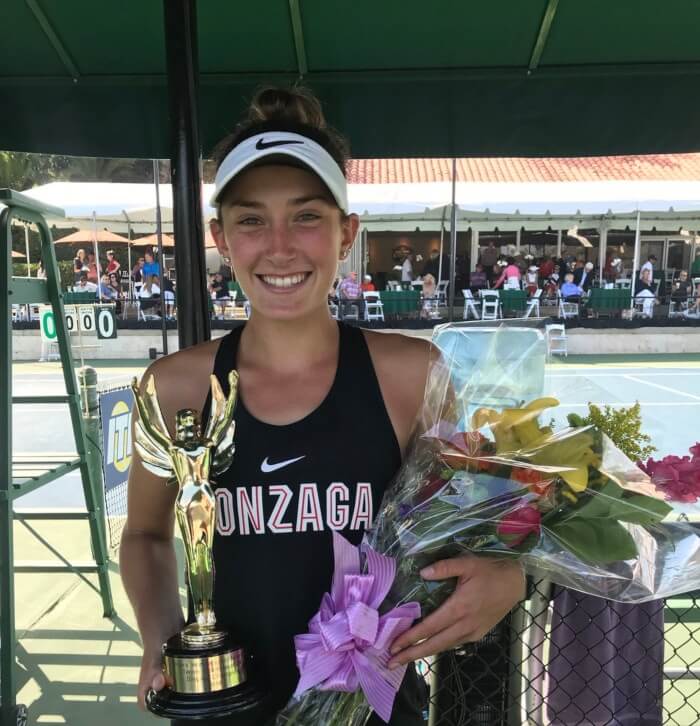 Sophie Whittle Won The ITA All-American Singles Title
© ITA
Once she got the ankle taped and the adrenaline kicked in, Whittle capped off her historical run with a third-set flourish.
She became the first ITA All-American champion in Gonzaga history by defeating Duke's Maria Mateas 6-4, 5-7, 6-3 at the Riviera Tennis Club in Los Angeles.
"I am just really happy for our conference and our school because I think that sometimes people overlook these smaller schools. I hope they don't anymore," Whittle said. "I know my program is willing to do anything and everything to help players develop and get better and I think this helps show that."
Whittle wasn't the only ITA All-American champion making history this year.
Junior JJ Wolf became the first Ohio State player to capture the ITA Men's All-American Singles Championship by defeating No. 1 Nuno Borges of Mississippi State 6-0, 7-6(3) in the final on Monday at the Michael D. Case Tennis Center in Tulsa, Oklahoma.
Next year, the men's and women's champions will be celebrated at the same location. The ITA announced on Monday that the women's event is moving from Riviera to Tulsa beginning in 2019. The dual-gender tournament matches will take place at multiple sites around Tulsa.