College Feature
Wesleyan Women, Emory Men Claim NCAA Division III Championships
by
Colette Lewis
, 24 May 2019
The NCAA Division III champions crowned Wednesday at Kalamazoo College's Stowe Stadium featured a new face and a perennial contender, with the Wesleyan women earning the program's first NCAA team title with a 5-4 win over defending champion Claremont-Mudd-Scripps and the Emory men defeating top seed Claremont-Mudd-Scripps 5-3 for their fifth team title and second in three years.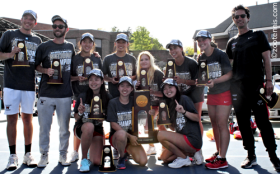 The tournament began in cold and damp conditions, with Monday's women's quarterfinals played indoors. The men managed to play their quarterfinals outdoors, although temperatures hovered around 50 degrees all day. The results were straightforward, with the top four seeds in both divisions advancing to Tuesday's semifinals, again played in weather conditions resembling early March, not late May.
Wesleyan, seeded No. 3, played the only two 5-4 matches of the tournament, getting through No. 2 seed Emory by that score in the semifinals, with freshman Alexis Almy clinching for the Cardinals at line 5.
In contrast, top seed CMS had earned a routine 5-2 win over No. 4 Middlebury in their semifinal, winning two of three points in the exceptionally competitive doubles, then rolling through four singles matches in straight sets.
In the final, delayed three hours by morning rain showers that ushered in sunshine and milder temperatures, Wesleyan picked up two of the three doubles points. CMS earned its point at line 3, with Sydney Lee and Madison Shea beating Almy and Alissa Nakamoto 8-4, while Wesleyan's Polina Kiseleva and Venia Yeung defeated Sarah Bahsoun and Nicole Tan 8-5 at line 2.
With each team with one point, all attention turned to line 1, tied at 6-6. Wesleyan's Kristina Yu and Victoria Yu held for 7-6, with Caroline Cox serving to get into a tiebreaker. Cox and Catherine Allen forged a 40-0 lead, but the Yu sisters won the final five points of the match to secure that crucial point for the Cardinals.
"It was huge for Kristina and Victoria to figure out a way to get a point at 1 doubles there," said Wesleyan head coach Mike Fried, who also coached the Wesleyan men's team to the quarterfinals this year. "Most all of these matches from the quarterfinals on, come down to a few points in the course of a four-hour match, but we came out on the right side of it in those few points."
CMS earned the first point in singles, with Bahsoun beating Megan Tran 6-0, 6-3 at line 6, coming from 3-1 down in the second set. At line 5, Almy, the semifinal hero, put the Cardinals back in the lead with an impressive 6-4, 6-0 win over Cox. Yeung got Wesleyan within a point of the title with her 6-0, 6-2 victory over Tan at line 2, meaning that CMS needed to win the three matches still on court.