Special from
Zoo Tennis
Less than a year ago, I interviewed the USTA's Kent Kinnear about his job as Director of Player Identification and Development, with neither of us suspecting that another interview, about his new, high-profile position at the USTA would be coming so soon. In October, the 52-year-old Kinnear was named head of men's tennis for the USTA, a position vacated in May by former University of Virginia and current Baylor University coach Brian Boland after just one year on the job.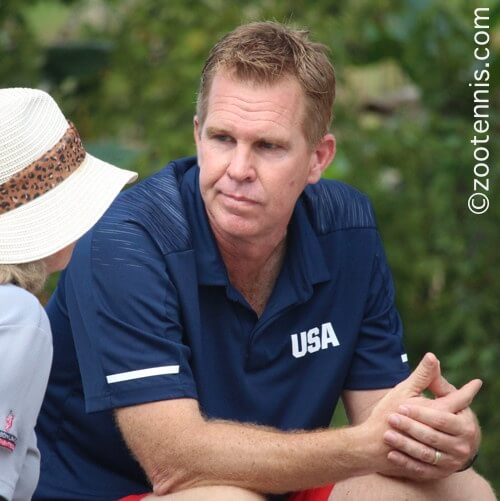 Kent Kinnear, the USTA's new Head of Men's Tennis
©
Zoo Tennis
After a junior career in Greenwood, Indiana, Kinnear played for legendary Clemson coach Chuck Kriese while rooming with former USTA head of men's tennis Jay Berger, who preceded Boland as the USTA's head of men's tennis. An All-American in doubles for the Tigers in 1987, Kinnear went on to play 11 years on the ATP tour, reaching a career-high ranking of 24 in doubles and 163 in singles.
After retiring from professional tennis in 1999, Kinnear worked for the Fellowship of Christian Athletes for two years, then began to gravitate toward coaching at the grassroots level. He was a USTA Summer Collegiate team coach in 2006, during his two years as an assistant men's coach at the University of Illinois, prior to joining the USTA as a National Coach in 2007. In 2011, Kinnear was promoted to his previous position when Martin Blackman, then the head of USTA Talent Identification, left to start his own academy. Blackman has since re-joined the USTA, returning in 2015 as General Manager of Player Development.
While at the Orange Bowl earlier this month, I had an opportunity to talk with Kinnear about the goals and challenges he has identified in his new position.
Colette Lewis: How does your new position differ from your previous one as Director of Player ID and Development?
Kent Kinnear: There's a lot of core things that are the same. A huge emphasis on the relationships, just really trying to maximize potential and work together with our national coaches, private sector coaches and part of Team USA. From that respect, I think there's a lot of a similarities. I think the difference now is it's broader, the whole pathway, all the way from the player ID in the youngest, all the way up to the top pros. It's how to figure out the best use of the coaches, what can we do for the top players as pros, making sure we have a big generation of players coming up and where do we need to strategize to really maximize that potential too. So there are similarities, it's just a longer part of the pathway.