Special from
Zoo Tennis
Francesca Di Lorenzo's temptation to play through an injury was understandable.
The 21-year-old left-hander from Ohio had qualified for her first main draw of a slam in New York last summer and had gone on to win her first round match. But by the time she had reached her career high WTA ranking of 150 in October, Di Lorenzo was forced to come to terms with the pain of plantar fasciitis. A partial tear in her fascia kept the former Ohio State Buckeye out of competition for nearly five months, with a much-anticipated first trip to Australia one of the casualties. Di Lorenzo began playing again late last month, at the Newport Beach WTA 125 and the Dow Tennis Classic in Midland, getting first-round wins in each.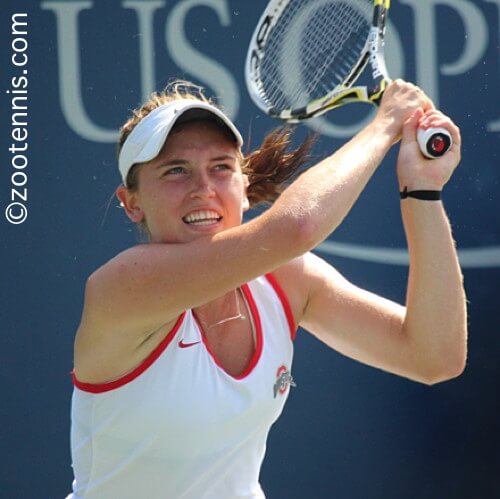 Francesca Di Lorenzo Has Recovered From Plantar Fasciitis
©
Zoo Tennis
"I wasn't expecting much at all, just trying to be out there as long as I didn't have pain, which I don't, so that was really nice," Di Lorenzo said.
The injury interrupted her steady rise in the WTA rankings. After her decision to turn professional in 2017, after her sophomore year at Ohio State, Di Lorenzo improved her ranking by more than 100 points, earning entry into the qualifying at the French Open, Wimbledon and U.S. Open last year.
Finishing her collegiate career as No. 1 in the ITA Division I singles rankings and as the 2017 NCAA doubles champion, Di Lorenzo was named the recipient of the 2018 Oracle Tennis Award, a $100,000 grant given annually to an American collegiate player pursuing a professional career.
I spoke with DiLorenzo in Midland about her comeback, the collegiate experience, the decision to leave early, continuing her education, the Oracle grant, her first year as a pro and her goals for 2019.
Colette Lewis: What did you do during your injury layoff?
Francesca Di Lorenzo: Yeah, it stunk. Obviously I wanted to finish out the year. I went home, got to go to some football games at Ohio State during the fall, see some friends I hadn't seen since I turned pro.
That was cool, to get to live a little bit of a normal life for a couple of weeks. I was still in Florida though, trying to keep up, sitting in a chair and hitting every day, trying to keep the physical part up. I was in the gym a lot. I just wanted to be as ready as I could possibly be when I did get cleared to go back. Obviously, I would have loved to be playing, but if I couldn't, I got to spend some time at home and I hadn't been home in a while for that amount of time.