Special from
Zoo Tennis
MOBILE, Ala. - The sixth year of the USTA National Spring Team Championships offered a bit of everything weather-wise, from humidity and rain at the beginning, to wintry temperatures at the end. Yet for all the blankets and down jackets necessary for the spectators and the leggings and hoodies required for player comfort, the Patriots and the Firecrackers will remember the tournament not for the weather, but for the gold medals they earned.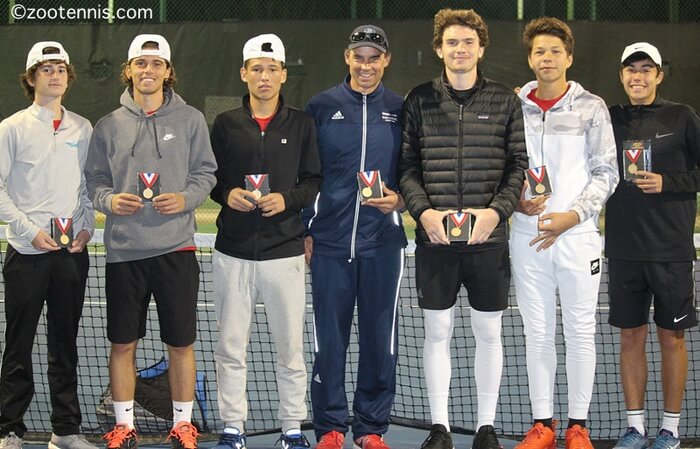 The Patriots Won the Boys National Spring Team Title
© Zoo Tennis
The 16 boys and 16 girls teams consist of six players, two each from the 14s, 16s and 18s divisions. Teams are selected two days prior to the event via the waterfall method, which is designed to distribute players equally using USTA rankings. Each team is assigned a junior development coach, selected by the USTA, then participate in one day of practice and team building before taking the court for the first of four matches in a compass draw.
As with Division I college tennis, one point is awarded to the team that wins two of three doubles matches, then six singles matches are played, each worth one point, with a No. 1 and No. 2 player from each of the three age divisions.
With rain expected on Sunday, the tournament's scheduled first day, tournament officials moved up the start of play to Saturday, leaving the teams only a few hours to get to know one another and the coach. Rain did in fact disrupt play on Sunday, with the boys quarterfinal matches unable to finish, while the girls did not take the court.
[PHOTO GALLERY: Check out more photos from the event here]
The boys finished their quarterfinals and played their semifinals on Monday, an unseasonably cold day in Mobile, with temperatures failing to reach 50 degrees. This revised schedule allowed the boys to play their final on Tuesday, with the Patriots defeating the Vikings 5-2 to claim the title.
According to Patriots coach William Brown, 14-year-old Jaxon Lamb earned the nickname Mr. Clinch after earning the deciding win for his team for the second match in a row.

On Monday night, Lamb won the last match in a tense 4-3 semifinal victory over the Rams. On Tuesday, as dusk began to fall on another chilly day at the Mobile Tennis Center, Lamb wasn't under quite as much pressure, with another match still going. But once again the Tennessean picked up the point that put his team over the top at the 14s No. 2 position, with a 6-2, 3-6, 6-1 win over Santiago Muhala the fourth point in the Patriots' 5-2 victory.
"There's just no quit in the kid," said Brown, who has coached a team in all six years the tournament has been in existence. "There was an incredible amount of pressure last night and he came through, so I want to throw some credit his way."
Lamb is a veteran of the USTA Zonals, a team competition for younger sectional players, but this was his first opportunity to play in Mobile, and being thrown into the fire Monday in the deciding match was a memorable experience for him.
"It was really the team that pulled me through," Lamb said. "I felt like I was about to pass out at 5-all. If I didn't have the team there, who knows what would have happened."
Lamb admitted that dropping the second set in Tuesday's final was another test of his mental strength.
"I was concerned, but I had to go into the third set playing aggressive, playing on top of the baseline and see what would happen," Lamb said. "And I pulled it out."
The Patriots fell behind early, with the Vikings taking the doubles point. The Patriots took the 18s doubles, with Anders Gibbons and Georgi Mavrodiev beating Joshua Raab and Kieran Foster 8-4, but the Vikings took the 14s doubles, with Cooper Williams and Muhala beating Lamb and Marko Mesarovic 8-3. That left the 16s doubles to decide the point, with the Vikings Nicholas Heng and Alexander Chang beating Ben Shelton and Alvaro Pedraza 8-7(7) after losing 5-0 and 6-3 leads in the tiebreaker and saving a match point at 6-7.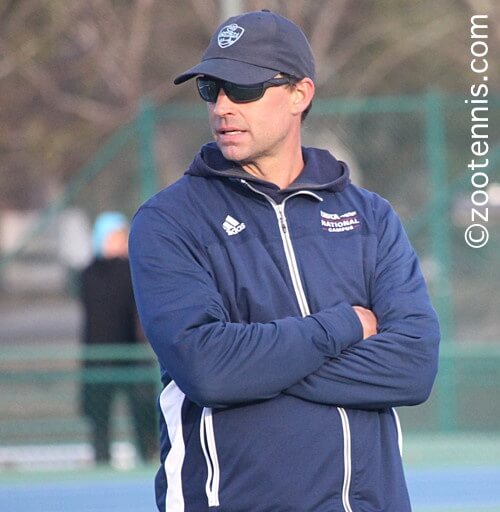 Patriots Coach William Brown
© Zoo Tennis
Brown had been happy with his team's play in doubles throughout the event, but admitted the Vikings outplayed them. Vikings coach Kevin Quay, whose team won all four doubles points in this event, was optimistic that strength would help deliver the victory.
"I felt very confident in my guys and felt everything was even," said Quay, who coaches at Isla Del Sol Country Club in St. Petersburg, Florida. "I felt for sure we could get three or four of those points. But I think (the Patriots) did a really good job under pressure, winning the big points."
Brown said Gibbons' quick 6-2, 6-3 win over Raab at No. 1 18s was the boost his team needed.
"I told him today, you're my number one player, you're my leader, and I need you today," Brown said. "He came out super focused, super sharp and he controlled it throughout. That was huge. I told him I needed him to set the tone for the match, and that is what the young man did."

The Patriots took a 2-1 lead when Shelton defeated Heng at No. 1 16s 7-6(4), 6-2, but just a minute later, the Vikings pulled even, with Williams beating Mesarovic 7-5, 7-6(3) at No. 1 14s. After Williams made it 2-2, Pedraza served for the match against Chang at No. 2 16s and he closed out 7-5, 6-4 victory, while Lamb had taken a 4-1 lead in the third set. The Patriots' Mavrodiev had fought back to force a third set against Foster at No. 2 18s, and was leading 3-0 when Lamb broke Muhala for the 6-2, 3-6, 6-1 victory and the title. Mavrodiev went on to defeat Foster 4-6, 6-1, 6-1 for the last Patriots point.
Brown, who has his own academy in St. Louis, is convinced this event is a significant building block in a junior's development.
"This is my favorite week professionally," said Brown, who coached the Angels, a girls team, to the title in 2015. "This is the best thing I do all year long. I love it...they throw us in the fire, and every year I see this happen with these kids. They start making connections, they start jelling, and you see a lot of personal growth, and a lot of growth as tennis players. And I'll go so far as to say this - every year I hear from kids after, how they go on to have more success after being a part of this event. That tells me that this is such a good event for junior development; they learn something."
Lamb agreed that reaching outside the typical sectional interaction is a highlight of the week.
"I love team events, and bonding with people you've never met before, it's a great experience," Lamb said. "Team events are amazing experiences for everyone. I've never gone home with a gold medal before. It feels awesome."
In the boys third place match, the Rams defeated the Seahawks 5-2.
Niraj Komatineni of the Raiders was the recipient of the boys sportsmanship award.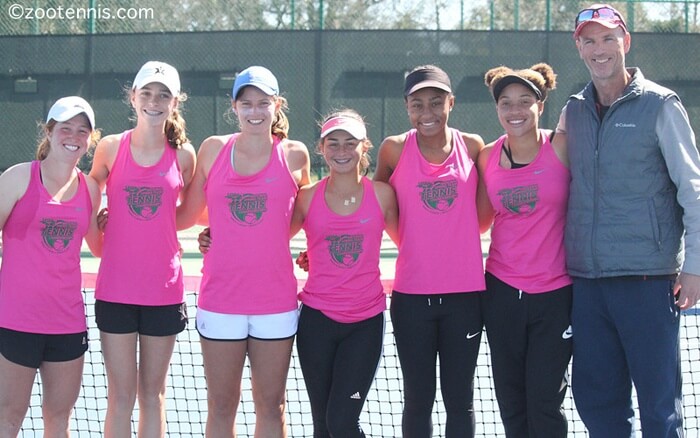 The Firecrackers Won the Girls National Spring Team Title
© Zoo Tennis
For the second year in a row, the girls champions won the title after saving a match point earlier in the tournament in a deciding match. In 2018, it was the Stingrays' Jessi Muljat who changed her team's fortunes by winning that point in the first round. This year, it was Gianna Pielet of the Firecrackers who was a point away from a loss to the Devils in the quarterfinals, but she saved a match point in a third set tiebreaker that gave her team the 4-3 victory. Two days later, the Firecrackers were gold medal winners, beating the Red Hawks 5-2 on another clear and cold day at the Mobile Tennis Center.
"We were lucky to escape that one," said Firecrackers coach David Thornton. "I think that kind of pole vaulted us into another stratosphere in terms of the team bonding a little better. We came out strong in the next couple of matches and felt good about it."
In Wednesday's final, the Firecrackers swept the three doubles matches to take the early lead, with Sydni Ratliff and Violeta Martinez taking the 16s over the Red Hawks' DJ Bennett and Filippa Bruu-Syversen 8-4. The 14s clinched the point, with Maeve Thornton and Ibifuro Clement beating Ylan Duong and Jayna Clemens 8-5. The 18s went to a tiebreaker, with Pielet and Kayla Wilkins defeating Casie Wooten and Sophia Sassoli 8-7(4).
"Always, in a match like this, the doubles point is key," said Thornton, who coaches at the Knoxville Racquet Club. "You get that point and it kind of gets you some momentum, when you know you only have to get three matches."
Ratliff was a rock all week for the Firecrackers, going 8-0 in singles and doubles, and in the final she was the first off the court with a 6-2, 6-2 win over Bennett at the No. 1 16s position. The Red Hawks got on the board when Bruu-Syversen, who had clinched her team's 4-3 semifinal victory over the Tornados Tuesday, defeated Martinez 6-3, 6-4 at the No. 2 16s position. Pielet brought the Firecrackers to the brink of victory with a 7-6(3), 6-2 win over Wooten at No. 1 18s, with the three remaining singles matches all in third sets.
The drama was limited however, as Maeve Thornton had run out to a 5-1 lead in the third against Duong at No. 1 14s, and she closed out the Firecrackers title with a 0-6, 7-6(4), 6-1 victory.
Maeve Thornton, the daughter of the Firecrackers coach, said the responsibility to her team and her father's advice both played a role in her comeback.
"I remembered that I was competing for myself and for my team, so that gave me extra motivation," said the second 14-year-old from Tennessee to clinch a title this week. "My dad helped me and my confidence went up after I started playing better. I started being more aggressive, hitting my shots, and it turned around."
Coaching a team to a national title is always rewarding, but having his daughter on the team made this one doubly so for David Thornton.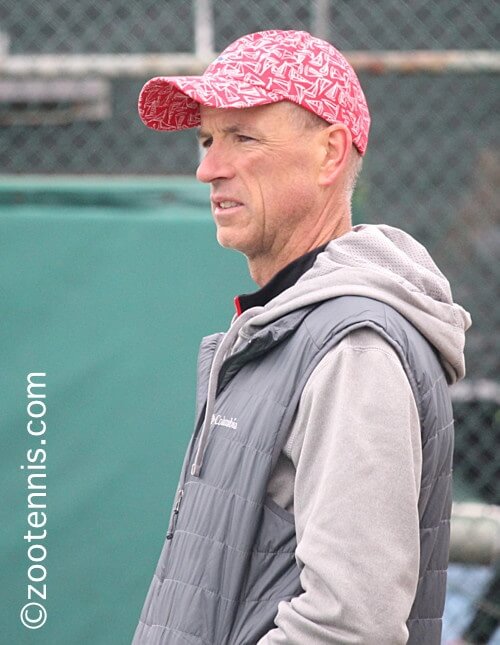 Firecrackers Coach David Thornton
© Zoo Tennis
"It feels special," said David Thornton, who previously coached at Middle Tennessee State and Vanderbilt. "It's nice obviously, working with your daughter and being on the same team as your daughter. But just to be with these girls was a good time. It was nice to get to know them. It took me a while to get a feel for the group. Usually I need to corral the team a bit, to lead them. I felt with this team, I just needed to let them have their own pace. And that worked well."
After the awards ceremony, Pielet reflected on that pivotal match in the quarterfinals, and the boost it gave her and the team.
"I really had no idea at the time that we were tied, but the crowd, all the people, it was really intense, and it was fun," said the 16-year-old from El Paso, Texas, who cramped in her first match, but was able to recover during Sunday's washout. "I was glad to pull out that second match against Andrea (Cerdan) 7-6 in the third. It was really tight and it was a great match. This tournament's a really good experience to get used to the college atmosphere and I had a lot of fun."
The Red Hawks got their second point when Clemens posted a 1-6, 6-1, 6-4 win over Clement at No. 2 14s, with Wilkins earning the Firecrackers fifth point with a 3-6, 7-6(3), 6-4 win over Sassoli at No. 2 18s to close out the tournament.
Red Hawks coach Nelo Phiri was pleased with the way her team competed throughout the final.
"They recognized that we were playing a tough team that was ready to do what they needed to do to win too," said Phiri, who was a graduate assistant at St. John's University prior to her current involvement with Fearless Growth. "They showed respect for their teammates and they grew from their previous matches. That was the main goal, growing from previous matches, reaching our potential while continuing to work as a team. Seeing them together after this loss, I know they'll keep a good relationship after this, and that's amazing."
Third place went to the Pirates, who beat the Tornados 4-3.
The girls sportsmanship award recipient was Katya Hersh of the Tornados.
About American College Placement
We are excited to have American College Placement as the title sponsor of Championship Week at TennisRecruiting.net.
American College Placement - Premier Face-to-Face Mentoring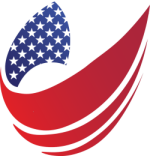 American College Placement is a mentoring and placement company. The difference with ACP is we only hire mentors that either played or coached college sport. We are the most personalized, boutique style service in the country. We will invest in you and your college selection process from building your list of schools all the way to signing your National Letter of Intent.
Our mentors will meet with you and your families face to face to ensure that all your needs are being met. You will have around the clock access to your mentor via e-mail, text, and phone throughout the process. Selecting the right college and athletic program is a big job.
Don't do it alone. Let American College Placement walk side by side with you from beginning to end.
Learn more about American College Placement at AmericanCollegePlacement.com - or connect with them on Facebook and Instagram.
Leave a Comment
More Tournament Features
19-Jul-2019
Mochizuki Makes History, Americans Win Doubles Title at Junior Wimbledon
History was made during this year's Junior Wimbledon Championships when Shintaro Mochizuki became the first Japanese boy to win a junior slam singles title. Unseeded Daria Snigur captured the girls singles title, and Americans Abigail Forbes and Savannah Broadus won the girls doubles crown at the All England Lawn Tennis Club.
10-Jul-2019
USTA Pro Circuit Event Returns to Iowa
The University of Iowa Hawkeye Tennis and Recreation Complex is hosting a United States Tennis Association Pro Circuit event on July 15th. The Old Capitol Tennis Championships, a men's professional tournament, will return for a second consecutive year in Iowa City.
30-Apr-2019
Gupta Captures Prestigious Boys CIF Title at The Ojai
Junior champions were crowned over the weekend at the prestigious 119th Ojai Tennis Tournament in Ojai, California. The winners and finalists will add their faces to the photo boards at Libbey Park that include many legends of the sport.
About Colette Lewis
Colette Lewis
has covered topflight U.S. and international junior events as a freelance journalist for over a decade. Her work has appeared in
Tennis
magazine, the
Tennis Championships
magazine and the US Open program. Lewis is active on
Twitter
, and she writes a weekly column right here at TennisRecruiting.net. She was named
Junior Tennis Champion
for 2016 by Tennis Industry Magazine.
Lewis, based out of Kalamazoo, Michigan, has seen every National Championship final played since 1977, and her work on the tournament's ustaboys.com website led her to establish ZooTennis, where she comments on junior and college tennis daily.