Special from
Zoo Tennis
Early verbal commitments are not unusual, yet most young players are sophomores or juniors before they are ready to consider where they might attend college. But 17-year-old high school senior Stefan Dostanic, who will join the University of Southern California this fall, had chosen his school more than a half dozen years ago, due to a friendship he made even earlier.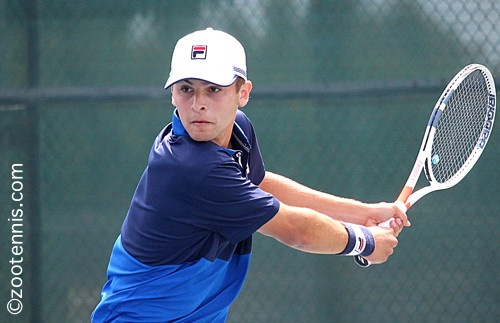 Blue Chip Senior Stefan Dostanic Has Signed with USC
©
Zoo Tennis
"I'd say it was probably when I was around 10," Dostanic said of the timing of his decision to become a Trojan. "I've been close with Colter Smith, [Coach Peter Smith's son] since I was about 9. We trained here at Carson when he was 11 and I'd see him at all the tournaments, so we became really good friends. And from him, I knew Peter, always a very nice guy, and I knew he was a great coach. I really like the Smith family, we had a really good connection, my family liked theirs, so it just worked out. I knew I always wanted to go there."
Dostanic, a blue chip ranked No. 6 in the class of 2019, briefly considered two other Pac-12 schools, UCLA and Stanford, but concluded that USC was "just the right fit for me."
Dostanic, who has lived in Irvine, California all his life, began playing tennis at age 5, prompted by his older sister's interest in the game.
"My dad, he didn't play tennis when he was younger, but he got into it with a couple of his buddies when he was older," Dostanic said. "He kind of taught my sister how to play, and then I saw her always playing so I always wanted to play."