College Feature
A Day In The Life: Cal Senior Maria Smith
by Rhiannon Potkey, 7 May 2019
Going to class, practicing, lifting weights, playing matches, eating, studying, getting treatment. College life keeps a tennis player very busy, and time management becomes a valued necessity.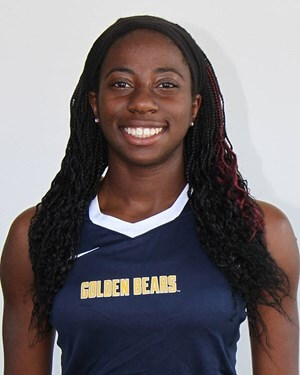 Maria Smith
How do players navigate their schedules once they get on campus? We provide an inside look through their own words.
Here is A Day In The Life of Cal women's senior Maria Smith:
Monday morning
I wake up about 6:30 and look at the schedule we have for the colors we wear in the spring and the fall. I see if I need a gold shirt, white shirt or blue shirt. Monday is a blue shirt and gray shorts, so I get that out and get dressed. Then, I make myself a bowl of oatmeal with honey and sometimes a banana. I try to drink a full 32-ounce bottle of water to stay hydrated. I pack my backpack and make sure I have all my books for class, a change of clothes, my laptop, pens, highlighters and all that. I am a little sluggish in the morning, so I give myself some time to do what I need to do before leaving the apartment at about 7:30.
We have weights at 7:45 on Monday, Wednesday and Friday, so it takes me about 10 minutes to walk there. We foam roll first and then do a dynamic warm-up with the girls before starting our workout at 8 with our strength coach. In-season, we do more agility and quick movement drills and really explosive stuff to work up a good sweat. It's a really good feeling to have that camaraderie early in the morning and start off our day with a good workout. We normally have a match Friday or Saturday and don't see each other on Sunday, so seeing everyone back at it again is really exciting.