Commitment Profile
Blue Chip Gawande Leaps at the Chance to Attend Harvard
by Rhiannon Potkey, 24 June 2019
In the hyper-specialized world of junior tennis, Sanyukta Gawande still carves out nine hours a week to attend gymnastics practice.
Every Tuesday, Thursday and Saturday evening, the blue chip rising senior heads to South Florida Gymnastics for three hours of training. Gawande does cartwheels on the beam and back handsprings on the floor, usually after having already spent four hours playing tennis.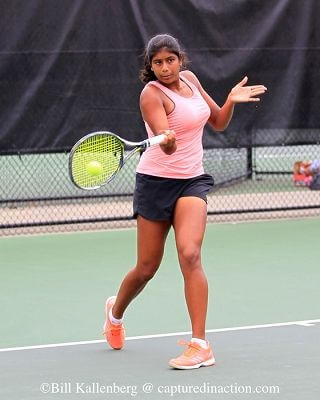 Sanyukta Gawande Has Committed to Harvard
© Bill Kallenberg/CapturedInAction
Gawande used to compete in high-level gymnastics meets, but now just trains for fun and to keep her body strong.
"It's something I really enjoy doing, and it's always been a sport that I really love," Gawande said. "It really helps me in my tennis game as well because of the flexibility and strengthening of my muscles."
Whether in sports or in life, Gawande has always embraced diversity and high-level challenges. The Bradenton, Florida resident took the same approach to selecting a college. She has committed to Harvard, with a plan to major in economics and statistics.
"When I started tennis, it was never my goal in life to go to an Ivy League school or anything like that," said Gawande, who also considered Penn, Cal, Georgia Tech, Virginia and North Carolina. "This entire process was pretty new to my family. But after visiting all the coaches and universities, I really felt like Harvard was the place I would like to study and play tennis and spend my four years."