Tournament Coverage
Basavareddy Cruises to Boys 14s Clays Singles Title
by Harvey Fialkov, 24 July 2019
Playing seven or eight matches over eight days was certainly challenging to the finalists in the USTA Boys 14s National Clay Court Championships in Fort Lauderdale, Florida.
Toss in 90-degree, sweltering conditions and it's no wonder that conditioning as well as the degree of difficulty of the combatant's earlier rounds would play a huge role in the outcome.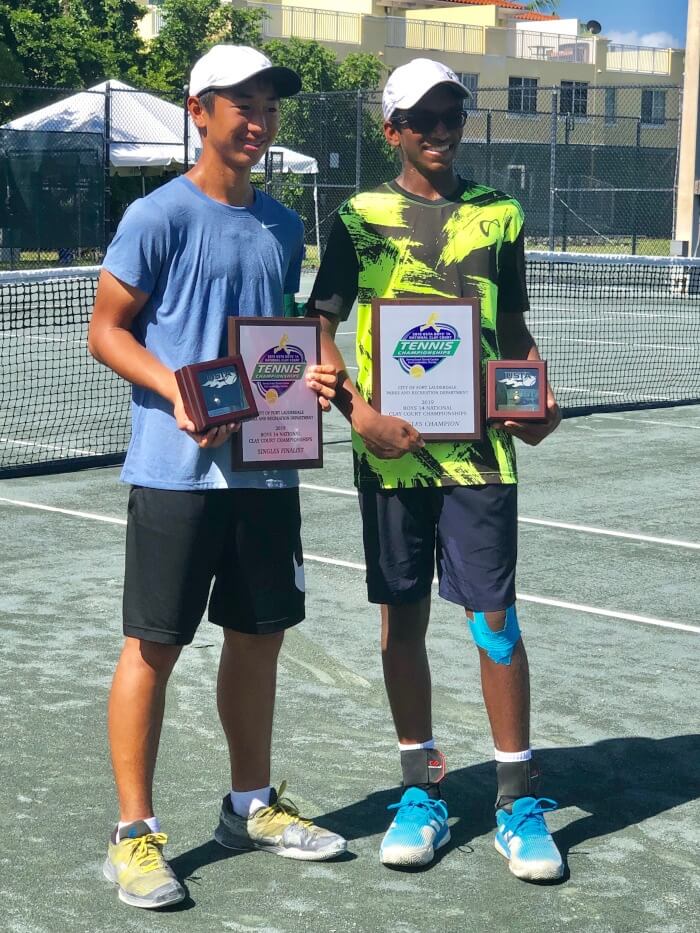 Dylan Tsoi (Left) and Nishesh Basavareddy
Dylan Tsoi, the sixth seed from El Dorado Hills, California, needed three hours to edge the fourth-seeded Nicholas Godsick of Miami (and Chagrin Falls, Ohio), 6-4, 4-6, 6-4 in a grueling semifinal on Saturday.
In his quarterfinal, Tsoi, a muscular 5-foot-8 teen, outlasted second-seeded Cooper Williams of Greenwich, Connecticut, 6-4, 4-6, 7-5.
On Sunday, Tsoi put up a brave battle but clearly his tank was closer to E then F, as unseeded Nishesh Basavareddy of Carmel, Indiana, utilized a mature, versatile attack to notch a 6-1, 6-0 victory in a final that lacked drama at the Jimmy Evert Tennis Center.
Of Basavareddy's eight victories, he was only pushed to three sets in his quarterfinal 6-1, 4-6, 6-3 upset of top-seeded Yannik Rahman of Miami, so he had energy to spare.
"As I got closer to the finals, the matches got tougher, so it was incredible of me to pull those matches out," Tsoi said. "Naturally, it got tougher to stay focused after [two long matches] during the final while Nishesh had a lot quicker matches compared to me. It was tough to stay in the long rallies … but this is my first silver ball and a deep run in a [Level 1] so it was an awesome experience and it takes some time to get used to it.''