Tournament Coverage
Price Secures Gold Ball, Junior U.S. Open Wild Card
by Rhiannon Potkey, 26 July 2019
Gabriella Price needed match play, so her coach suggested she enter the USTA Girls 18 National Clay Court Championships.
Price hadn't made an appearance at Clays since 2015, when she was in the 14s. But an ankle injury this year prevented her from playing many big tournaments, and her time on the court had been restricted to mostly training.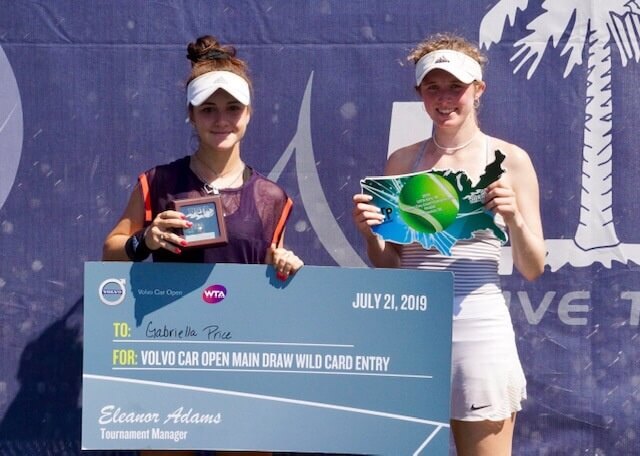 Champion Gabriella Price (Left) and Finalist Karina Miller
Price made the most of her return.
The 16-year-old New York native went the distance, capturing the gold ball with a 6-0, 7-5 victory over No. 7 Karina Miller of Ann Arbor, Michigan at the LTP Tennis Club in Mount Pleasant, South Carolina.
"I am really excited. I was training really hard before I got here and I am really glad that I played well," said Price, who signed with a pro agency five months ago. "It was a lot of matches, but that is what I wanted and it was fun."
Lauren Stein of Paradise Valley, Arizona and Reilly Tran of Dunn Loring, Virginia captured the doubles title. The 13th-seeded tandem defeated unseeded Maxi Duncan of Irvine, California and Jamilah Snells of Miramar, Florida 6-1, 6-0 in the final.
Along with winning her first gold ball since age 11 at Easter Bowl, Price received a singles wild card into the main draw of the U.S. Open Junior Championships and a singles wild card into the main draw of the 2020 Volvo Car Open.
Price didn't think about the Junior U.S. Open wild card until her father mentioned it before her semifinal match.
"I was really excited about the possibility since my junior ranking right now won't be able to get me into qualies," Price said. "But the final was the most nervous I have ever been for a match knowing that the wild card was at stake. I wanted to play the U.S. Open really bad because I am from New York and it's my favorite tournament along with Wimbledon."