Recruiting Feature
Countdown to Signing Day 2019
by Rhiannon Potkey, 14 October 2019
November 13, 2019. Circle the date on your calendar, because that day is the beginning of the signing period for recruits. The start of the signing period is the highlight of the annual recruiting calendar because it is the first time that seniors in the Class of 2020 can formally commit to NCAA Division I or Division II schools.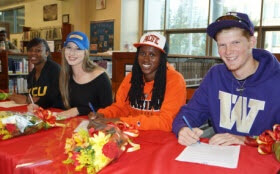 Our commitment lists (boys, girls) show a number of early verbal commitments - but those commitments are not official or binding. Several seniors who had made verbal commitments earlier this year have since changed their minds. November 13th is the first day when those commitments become official.
Starting today, the Tennis Recruiting Network is ready to bring you exclusive coverage of the event in our Countdown to Signing Day series. Each day will bring fresh content to the website - with commitment features, advice and coach interviews appearing regularly.
Here is our planned coverage schedule:
Countdown to Signing Day Series Presented by
That is our current schedule - but we will update it from time to time as news breaks from the Class of 2020.
Check back regularly over the next month, as Tennis Recruiting brings you a courtside seat to the Countdown to Signing Day!
Leave a Comment
More Website News
7-Jan-2021
Spring Star Ratings Period Begins
Twice a year, TennisRecruiting.net updates its Star Ratings - sometimes known as "The Stars". Our next update to the Star Ratings comes in mid-March - and those ratings will be based on players' highest rankings during the first eight full weeks of the year - from the week of January 4 to the week of February 22, 2021. We invite players to review their player records to ensure accurate ratings.
29-Dec-2020
New Year, New Changes to USTA Junior Competitive Structure
Beginning in January of 2021, the USTA is implementing a simplified nationwide structure in junior tennis with hopes of creating a standardized system and greater consistency for players, parents, coaches, tournament directors and officials.
25-Dec-2020
Merry Christmas
Merry Christmas from all of us at Tennis Recruiting Network. This year hasn't been easy for anyone, but we hope you can enjoy the day and find gratitude in the small blessings in life. Thank you for making us a part of your tennis journey.
About Rhiannon Potkey
Rhiannon Potkey is a veteran sportswriter with more than two decades of experience in journalism. Potkey has covered many sports at many levels and has a passion for finding great stories. Potkey has covered the U.S. Open, junior sectional and national events, college conference championships and Davis Cup matches. Potkey is currently Content Strategist for Tennis Recruiting. You can reach Rhiannon by email at
[email protected]
.