College Feature
Juniors, College, Pros: Nanda Thrives on Three Levels
by
Colette Lewis
, 12 July 2019
Last summer 17-year-old Govind Nanda announced his commitment to UCLA, joining the Bruins for the 2019 dual match season despite having a full year of eligibility remaining in junior tennis. Slotted into the No. 3 position by head coach Billy Martin, Nanda went 17-5 in dual contests, playing a key role in the Bruins' Pac-12 regular season title.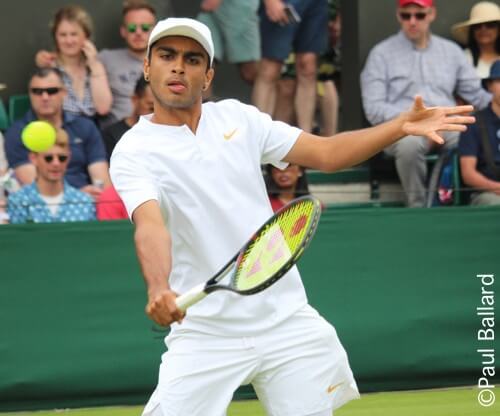 Govind Nanda Competed in Wimbledon Juniors This Month
© Paul Ballard
Adjusting to being in the classroom again after completing his high school studies online, Nanda views his first semester of college as a success, but he is not yet ready to leave junior tennis behind.
Determined to play the summer junior slams, Nanda took a huge step toward that goal even before he began classes at UCLA, winning the $25,000 ITF World Tennis Tour tournament in Tucson, Arizona at the beginning of the year. With an ATP ranking of 601, Nanda automatically earned entry into the main draw at junior slams, and has played both the French Open and Wimbledon Junior Championships this summer.
I spoke with Nanda while he was competing at Wimbledon, where he reached the second round in singles and the quarterfinals in doubles with Liam Draxl of Canada. We discussed some of the highlights of his first semester as a Bruin, the USC-UCLA rivalry, what improvements he has seen in his game since starting college and juggling the expectations of competing at three levels.
Colette Lewis: Looking back on your first semester of college, what stands out?
Govind Nanda: I think I've matured since going to college. Just managing my time, I think I've gotten better at that. And I think my tennis has improved too. The coaches there, Billy Martin and Rikus De Villiers, have really helped me. Rikus has spent hours and hours with me on the court and I'm grateful for it. He's helped me improve my net game and transition game. My forehand return and my forehand in general has improved a lot, as well as my serve.