College Feature
Centenari Returns to Alma Mater Dartmouth as Head Coach
by Rhiannon Potkey, 6 August 2019
Xander Centenari noticed a few people doing double takes when he arrived at the courts for the USTA Boys 18 & 16 Clay Court Championships in Delray Beach, Florida.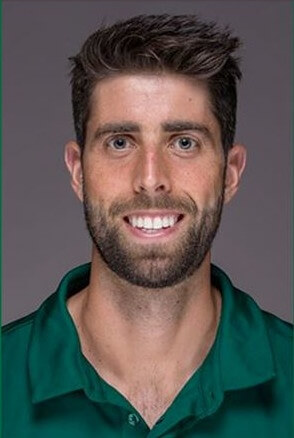 Centenari had been recruiting for the University of South Florida on Monday. But when he returned on Tuesday, something had changed. He was still wearing the same color green, only the logos were different.
Centenari had been hired by his alma mater, Dartmouth, as the program's new head coach. The former two-time team captain asked the Big Green to overnight him some new gear he could wear in Florida.
"I was so excited to get going and start recruiting for Dartmouth," Centenari said. "It all happened pretty quickly, and I hit the ground running as soon as it became official."
Centenari, 29, returns to Dartmouth after two seasons as an assistant coach at USF. He replaces his former coach Chris Drake, who took the same position at Yale.
An All-Ivy League selection in singles and doubles, Centenari graduated from Dartmouth in 2013 with a degree in psychology. He spent four years pursuing a professional career - reaching a career-high ranking of No. 1,249 in singles and No. 536 in doubles - before entering the coaching profession.
"To be honest, this was the only job at the moment that could have pulled me away from what I was doing at South Florida," said Centenari, the 2013 ITA Northeast Arthur Ashe Sportsmanship Award winner. "The chance for me to come back to where it all started for me and continue that legacy in a head coaching role is actually a dream come true for me."
Centenari's outlook on life was shaped by a cancer scare at age 15. During his freshman year of high school in Baltimore, Maryland, doctors discovered a melanoma on his foot. He underwent surgery and spent a year having therapy treatments.
"That sort of put on a path for growth as a human. I developed some perspective that a lot of kids don't have as far as what's important in life," Centenari said. "I think in the long term that helped my tennis a lot because nothing felt as devastating as it might look on the surface. Wins and losses on a tennis court just didn't come as close to having that experience. It gave me so much perspective and gratitude."
Centenari is hoping to build the Dartmouth program on a culture of hard work, discipline and playing like a team. He wants to understand his players on a deeper level, and know what makes them tick individually so he can help them reach their potential.
"I work from a relationship-based coaching model. First and foremost, I am looking to build relationships with my players. I think trust is really key, particularly when you are spending four years with a guy in a pretty critical time in his life," Centenari said. "Chris Drake had a very formative impact on me, so my deep motivation in college tennis is to try and do the best I can to help these kids grow and mature."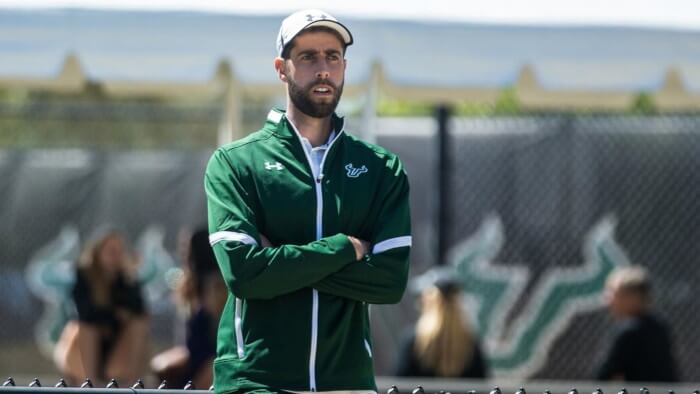 Centenari Spent the Last Two Seasons Coaching at USF
© USF Athletics
At USF, Centenari introduced the players to breathing techniques, nutrition plans and new routines. Peter Bertran, a 2018 USF graduate, appreciated Centenari's attention to detail and organization.
"Xander impacted me in many ways. One of them was the way he approached me and the rest of the players. When he talked, he just knew what to say and how to talk to every guy individually," Bertran said. "I think this is a huge deal. Many coaches get lost on how to approach each player. Not everybody gets a message the same way, so I think it's really remarkable when a coach can notice this. Xander did it great."
Centenari will have to alter his recruiting pitch at Dartmouth without the ability to offer scholarships at the Ivy League institution. It puts a premium on identifying the right players to thrive in the environment.
"If you have scholarships or not, I think recruiting comes down fundamentally to being very transparent about what the organization is, and looking for the type of kids that fit our values," he said. "There has to be transparency on both ends, and then you have to build a relationship with the player and the family. Those things remain unchanged regardless if you have scholarships or not."
Although there will be some bumps in the road as he adjusts to being a first-time head coach, Centenari believes having played at Dartmouth will provide a measure of comfort.
"I think that is a tremendous benefit for me coming in. The learning curve is less as far as learning about the school and the way the team operates," he said. "Having such a deep connection to the school, I would hope my players and the players I am recruiting can feel the authenticity from me. Just talking about the school fires me up because I have so many great memories and great stories about my time there."
Bertran is confident Centenari will succeed in leading his own program.
"He has so much ambition and passion for what he does and he always wants to keep improving in every aspect to reach success," Bertran said. "I think he made a huge jump in a relatively short amount of time going from volunteer coach to assistant coach to now head coach. But that doesn't surprise me. As soon as he came to us, I could see he had a clear vision of what he wanted, and that was to potentially reach the head coach position either at our university or somewhere else, and I'm glad and proud he was able to get it."
Centenari is back on the road recruiting this week at national hard courts in Kalamazoo, and has accumulated more Dartmouth gear to wear. Centenari takes great pride in representing the program both as an alumni and now as the head coach, and wants to keep the expectations high,
"We want to stay hungry and stay in the hunt for Ivy League titles and regular NCAA appearances," he said. "But fundamentally we are looking to continue to build the organization to where day in and day out we are just going to work and do the things we can control to the best that we can and trust it will pay off in the long run."
Leave a Comment
More College Coverage
18-Sep-2020
ITA Fall Tour Features 10 Weeks of Regional Competition
The Intercollegiate Tennis Association has introduced a new 10-week fall tour that begins today at 11 sites throughout the country, with over 160 additional tournaments scheduled through November. The events are open to any player — junior, college or professional.
16-Sep-2020
NJCU Launches Return of Tennis Amid a Pandemic
New Jersey City University remained committed to bringing back men's and women's tennis this year despite the global health pandemic. Nick Margiasso was hired in April to try and build both rosters with significant hurdles to overcome.
4-Sep-2020
UCLA's Jada Hart is Helping Bruins Learn More About Voting
UCLA redshirt senior Jada Hart is helping her teammates learn more about the upcoming election as part of UCLA's Voting Matters Initiative. Hart and sophomore Abbey Forbes were selected to represent the women's tennis team during a tumultous time in the country.
About Rhiannon Potkey
Rhiannon Potkey is a veteran sportswriter with more than two decades of experience in journalism. Potkey has covered many sports at many levels and has a passion for finding great stories. Potkey has covered the U.S. Open, junior sectional and national events, college conference championships and Davis Cup matches. Potkey is currently Content Strategist for Tennis Recruiting. You can reach Rhiannon by email at
[email protected]
.