College Feature
New Job, New Baby: DePaul's Arce Juggles Major Life Changes
by Rhiannon Potkey, 1 August 2019
Marisa Arce wanted to believe there would be no discrimination. She wanted to believe society has become more open to working mothers.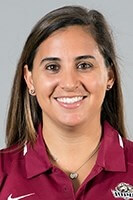 Marisa Arce
But she was still apprehensive when she applied for the DePaul women's head coaching job.
Arce, 29, was seven months pregnant.
Not only would it make the interview timeline a bit more difficult, but if she was hired, she would not be able to recruit during the prime stretch of major USTA national events.
"There was definitely fear just because I felt like my situation made the process harder," Arce said. "Before they could even get to know me, would they want to go that extra mile?"
DePaul was.
DePaul athletics director Jean Lenti Ponsetto announced Arce's hiring in mid-July. The Chicago area native and Illinois graduate is returning home after spending the last four seasons as the head coach at IUPUI.
Arce (formerly Lambropoulos) grew up in Lake Forest, Illinois, and her parents and three brothers still live in the area. Once she saw on Facebook that Mark Ardizzone was leaving the DePaul program after more than two decades at the helm, Arce knew she had to act quickly.
"I thought, 'Oh, wow. That would be an unbelievable job to go after.' But the timing was kind of awful with my due date approaching," Arce said. "But he had been there for 23 years, and I thought if I don't go for this I might have to wait another 23 years for this opportunity to open again. DePaul was everything I wanted in a job since I started coaching."