Commitment Profile
Dickson Puts in the Work to Earn Division I Opportunity
by Rhiannon Potkey, 11 September 2019
Jonah Dickson didn't get really serious about playing competitive tennis until age 14. The Pacific Palisades native assumed he was athletic enough to eventually earn a spot on a Division I college roster.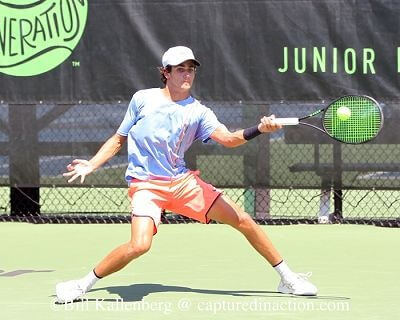 Jonah Dickson Has Committed to Boston University
"But once I started playing more and more tournaments in SoCal, I realized how far behind I was compared to everybody else," Dickson said. "I realized how much better guys were than me and they weren't even going to the top, top schools. I thought, 'Wow. I really had to put in some work.'"
Dickson dedicated more hours to the court and gradually improved. The four-star senior caught the attention of Boston University coaches Dejan Stankovic and Jesse Frieder, and committed to the Terriers last month.
"Coach Frieder got to know my family really well and we had a really strong connection," Dickson said. "He really made an attempt to get to know my parents, and at Clay Courts this year he saw my grandparents watching me and went up and talked to them. That made a big impression on me. He was always checking in to see how everything was going."
Despite his Southern California roots, Dickson was familiar with Boston University. His parents are from the East Coast and his cousin attended the school.
The 5-foot-11 left-hander emailed the BU coaches, and eventually visited the university. He felt a positive energy once he stepped on campus, and got along well with the team members.
"The practices were super intense, but also a great environment, Dickson said. "It wasn't too intense to the point where it didn't look fun. They were having fun but also working hard, which I really appreciated."
Dickson planned to visit other schools during his college search, but didn't feel the need once he left Boston to fly back home.
"I never really wanted to be a city kid, but once I visited I felt such a good vibe there, and deep down I think I knew I wanted to go to Boston University," Dickson said. "I felt like it was the right fit for me. Every time I got an email from the coach, I would get very excited. It was pretty much the only school in the end that made sense."
Seeing Dickson set a goal to play Division I tennis and achieve it is no surprise to his parents.
"He is an incredibly focused player, and I think that is a big part of his character," said Dickson's father, Richard. "When he is passionate about something - whatever it may be - he puts 110 percent of himself into it, and tennis is the sport that has always been a deep-rooted passion for him."
Dickson was an active child, and loved playing with balls from an early age. He was involved in a multitude of sports, with his parents driving him from flag football to baseball to swimming to tennis lessons.
Once he began devoting more time to tennis, Dickson chose not to be homeschooled. He attends Harvard-Westlake, an academically rigorous college prep school, and plays for the school's successful tennis program.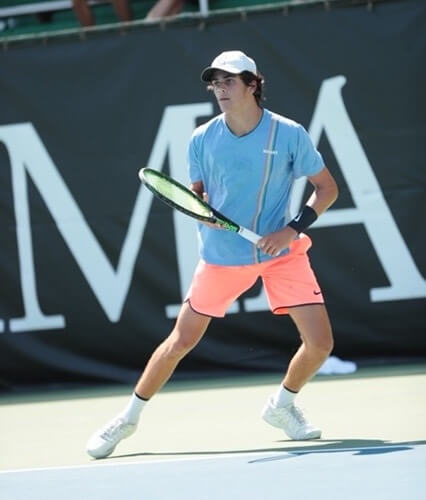 Dickson Plays for Harvard-Westlake in High School
Dickson's game has progressed since he began working with Haythem Abid, a former UCLA player.
"I owe a lot to him for where I am today. All the growth of my game is basically from practicing with him," Dickson said. "He understood how much better I needed to get in order to play college tennis and he really helped me develop my game."
As may be expected of a SoCal-bred kid, Dickson enjoys spending a lot of his free time at the beach and on the waves.
"I love surfing. I surf a lot during the summer. That is probably my second sport right now I guess you could say," Dickson said. "I don't surf that much during the year because school and tennis take up all my time. But I surf a lot during the summer."
Dickson's parents were impressed with the mature approach he took to the college recruiting process.
"He had a great outlook on finding the right blend of personal interests, academic interests and of course his athletic interests," his father said. "The criteria he mapped out for a school was a good blend of all three. At the end, I think he made an amazing choice in a fantastic city like Boston."
Although relieved to have committed, Dickson plans to work even harder in training to try and make an impact at BU once he arrives in the fall of 2020.
Just the thought of competing for Patriot League titles with his new teammates and representing BU makes Dickson smile.
"I love the team spirit. High school tennis is great, but everyone tells me college tennis is high school tennis on steroids," he said. "I am super excited for that, and just being around the guys on the team and having fun and wanting to win."
Leave a Comment
More Recruiting Profiles
18-Sep-2019
Gratitude is the Hallmark of Aprill's Tennis Journey
From positive role models to an emotional outlet to a college opportunity, Brandon Aprill appreciates everything tennis has provided him. The four-star senior from Mountain View, California has committed to continue his career at Carnegie Mellon University.
17-Sep-2019
SMU Tops the List: Five-Star Krall Commits to Mustangs
Liam Krall is announcing his commitment to SMU. The five-star senior from Bronxville, New York likes the school's location, smaller size and opportunity to grow as a player and person.
5-Sep-2019
Coaching a Major Influence in Snyder Committing to UCF
Coaching helped Quinn Snyder grow more confident in himself. He's hoping coaching at the college level can improve his development even more. The five-star senior from New Jersey has committed to the University of Central Florida.
About Rhiannon Potkey
Rhiannon Potkey is a veteran sportswriter with more than two decades of experience in journalism. Potkey has covered many sports at many levels and has a passion for finding great stories. Potkey has covered the U.S. Open, junior sectional and national events, college conference championships and Davis Cup matches. Potkey is currently Content Strategist for Tennis Recruiting. You can reach Rhiannon by email at
[email protected]
.