Notes
The table above lists all recruits as of May 11, 2020. In addition to the Star Rating, we display the highest TRN, UTR, ITF junior, and WTT rankings for each player since January 1, 2019, and for international players we display the TRN ranking they would hold if eligible.
Also Receiving Votes
Other women's programs receiving votes are: Cornell (40), UCLA (38), Northwestern (19), West Virginia (19), Penn (17), SMU (17), Oklahoma State (14), Vanderbilt (14), Brown (13), Kentucky (13), Tennessee (12), Boston College (11), Missouri (5), Arkansas (4), Miami (FL) (4), Iowa State (1), Washington State (1)
Hooking 'Em at the Top
Howard Joffe took the reins at the University of Texas five years ago, and he has had a great deal of success in Austin. His programs have advanced in the NCAA Tournament every year - including Top 10 finishes in the Oracle ITA rankings the past two seasons. The Longhorns won the Big 12 Championship in both 2018 and 2019 - their first back-to-back conference championships since 1999-2000. Texas has made steady progress since Joffe's arrival.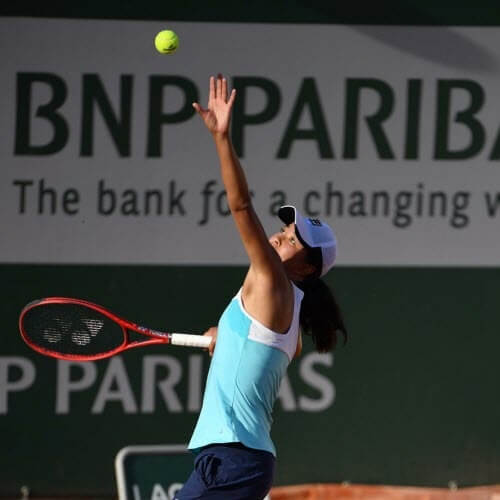 Charlotte Chavatipon is part of the No. 1 Class at UT
The future may look even brighter.
For the first time in school history, the No. 1 recruiting class in the land will be heading to Texas. Blue Chip seniors Charlotte Chavatipon (Fullerton, Calif.), Malaika Rapolu (Cedar Park, Texas), and Peyton Stearns (Mason, Ohio) have all been ranked among in the Top 10 for the Class of 2020, and Coach Joffe has convinced the trio to come to Austin.
Chavatipon has had great success on the international stage - advancing to the singles finals at multiple 15K events and reaching the round of 32 at the most recent French Open Junior Championships. Rapolu closed out her junior career last summer with a bang - a 3-1 record in the USTA Girls 18s Team Championships was sandwiched between appearances in the round of 16 at the Clays in South Carolina and the round of 32 at the Nationals in San Diego. Finally, Stearns has been competing professionally throughout the country for over a year, earning spots - and often advancing in main draws - of 25K tournaments.
These young women impressed our panel. Texas earned 461 out of a possible 475 points and 10 of 19 first-place votes. This is by far the best ranking that Texas has posted since our first recruiting class rankings in 2005. Their only other Top 10 class was in 2010 where they were No. 9 - and this is their first appearance in the rankings since 2012 (No. 18).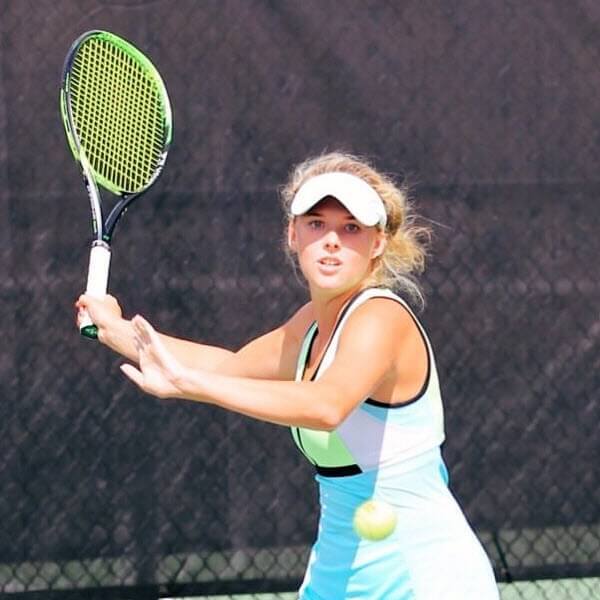 Ava Hrastar and Georgia Tech earned 5 first-place votes
Drive for Five
While five different recruiting classes earned first-place votes, a clear No. 2 emerged on our list - the Georgia Tech Yellow Jackets. Coach Rodney Harmon had great success this year on the recruiting trail - earning commitments from three strong American recruits as well as one from India. Ava Hrastar, Carol Lee and Ruth Marsh have all been ranked among the Top 25 in the country, while Mahak Jain of Bhopal, India, has a career-high WTA ranking of 511. The Jackets earned 5 first-place votes from our panel on their way to 448 points overall.
The California Golden Bears come in at No. 3 in our rankings, while ACC programs Virginia and North Carolina round out our Top 5 in the 4 and 5 spots, respectively. All three of these programs garnered first-place votes - with the Wahoos earning a pair of them.
Atlantic Coast Excellence
There are many ways to dice up the rankings, but the Atlantic Coast Conference emerges as the top conference no matter how you break it down:
Three of the Top 5 classes on our list
7 of the Top 15
9 of the Top 25
Nine of the 14 ACC programs appear in our rankings. Top 5 programs Georgia Tech (No. 2), Virginia (4) and North Carolina (5) are joined on our list by the Clemson Tigers (11), N.C. State Wolfpack (12), Virginia Tech Hokies (13), Wake Forest Demon Deacons (15), Florida State Seminoles (17) and Duke Blue Devils (25). When the ACC slate kicks in next spring, you best buckle up.
The Pac 12 also has three of the Top 10 recruiting classes and four teams in the Top 25. The only other conference with more than two ranked classes is the SEC with three.
Beyond the Majors
Three programs in our rankings come from conferences outside the six traditional power conferences - starting with the University of San Diego at No. 14. Head Coach Sherri Stephens has attracted the most decorated recruiting class in school history with Blue Chip senior Abigail Desiatnikov, 5-Star senior Jordyn McBride, and German standout Elizabeth Andryukhova.
Other programs outside the power conferences in our rankings are the Florida International Panthers (No. 21), and Memphis Tigers (23).
Drop Shots
Scattershooting through the rankings:
Panelists for 2020
The 19 panelists for this voting period are shown below alphabetically. Please join us in thanking them for donating their time and talents to this effort.
Dede Allen - Contributor to TennisRecruiting.net, USTA Florida Section, consultant to Prince Sports
Joseph Braden - Director of Tennis at Schwartz Tennis Center, USTA/Midwest Tournament Director.
Casey Chapin - National Tournament Director, Director, Hudlow Tennis Center
Sonny Dearth - Daily Press newspaper and dailypress.com Web site in Newport News, Va.
Joey Dillon - TRN contributor, freelance writer
Tim Donovan - Donovan Tennis Strategies, DTS College Prospects Showcases
Larry Haugness - USTA/Missouri Valley Executive Committee, Former ITF and USTA National Tournament Director, PTR National Tester, USPTA, Junior Davis Cup Coach
Granger Huntress - Texas College Tennis blog
Pua Johnson - USTA National and ITA Collegiate Referee
Ernie Katko - Junior Development Coach in Chicago, USTA High Performance Coach
Bobby Knight - CollegeTennisToday.com
Dave "The Koz" Kozlowski - Inside Tennis With The Koz, The Tennis Channel
Patty Lambropoulos - Junior Tennis Coordinator, College Park Athletic Club, National/Sectional/Local Tournament Director, Chicago District Board of Director, USTA National Jr Competition Committee, Midwest Junior Competition Committee
Colette Lewis - ZooTennis.com
Rick Limpert - TRN contributor, freelance writer
Phil Parrish - Tennis Director, The Longfellow Club, National Tournament Director, Former College Coach
Robert Sasseville - National Tournament Director, USTA Junior Competition Committee Member, USTA National Referee
Lisa Stone - ParentingAces.com
Julie Wrege - TRN principal, TennisInformation.com principal, former National Tournament Director, former USTA junior ranking chair and USTA Tennis Rules Committee member
Leave a Comment
More Recruiting Class Rankings
1-Feb-2021
Top Women's Classes - 2021 Winter Rankings
Our look at the top recruiting classes continues today, as we check in with the women. With seniors continuing to commit at a high clip, TRN announces its Top 25 Winter Recruiting Classes for 2021.
25-Jan-2021
Top Men's Classes - 2021 Winter Rankings
With more than 700 college commitments in the books, TRN takes a look at the Top Men's Recruiting Classes for 2021. Take a look at how your favorite teams are building for the future.
8-Jun-2020
2020 Top Mid-Major Men's Classes
The Tennis Recruiting Network and Mizuno continue their recruiting class ranking series this week with a look at the mid-majors. Today we present the Top 25 Men's Mid-Major Recruiting Class Rankings for the Class of 2020 - with the 'Niners looking strong at the top.