Notes
The table above lists all recruits as of May 11, 2020. In addition to the Star Rating, we display the highest TRN, UTR, ITF junior, and WTT rankings for each player since January 1, 2019, and for international players we display the TRN ranking they would hold if eligible.
Also Receiving Votes
Other men's programs receiving votes are: Duke (37), Sacramento State (35), Indiana (33), Pepperdine (26), Ole Miss (20), Michigan (17), Penn (15), Western Michigan (15), Denver (13), Ohio State (12), ETSU (9), Yale (8), California (2), Fresno State (2), Michigan State (2)
Heading in a Cardinal Direction
Stanford University has one of the most decorated programs in all of men's college tennis. With 17 NCAA team championships and professional stars like John McEnroe and the Bryan brothers to their name, the Cardinal arguably has the best program in college tennis history.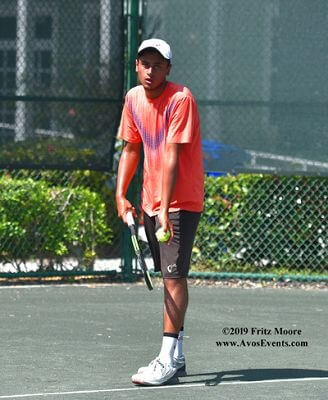 Chaudhary is one of four strong Stanford recruits
©
Fritz Moore
Their most recent national title came in 2000, but Stanford has remained a strong contender throughout. The 2019 NCAA Tournament marked the 12th straight appearance for the Cardinal, and they were on their way to a national seed this year. Coach Goldstein's 2020 squad earned the No. 7 seed at the ITA Indoors in February where they edged an upstart NC State team 4-3 in the first round.
The future looks even brighter for Stanford, who will look to challenge on the national stage in 2021 with the nation's top-ranked recruiting class.
Stanford's quartet of recruits includes Blue Chip athletes Tristan Boyer and Aryan Chaudhary of California. Boyer, who is arguably the nation's top recruit - has been competing in Men's tournaments for over a year, while Chaudhary posted 17 singles wins at the last four USTA national championship events - including a semifinal appearance at the 2019 USTA Clay Courts.
The Californians are joined by Alex Lee, a Blue Chip senior who reached the Round of 32 in Kalamazoo, and Arthur Fery of Great Britain. Collectively, this group was good enough to earn 495 of 500 points - including 15 of the 20 first-place votes cast by our panel.
Give Me Five
The No. 2 recruiting class in our rankings was a bit of a surprise. Clemson University has a new head coach in Robbie Weiss, and Coach Weiss did not take long to make his presence felt on the recruiting trail.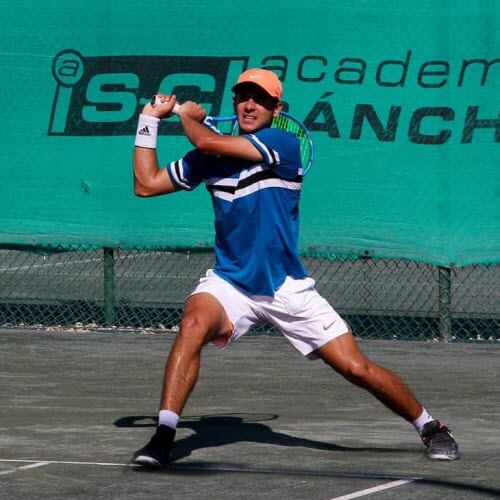 Daniel Labrador and Clemson are No. 2
Clemson does not make frequent appearances in our recruiting class rankings, with its lone appearance coming in 2012 at No. 23. That all changes this year, with the Tigers reeling in five strong recruits that comprise the No. 2 class on our list. Combining three strong international recruits with a pair of 5-Star Americans, Coach Weiss' class earned 4 first-place votes and 472 points.
The Virginia Cavaliers check in at No. 3 on our list - which might have been higher had we known about the Von Der Schulenburg commitment. The Columbia Lions and Texas Longhorns round out the top of our list at No. 4 and 5, respectively.
Pacific Strength
The Pac-12 Conference leads the way in our rankings with six classes in the rankings and three of the Top 10 recruiting classes. Stanford is joined in the Top 10 by the Arizona Wildcats (No. 6) and Arizona State Sun Devils (9). Other Pac-12 programs in the rankings are Washington (15), USC (21), and UCLA (25).
Two other conferences have more than three ranked classes - the ACC and SEC each have four programs on our list.
Major Case
In NCAA Division I athletics, there are five so-called "power conferences" that are the major players in football bowl games: the ACC, Big 10, Big 12, Pac-12, and SEC. For purposes of college tennis recruiting, we add the Ivy League to this list since they routinely attract top talent.
In our recruiting class rankings, four classes come from programs outside of these six conferences - including two from the always strong West Coast Conference. The BYU Cougars and San Diego Toreros represent the WCC in our recruiting class rankings - checking in at No. 22 and No. 24, respectively.
Other programs outside the Power 6 in our rankings are the Charlotte 49ers (No. 18) and UC Santa Barbara Gauchos (20).
Drop Shots
Scattershooting through the rankings:
New Look: Fifteen programs appear in this 2020 edition of the Men's Recruiting Class Rankings that did not appear in 2019.
Welcome Aboard: Kyle Bailey took over as the Charlotte 49ers Head Coach this past year, and he did not waste time on the recruiting trail. Charlotte is making its first-ever appearance in our Recruiting Class Rankings - checking in at No. 18.
Welcome Back: Four programs are in the rankings for only the second time - Clemson (No. 2), Arizona State (9), Auburn (16), and BYU (22).
Longest Drought: The Virginia Tech Hokies are back in the rankings for the first time since 2008 at No. 17.
Best Ever: Five teams have posted the highest rankings in program history - Clemson (2), Columbia (4), Arizona (6), Washington (15), and Auburn (16).
Streaking: The Virginia Cavaliers (3) are on our list for the fourth straight year - more consecutive appearances than any other program.
Panelists for 2020
The 20 panelists for this voting period are shown below alphabetically. Please join us in thanking them for donating their time and talents to this effort.
Joseph Braden - Director of Tennis at Schwartz Tennis Center, USTA/Midwest Tournament Director.
Casey Chapin - National Tournament Director, Director, Hudlow Tennis Center
Brian Cory - Director of Tennis at Carmel Valley Athletic Club, National Tournament Director
Sonny Dearth - Daily Press newspaper and dailypress.com Web site in Newport News, Va.
Joey Dillon - TRN contributor, freelance writer
Tim Donovan - Donovan Tennis Strategies, DTS College Prospects Showcases
Larry Haugness - USTA/Missouri Valley Executive Committee, Former ITF and USTA National Tournament Director, PTR National Tester, USPTA, Junior Davis Cup Coach
Granger Huntress - Texas College Tennis blog
Ernie Katko - Junior Development Coach in Chicago, USTA High Performance Coach
Bobby Knight - CollegeTennisToday.com
Dave "The Koz" Kozlowski - Inside Tennis With The Koz, The Tennis Channel
Patty Lambropoulos - Junior Tennis Coordinator, College Park Athletic Club, National/Sectional/Local Tournament Director, Chicago District Board of Director, USTA National Jr Competition Committee, Midwest Junior Competition Committee
Colette Lewis - ZooTennis.com
Rick Limpert - TRN contributor, freelance writer
Parsa Nemati - Junior and college tennis expert, Parsa Bombs
Phil Parrish - Tennis Director, The Longfellow Club, National Tournament Director, Former College Coach
Robert Sasseville - National Tournament Director, USTA Junior Competition Committee Member, USTA National Referee
Lisa Stone - ParentingAces.com
Clayton Taylor - Former ATP and Collegiate Coach. Former Director of U.S. International Hard Courts and National Opens
Julie Wrege - TRN principal, TennisInformation.com principal, former National Tournament Director, former USTA junior ranking chair and USTA Tennis Rules Committee member
Leave a Comment
More Recruiting Class Rankings
1-Feb-2021
Top Women's Classes - 2021 Winter Rankings
Our look at the top recruiting classes continues today, as we check in with the women. With seniors continuing to commit at a high clip, TRN announces its Top 25 Winter Recruiting Classes for 2021.
25-Jan-2021
Top Men's Classes - 2021 Winter Rankings
With more than 700 college commitments in the books, TRN takes a look at the Top Men's Recruiting Classes for 2021. Take a look at how your favorite teams are building for the future.
8-Jun-2020
2020 Top Mid-Major Men's Classes
The Tennis Recruiting Network and Mizuno continue their recruiting class ranking series this week with a look at the mid-majors. Today we present the Top 25 Men's Mid-Major Recruiting Class Rankings for the Class of 2020 - with the 'Niners looking strong at the top.