Coverage Announcement
Championship Week
by Rhiannon Potkey, 16 August 2021
In the world of U.S. junior tennis, it doesn't get any bigger than last week.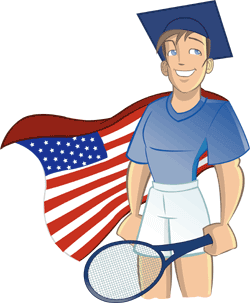 From coast to coast, top American juniors were competing on the hard courts for coveted gold balls at the USTA National Championships. Titles were awarded for both boys and girls in all four age divisions (12s, 14s, 16s, 18s).
This week, the Tennis Recruiting Network highlights these prestigious tournaments with our annual Championship Week coverage. Every day, the website will feature articles that detail the events and celebrate the best of the best in American junior tennis.
We started a bit early this year with the Girls 16s recap running last Friday since that event wrapped up last week at Barnes Tennis Center in San Diego.
Here is our full coverage schedule:
Championship Week Series
We kick things off tomorrow morning with our coverage of the Girls and Boys 12s Nationals, and won't slow down until completing the 18s on Friday. Check in each day for recaps of the top boys and girls from across the country.
Leave a Comment
More Website News
20-Sep-2021
Star Ratings Fall 2021 Edition
After months of waiting, the Star Ratings have finally arrived again. Find out right now how many stars you have as The Tennis Recruiting Network proudly presents the Fall Star Ratings for 2021.
9-Sep-2021
Players Awarded USTA Foundation College Scholarships
The USTA Foundation awards scholarships each year to deserving youth who have participated in youth tennis programs, demonstrated high academic achievement and require financial assistance to attend college. This year, 46 high school students received scholarships totaling $435,000.
8-Sep-2021
USTA Launches HBCU Coaching Grants to Increase Diversity
The USTA, with support from Tennis Industry United and the USTA Foundation, introduced the USTA David N. Dinkins HBCU Coaching Grant to support 38 Historically Black College and Universities that have tennis programs. The aim is to increase the diveristy among certified coaching professionals.
About Rhiannon Potkey
Rhiannon Potkey is a veteran sportswriter with more than two decades of experience in journalism. Potkey has covered many sports at many levels and has a passion for finding great stories. Potkey has covered the U.S. Open, junior sectional and national events, college conference championships and Davis Cup matches. Potkey is currently Content Strategist for Tennis Recruiting. You can reach Rhiannon by email at
[email protected]
.