Special from
Zoo Tennis
Few Division III graduates pursue careers in professional tennis, but Eudice Chong was an outlier from the very beginning of her career at Wesleyan. She won the NCAA singles title as a freshman in 2015, then followed that with three more, becoming the only four-time singles champion in NCAA history.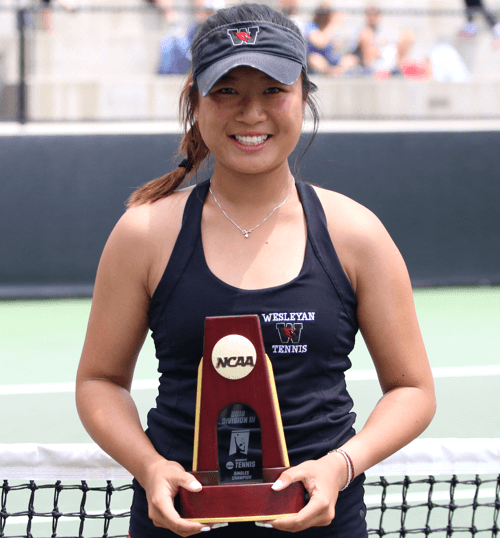 Four-Time NCAA Singles Champion Eudice Chong
© Wesleyan Athletics
After winning the prestigious Honda Award as the top female Division III athlete in 2018, Chong embarked on a professional tennis career, and is now beginning her second full year on tour. The 23-year-old from Hong Kong has won 10 doubles titles and two singles titles on the International Tennis Federation's World Tennis Tour and has represented her country in Fed Cup since 2012. She currently has career-high WTA rankings of 371 in singles and 160 in doubles.
At this week's Dow Tennis Classic in Midland, Michigan, I sat down to talk with Chong about the improvements she's made to adapt to pro tennis, the positives and negatives of her first full year on tour, her reaction to Wesleyan's 2019 NCAA team title and her goals for this year.
Colette Lewis: Why are you here in the United States?
Eudice Chong: I was planning to come to play here a little more this year, because last year I played mostly in Asia. I'm trying to get out and see different competition, and the playing style is really different. So I'm here for six weeks, playing five tournaments, with one week of training in between. I'm going back to Wesleyan that week to practice and see everyone, then playing the Rancho Santa Fe and Las Vegas $25Ks.