Recruiting Profile
Sacrifices Makes Iowa Commitment Even Sweeter for Weiss
by Rhiannon Potkey, 12 March 2020
After making the 20-hour drive from Michigan to Florida for a national tournament, Olivia Weiss and her family would find a safe place to park.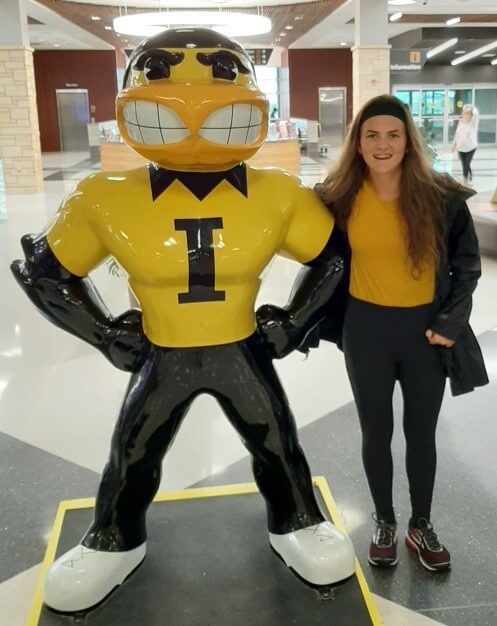 Four-Star Junior Olivia Weiss Has Committed to Iowa
© Contributed Photo
They would fold down the back seats of the Dodge Caravan to make room for the air mattress Weiss would sleep on. Her parents would recline the captain's chairs in the front to settle in for the night.
Saving money on hotel costs was a necessity for Weiss if she wanted to play the sport at a high level. The budget-conscious approach meant eating oatmeal from a hot pot for breakfast, wearing hand-me-down clothes, watching her mom work multiple jobs and her dad using his vacation time to drive her to tournaments.
"I have so much appreciation for both of them," Weiss said. "My parents sacrificed a lot for me to be able to play tennis and do what I love to do."
Weiss saw part of that reward pay off earlier this year when the four-star junior from Royal Oak, Michigan committed to Iowa.
After Weiss took an official visit to the school, Iowa coach Sasha Schmid flew to Michigan to watch Weiss practice for nearly four hours.
"I wanted to play for the Big Ten Conference and Coach Sasha was just so professional and organized and consistent with the communication throughout my entire recruiting process," said Weiss, who also considered Penn State, Rutgers and Purdue. "She was just amazing. It was perfect."
Weiss started playing tennis through the local parks and recreation department in group classes at age 3. She played multiple sports growing up, including as a forward on a boys soccer team, but eventually narrowed her focus to tennis.
As she became more immersed in the sport, her parents realized the cost involved to pursue tennis at a high level.
"It's just so expensive, so we did what we could to have her play tournaments and still be able to take private lessons each week," said Weiss' mother, Lisa Carlesso. "When everyone else hopped on a plane or brought coaches with them, she couldn't do that."