College Feature
Diaz Reaches Record-Breaking Milestone at Georgia
by Rhiannon Potkey, 9 March 2020
Manny Diaz apologizes. He meant to respond much sooner. He really did. It's just that his phone has been buzzing non stop the entire week. Every time he tried to dial, the phone would ring again.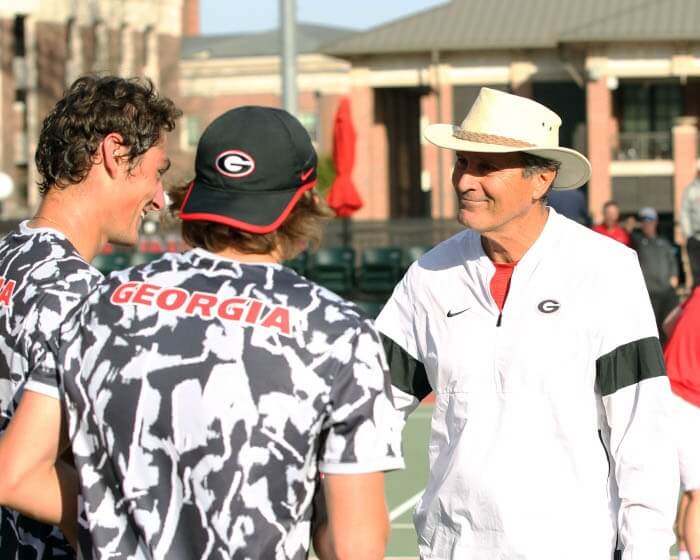 Georgia's Manny Diaz is the SEC's Career Wins Leader
© Bill Kallenberg/CapturedInAction
Former players, friends, family, colleagues - they all have been reaching out to congratulate Diaz on a major career milestone. Diaz became the all-time winningest men's head coach in Southeastern Conference history when Georgia beat then-No. 3 Ohio State 4-0 on March 1st.
The victory over the Buckeyes gave Diaz his 707th win in 32 seasons at the helm of the Dawgs. He added No. 708 and 709 over the weekend with a Georgia sweep over Ole Miss and Mississippi State.
Diaz, 66, passed his former coach and mentor, Dan Magill, with a victory at the tennis complex that bears Magill's name. Magill, who died in 2014, retired in 1988 with 706 career wins - the most in collegiate tennis history at the time.
"It's obviously a tremendous honor, but it's not something that I feel comfortable with because I am not in any way wanting to compare myself to Coach Magill. He is such a large figure in my life, and I really just try to shy away from that," Diaz said. "This is just a real testament to so many guys that have come through our program and have given so much to Georgia. The relationship we have built over the years is to me what this is all about."