College Feature
Llona Is The "Brick" That Launched Saint Michael's Rebuild
by Rhiannon Potkey, 11 May 2020
Ivan Llona assumed his competitive tennis career would end once he started college. The Shelburne, Vermont native planned to attend Coastal Carolina University as a regular student.
But during his senior season at Champlain Valley Union High School, Saint Michael's College head coach Jason Hammel attended one of Llona's matches.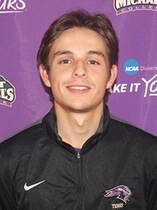 Ivan Llona
Hammel had just been hired to help turn around Saint Michael's, a Division II program located in nearby Colchester, Vermont. He got a late start in recruiting, and was scouring local high school matches for in-state talent.
Hammel saw Llona, a one-star recruit with limited USTA experience, and was immediately drawn to his potential. He finally arranged a phone call, and offered Llona a spot on the team.
"That's when it became more realistic in my mind that I could play college tennis, which is kind of what I wanted to do," Llona said. "I didn't think it was realistic at first because the college level is difficult. But Saint Michael's gave me the chance."
Llona rewarded Hammel's faith last year as a freshman by finishing 12-8 in singles to set a nearly 120-year-old program record for singles victories in a season.
Llona had his sophomore season cut short when the 2020 season was canceled because of the coronavirus pandemic. The Purple Knights were off to a 7-3 start.
After recording only seven wins total from 2014-18, Saint Michael's has notched 13 victories in Llona's two seasons on campus.
"He is the brick we are building everything around," Hammel said. "I told him he was coming for the rebuild of all rebuilds. All I could promise him is he would have a lot of fun because I couldn't promise him wins. But he loved it and bought in right away."
Saint Michael's doesn't offer athletic scholarships like some other Division II schools, but it was still cheaper for Llona than his other college options because he was an in-state student and could receive other grants and aids.
"The way our institution works, we can't really bring in players that can't survive academically. But if you are about tennis and the experience, then we can still come up with a deal that makes sense. We are pretty proud of that fact," Hammel said. "In our last three recruiting classes, we got the top recruit we wanted."