Notes
The table above lists all recruits as of May 24, 2020. In addition to the Star Rating, we display the highest TRN, UTR, ITF junior, and WTT rankings for each player since January 1, 2019, and for international players we display the TRN ranking they would hold if eligible.
Also Receiving Consideration
We reviewed the resumes for more than 50 teams for these rankings. Teams that received strong consideration and almost made our list are (alphabetically) as follows: Cleveland State, Davidson, Fairleigh Dickinson, Kennesaw State, Montana State, Presbyterian, Southeastern (OK)
Striking Gold
Kyle Bailey became Head Coach of the Charlotte 49ers men's tennis program prior to the 2019-20 season. His first season obviously didn't go as expected - with COVID-19 bringing all sports to an unceremonious end in early March.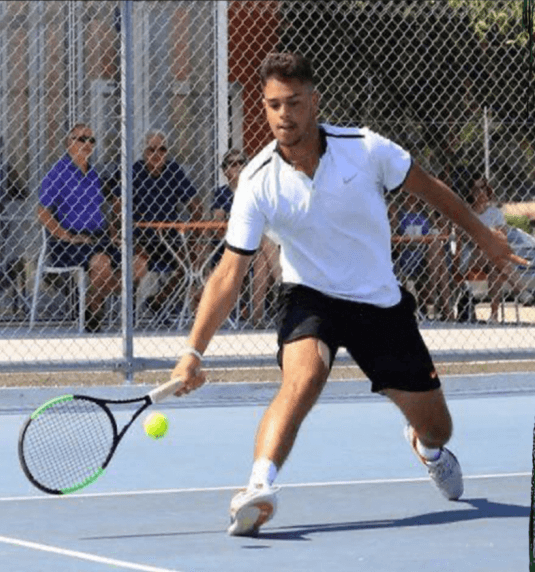 Stefanos Savva and Charlotte are No. 1
But Bailey and assistant Harrison O'Keefe can certainly hang their hats on a strong performance in recruiting. Three talented tennis players have signed with Charlotte - and they will bring the nation's top-ranked mid-major recruiting class - and the strongest recruiting class in school history - to the Queen City.
Vanja Dobrnjac (Bosnia and Herzegovina), and Stefanos Savva (Cyprus) both head to Charlotte with impressive results in ITF play. The two standouts have collectively recorded eight singles and five doubles titles. The third recruit, Olle Wallin of Sweden, is another standout who has earned ATP ranking points.
"We were able to sign these three players competing against some really good tennis programs," said Bailey in a school release. "We are excited to have these players join a veteran group of returning players this fall."
Five at the Top
Two other recruiting classes that received support for the top spot are San Diego (No. 2) and Louisiana (3).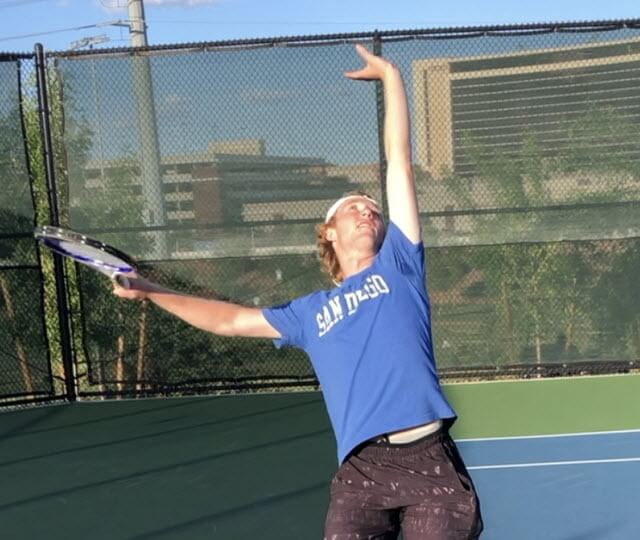 Blake Kasday has committed to San Diego
Toreros recruit Ilias Zimmerman, the top-ranked junior in Switzerland, has won both men's open and ITF junior events in his home country. He will be joined in San Diego by 5-Star senior Blake Kasday of Las Vegas, Nevada, who was a finalist at the 2019 USTA National Indoor Championships.
Louisiana has five strong recruits coming in, including a pair of Spaniards - Alejandro Sanchez Gonzalez and Oriol Fillat Gimenez - who have ATP ranking points. The Ragin' Cajuns are the only school in our rankings with more than one such player.
The Denver Pioneers and UC Santa Barbara Gauchos round out the Top 5 at No.4 and No. 5, respectively.
Conference Call
The 25 programs on our list come from 14 different conferences across the country. Leading the way is the West Coast Conference with five ranked classes. The Pepperdine Waves (No. 7) and BYU Cougars (8) and Gonzaga Bulldogs (10) join San Diego in the Top 10. The other WCC program in the rankings in the Santa Clara Broncos (24).
The Atlantic 10 is a second with three ranked classes. Our rankings include A-10 programs George Washington (17), Dayton (19), and Saint Louis (23).
Drop Shots
Scattershooting through the rankings:
California Dreaming - Seven of the 25 programs in the rankings come from California - five more than any other state.
Fresh Faces - There are plenty of programs who are new to the mid-major rankings. Four teams - East Tennessee State (No. 6), Northern Arizona (13), Merrimack (20) and Saint Louis (23) - all have ranked classes for the first time in school history.
Streaking - Two programs are making their third straight appearance in the mid-major rankings. Louisiana (3) and Cal Poly (15) are the only schools that appeared in the rankings in both 2018 and 2019.
Welcome Back - Sacramento State (9) has had the longest hiatus from the mid-major rankings. The Hornets are back in the rankings for the first time since 2018.
Best Ever - In addition to the five schools making their debut in the mid-major rankings, two programs have posted the best ranking ever for their schools: the aforementioned Charlotte 49ers (1) and Denver Pioneers (4).
Coming Friday … Mid-Major Women
The women are up next. This coming Friday, TennisRecruiting.net will release ranking of the top 25 women's mid-major recruiting classes. Shortly afterwards, we will wrap up this ranking season with our lists of the top NCAA Division III programs.
Leave a Comment
More Recruiting Class Rankings
1-Feb-2021
Top Women's Classes - 2021 Winter Rankings
Our look at the top recruiting classes continues today, as we check in with the women. With seniors continuing to commit at a high clip, TRN announces its Top 25 Winter Recruiting Classes for 2021.
25-Jan-2021
Top Men's Classes - 2021 Winter Rankings
With more than 700 college commitments in the books, TRN takes a look at the Top Men's Recruiting Classes for 2021. Take a look at how your favorite teams are building for the future.
19-Jun-2020
2020 Top NCAA D-III Women's Classes
The Tennis Recruiting Network and Mizuno wrap up their recruiting class ranking series with a look at the mid-majors. Today we present the Top 25 NCAA D-III Women's Recruiting Class Rankings for the Class of 2020 - where the Cows are rising.