Signing Profile
Crawfishing and Tennis Are a Way of Life For LSU-Bound Koch
by Rhiannon Potkey, 22 May 2020
Grinding all day on a tennis court doesn't seem as grueling to Ben Koch compared to what his mother does every day.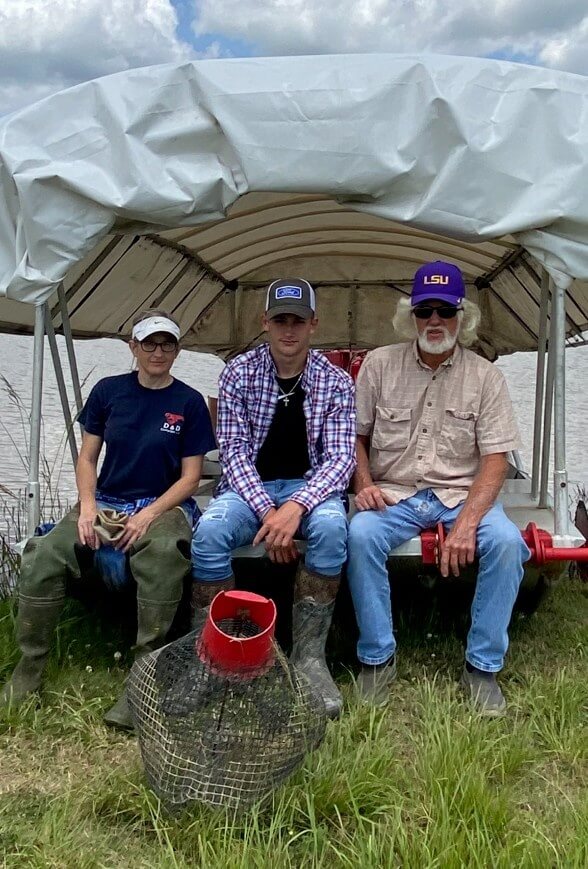 Ben Koch With His Mom and Grandfather
© Contributed Photo
Emily Koch is a fifth generation crawfish farmer in Abbeville, Louisiana. She spends nearly seven hours a day in a boat pulling traps and performing manual labor in all weather conditions.
"I don't think many people can say their mom does crawfishing for a living," Ben said. "I tell people when I'm playing in other states and they just look at me like I am a martian."
Tennis and farming are the family's twin passions. Although Ben traveled away from home to get better training, he will be staying local to attend college. The blue chip senior signed with LSU to play for co-head coaches Andy and Chris Brandi.
"I really love everything about the school and the program," Ben said. "I had Chris as my Intersectionals coach and just fell in love with his coaching style. And Andy is like a tennis legend. That made it kind of an easy choice for me."
Ben grew up on his grandfather's crawfish and rice farm in Abbeville. Most days when he wasn't in school or on the court, Ben could be found on the boat with his mom or on the rice combine with his grandfather.
"I started taking Ben in the boat with me by age 3," Emily said. "I had a little chair set up in there and he would come with me for hours and hours and hours."
Emily, 45, met her husband, Robert, on a tennis court when both were teaching the sport after college. Robert played at UL Monroe and Emily played at Louisiana College.
Robert stayed in the profession while Emily eventually returned to the farm to work while raising three children.
"It is in my blood. I love being out on the farm," Emily said. "It gave me the flexibility to take my kids to school every day and pick them up and I never missed a thing. My dad was the same way. He worked from before the sun came up until after we went to bed, but he never missed anything we were involved in. Not a game, nothing. Family is so important to him."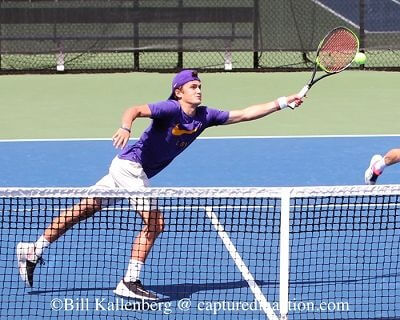 Koch, a Blue Chip Senior, Has Signed with LSU
© Bill Kallenberg/CapturedInAction
Ben began hitting tennis balls with his dad by age 3 and playing tournaments by age 7.
"After my dad's work as a school teacher, he would take me to this public park down the road with cracks all over the court," Ben said. "We would hit and I loved it. I started having dreams of playing in the U.S. Open."
Once he began having success at higher levels, Ben struggled to find ways to improve his game in the Abbeville area.
"I live in the middle of nowhere," said Ben, who gave up travel baseball to pursue tennis full time by 13. "I live in the middle of two sugarcane fields. It's not like it's bursting with tennis talent or people to hit with."
Ben's family began calling him "the nomad" as he chased his tennis dream all over the country. Nearly three years ago, he moved to Georgia for training. He lived with a friend in the Woodstock area, and began attending a local high school.
"Going to public school there instead of doing online school was probably one of the best decisions I ever made because I met all these new people and was in a whole different environment," Ben said. "I am really glad I got to have that experience there."
But it wasn't easy on Ben or his family to have him living away from home for such a lengthy period of time.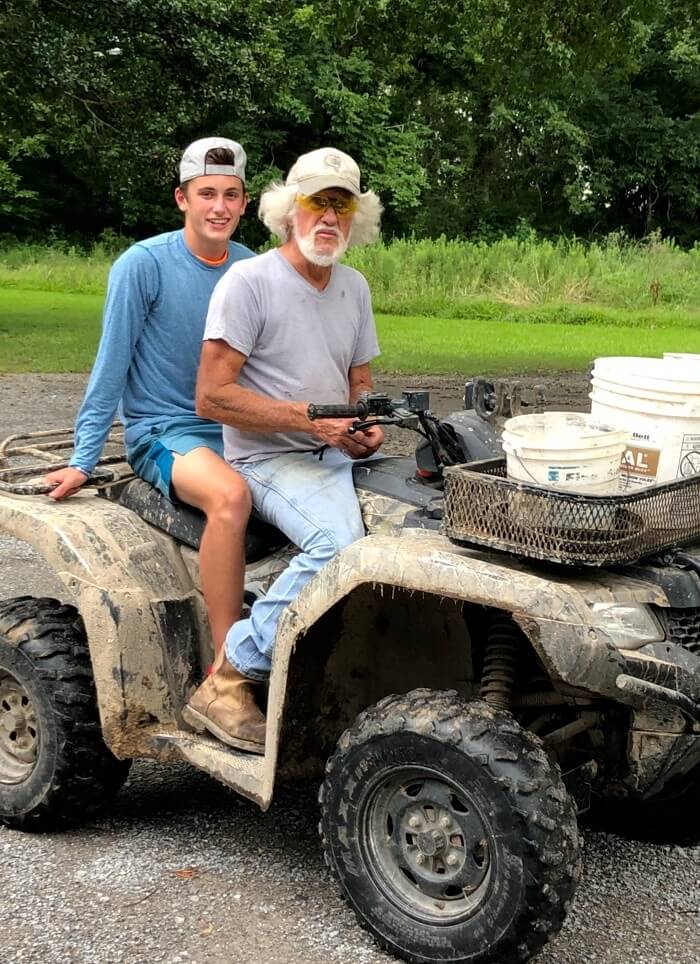 Koch Has A Close Relationship With His Grandfather
© Contributed Photo
"Parents always talk about all the money and all the traveling they had to do, but to me the sacrifices Ben made along the way were always greater than mine," Emily said. "He gave up traditional school for six years to train both here at home and at academies. He gave up a normal life with friends, then moved away completely for 2 1/2 years, which for a family-oriented person was the most difficult decision he ever made."
Once the coronavirus pandemic put states on lockdown, Ben returned to Abbeville. He feels back in his natural element, helping on the farm, riding four-wheelers, taking fishing trips and modifying his Ford F-150 truck.
"He has literally lived in his rubber boots. I think the farm is in him too," Emily said. "He goes to Walmart in his rubber boots and shorts. He loves hanging out on the farm and being with my dad."
Ben's grandfather, Allen Schriefer, has always been his biggest inspiration.
"He is 74 years old and still working on the farm. He runs the whole deal. His work ethic is one of the best I have ever seen. Plus, he has so much compassion for people," Ben said. "I know a lot of people in business aren't always honest. He just does honest work and cares about his family. That is how I want to be."
Following Ben's tennis career brings great joy to Schriefer. He's always been one of Ben's biggest supporters.
"His grandparents love taking him to tournaments. The only time my dad leaves the farm now for days at a time is for tennis tournaments," Emily said. "He would go watch him play, and that would help build their relationship. I think that is part of the reason Ben chose LSU."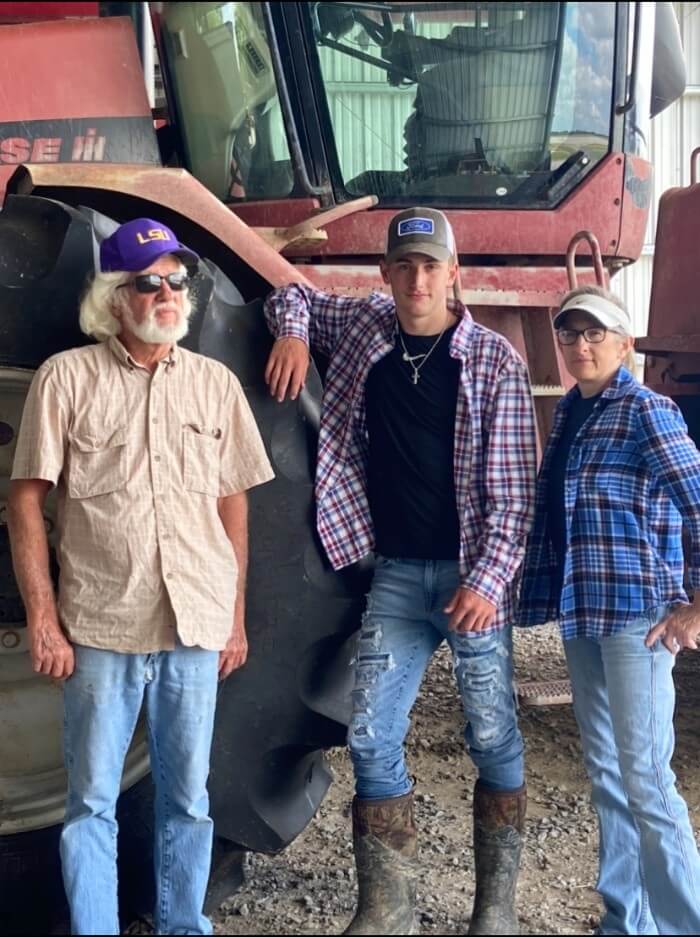 Koch Still Helps His Mom & Grandfather on the Family Farm
© Contributed Photo
Ben isn't sure if he will follow in the family business and farm for a living. But he knows he will always have an interest in the land. He is planning to major in accounting and minor in political science at LSU. He wants to attend law school after graduating.
"I have kind of been looking at environmental law because I feel like it would be up my alley since I've had to deal with it," Ben said. "That is kind of my plan for right now."
Although she wishes the health pandemic never happened, Emily has enjoyed having her son back home before he leaves again for college. She takes great pride in all he has achieved in tennis, and is thankful he has the opportunity to play and study at a major university like LSU.
Once he takes the court for the Tigers, Ben won't just be representing the state of Louisiana. He will be representing all the crawfish and rice farmers working grueling hours to provide for their families.
"Honestly, who would have thought a little boy from Abbeville, Louisiana could accomplish all he has," Emily said. "Every goal he set for himself, he went beyond it."
About CrampsAWAY
CrampsAWAY is proud to sponsor the Countdown to Signing Day series of articles at TennisRecruiting.net.
What is CrampsAWAY Pro?

CrampsAWAY Pro is an all-natural, food-grade liquid supplement that can prevent or instantly stop cramps. CrampsAWAY comes in convenient single-serve packets, perfect for any athlete on-the-go. CrampsAWAY Pro is completely safe and free of any banned substances. It's also NSF Certified for Sport, so athletes can use it whenever needed, with the assurance that they are not putting anything foreign, unhealthy or illegal into their bodies.
Are any elite athletes using CrampsAWAY?
Absolutely! CrampsAWAY Pro has become the go-to cramp solution for many of the best athletes in the world; including pro sports teams in the NCAA, NFL, NBA, MLB and MLS. Also, many top ATP players use CrampsAWAY Pro as a competitive advantage, including John Isner, Jack Sock, James Blake and Tim Smyczek.
Connect with CrampsAWAY on Facebook, Instagram, Twitter, and YouTube - or on their website.
Leave a Comment
More Recruiting Profiles
28-May-2020
After Virtual Visits and Research, Chakladar Chooses MIT
Sundeep Chakladar wasn't able to take any official visits once the coronavirus pandemic shut down all travel. The four-star senior from Redondo Beach, California still did his homework on multiple colleges and decided going across the country to MIT was the right option.
19-May-2020
Asokumar Recovers From Illness to Reach College Tennis Goals
Arjun Asokumar was told he may never play competitive tennis again after suffering from a brain illness at age 13. Not only did he recover, he made the long climb back to five-star status. The Chicago native has committed to Johns Hopkins.
14-May-2020
Determination Helps Five-Star Collins Reach Fresno State
Karl Collins was willing to travel nearly an hour on public transportation to get to training every day. The dedication was rewarded when the five-star senior from Richmond, California signed with Fresno State.
About Rhiannon Potkey
Rhiannon Potkey is a veteran sportswriter with more than two decades of experience in journalism. Potkey has covered many sports at many levels and has a passion for finding great stories. Potkey has covered the U.S. Open, junior sectional and national events, college conference championships and Davis Cup matches. Potkey is currently Content Strategist for Tennis Recruiting. You can reach Rhiannon by email at
[email protected]
.