Commitment Profile
De Luna Stays Local By Committing to Incarnate Word
by Rhiannon Potkey, 9 June 2020
Familiarity was a guiding force in Noah De Luna's decision to commit to Incarnate Word.
The four-star from San Antonio lives only 25 minutes away from campus, and his father played Men's Open events in the same division as Incarnate Word head coach Jonas Andersson.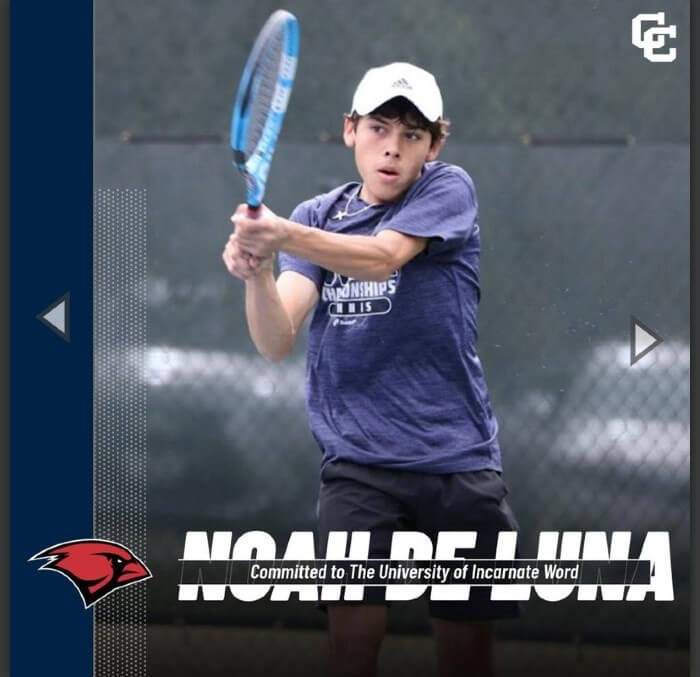 Noah De Luna Has Committed to Incarnate Word
© Contributed Photo
De Luna got to know some of the players on Incarnate Word's team through their connections with his private coach, Leonard Ivic, who played for the Cardinals.
"To be able to play in front of my friends and family was a really big deal for me. They have been a big part of this process and a big reason why I am here today," said De Luna, a Class of 2020 recruit. "I just feel like being close to them and honoring them and playing in front of them would be dope."
De Luna was introduced to tennis at an early age. Both his parents played the sport in college, with his dad becoming a two-time team captain at the University of Oklahoma and his mom, Tanya, playing at the University of Texas-San Antonio.
"I've had a racket in my hand since I was 2 or 3 years old," De Luna said. "But my parents didn't pressure me at all. I played all the sports growing up, and I decided to go all in on tennis at age 13."