Player Spotlight
Spotlight Players of the Week: Evan Erb and Haily Huynh
by Rhiannon Potkey, 30 July 2020
SPOTLIGHT ON Evan Erb (Ladue, Missouri)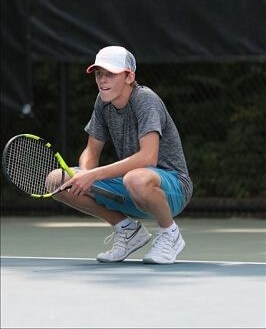 Music on your playlist: I listen to a lot of rap like Lil Uzi Vert and Juice Wrld. I also listen to some pop and a little bit of country, but not a lot.
Dream vacation destination: There are so many cool places to visit. Australia is one. My family is from Germany, so I would like to visit there too. And maybe somewhere like Hong Kong.
Favorite food: Steak, a lot. It's by far my favorite. I eat it like three times a week. My dad knows how to grill and I like his better than any restaurant steak.
Favorite athletes: Tom Brady, Ryan O'Reilly, Yadier Molina and Roger Federer.
Future occupation: I honestly have no clue. I haven't chosen a major yet, so it is really up in the air. I probably would like to do something in the business world, but I have no idea what.
If you could have dinner with anyone dead or alive, who would it be: My mom's parents. They died before I was born, so I never got to meet them. I would like to sit down with them and get to know them.
Must-watch TV show: The 100 and NCIS
Favorite movie: American Sniper
If I am not playing tennis, I am … playing video games, spending time with family and I recently have taken up a little golfing.
Instagram handle: @Evan_Erb