College Feature
NJCU Launches Return of Tennis Amid a Pandemic
by Rhiannon Potkey, 16 September 2020
Building a roster from scratch is hard enough during an average year. Doing it during a global health pandemic with only five months on the job before school starts is an entirely different level of complexity.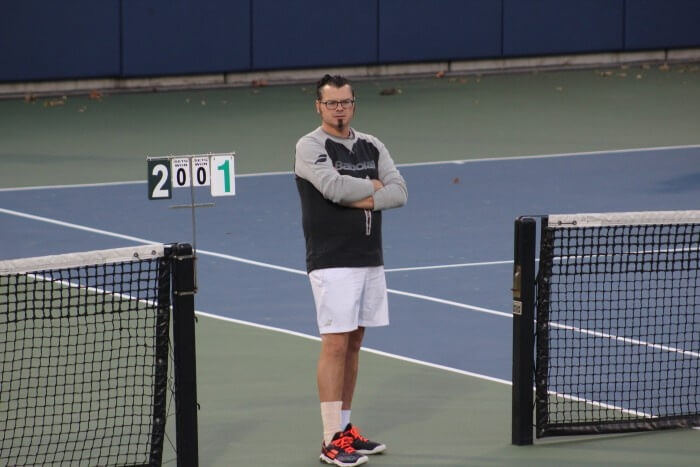 Nick Margiasso Was Hired in April as NJCU's Head Coach
© Contributed Photo
Nick Margiasso has tried his best to make it work at New Jersey City University. The Division III school announced in 2019 they were adding tennis back to the athletic department. Despite the financial setbacks nearly all colleges have incurred stemming from the coronavirus outbreak, NJCU remains committed to the plan.
Margiasso, 38, was hired in April to lead the men's and women's programs through their return to varsity competition in 2020-21.
"I knew for multiple reasons this was going to be a super big challenge and I am sort of the kind of guy that likes that stuff," Margiasso said. "Nobody involved in this process will soon forget what is going on during this period. It's been pretty wild."
Margiasso came to NJCU after spending last season as the head coach at Division II University of the Sciences in Philadelphia. The Long Island, N.Y. native got his start in college coaching as an assistant Savannah College of Art & Design during the 2018-19 season.
He knew recruiting would be difficult this year with most players signed by the time he was hired at NJCU. Margiasso scoured the transfer portal and used his connections in coaching to assemble his rosters from zero players to six on each team.
The program has a United Nations feel with players from Sri Lanka, Spain, France and Netherlands, just to name a few countries.
"Tennis is an international sport, and as a coach I like to have international kids on my roster always, but this wasn't by design as much as necessity," Margiasso said. "There weren't a lot of domestic kids that hadn't signed with a team by the time I got this job. To be honest, with programs still dropping like flies, I wouldn't put it past getting another couple transfers in either."