College Feature
NJCU Launches Return of Tennis Amid a Pandemic
by Rhiannon Potkey, 16 September 2020
Building a roster from scratch is hard enough during an average year. Doing it during a global health pandemic with only five months on the job before school starts is an entirely different level of complexity.
Nick Margiasso Was Hired in April as NJCU's Head Coach
© Contributed Photo
Nick Margiasso has tried his best to make it work at New Jersey City University. The Division III school announced in 2019 they were adding tennis back to the athletic department. Despite the financial setbacks nearly all colleges have incurred stemming from the coronavirus outbreak, NJCU remains committed to the plan.
Margiasso, 38, was hired in April to lead the men's and women's programs through their return to varsity competition in 2020-21.
"I knew for multiple reasons this was going to be a super big challenge and I am sort of the kind of guy that likes that stuff," Margiasso said. "Nobody involved in this process will soon forget what is going on during this period. It's been pretty wild."
Margiasso came to NJCU after spending last season as the head coach at Division II University of the Sciences in Philadelphia. The Long Island, N.Y. native got his start in college coaching as an assistant Savannah College of Art & Design during the 2018-19 season.
He knew recruiting would be difficult this year with most players signed by the time he was hired at NJCU. Margiasso scoured the transfer portal and used his connections in coaching to assemble his rosters from zero players to six on each team.
The program has a United Nations feel with players from Sri Lanka, Spain, France and Netherlands, just to name a few countries.
"Tennis is an international sport, and as a coach I like to have international kids on my roster always, but this wasn't by design as much as necessity," Margiasso said. "There weren't a lot of domestic kids that hadn't signed with a team by the time I got this job. To be honest, with programs still dropping like flies, I wouldn't put it past getting another couple transfers in either."
Margiasso played one season of college tennis as a walk-on at the University of South Florida. He graduated in 2004 with a degree in communications, and spent six years working in public relations for tennis.
Margiasso's first job coaching a team came at The Nightingale-Bamford School in New York City, and he's gained more insight into recruiting and player development since reaching the college level.
"I am not a real UTR guy where I say this player needs to be a 10. I feel pretty confident in my coaching abilities and have turned enough players from no rating or like 5s and 6s into 8s and 9s," he said. "I feel like if you have a kid who wants to be a part of a specific program and has a connection with you and believes in what you are talking about, the sky's the limit."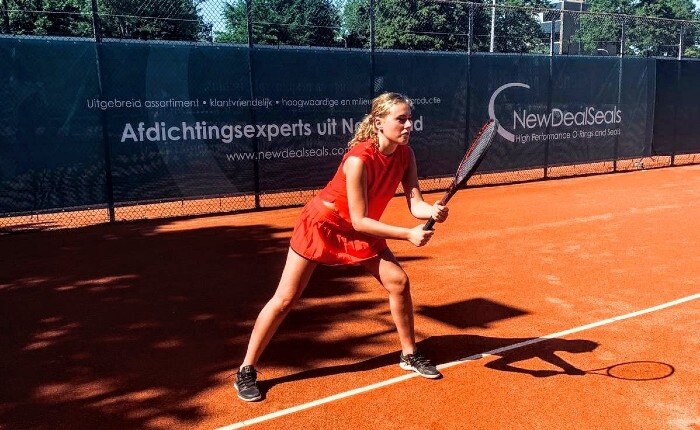 Maartje de Kroon is a Freshman From the Netherlands
© Contributed Photo
Margiasso enjoys when players ask precise questions about how he can make them a better player.
"Usually we can watch video and find something we can work on specifically for that individual," he said. "If you do that for every person's individual game, it sort of catches fire and everybody gets the fever and wants to help everyone else out. The next thing you know, the kids are noticing things and helping each other."
Given the global outreach to fill this year's rosters at NJCU, Margiasso has become well-versed in international enrollment protocol and travel restrictions during the Covid-19 era.
"I know more about Visas and consulate requirements than I ever thought I would. I've had to stay on top of that and make sure I was ready for anything they needed," he said. "If I am asking a kid to come over to a place they've never been before, the very least I could do is make sure I am helping them make that move happen in any possible way."
More than half of the incoming players arrived at NJCU by the end of August. Margiasso was making frequent airport pickup runs while adhering to safety guidelines from Covid.
Once they returned to campus, the players were each put in a room to quarantine for several days with their meals delivered to the door. It's not how Margiasso wanted the first in-person meeting to go, but everyone understands why.
"Obviously the kids come in and the first thing most would want to do in the New York/New Jersey area is visit the tourist attractions like the Statue of Liberty and have a pizza," he said. "Right now it's been, 'Welcome. Get into your room and stay there for two weeks.' It's not ideal, but it's just the way it has to be right now."
The team will begin training this month in small groups, and hope a full season can be played at some point. What was already going to be a memorable return season for NJCU became even more unforgettable because of the pandemic.
"No one can ever take for granted playing tennis or doing it in a college setting again," Margiasso said. "All those practices and 7 a.m. workouts when everyone kind of lolly-gags and complains - I guarantee you nobody is doing that anymore."
Leave a Comment
More College Coverage
18-Sep-2020
ITA Fall Tour Features 10 Weeks of Regional Competition
The Intercollegiate Tennis Association has introduced a new 10-week fall tour that begins today at 11 sites throughout the country, with over 160 additional tournaments scheduled through November. The events are open to any player — junior, college or professional.
4-Sep-2020
UCLA's Jada Hart is Helping Bruins Learn More About Voting
UCLA redshirt senior Jada Hart is helping her teammates learn more about the upcoming election as part of UCLA's Voting Matters Initiative. Hart and sophomore Abbey Forbes were selected to represent the women's tennis team during a tumultous time in the country.
24-Aug-2020
Iowa Freshman Dixit Left Searching After Iowa Cuts Program
Freshman Rudra Dixit was on campus for less than a week before the University of Iowa announced it was cutting the men's tennis program following the 2020-21 season. The former three-star from Kansas is now left searching for a new home to play tennis in college.
About Rhiannon Potkey
Rhiannon Potkey is a veteran sportswriter with more than two decades of experience in journalism. Potkey has covered many sports at many levels and has a passion for finding great stories. Potkey has covered the U.S. Open, junior sectional and national events, college conference championships and Davis Cup matches. Potkey is currently Content Strategist for Tennis Recruiting. You can reach Rhiannon by email at
[email protected]
.