Commitment Profile
Four-Star Sean Joseph Realizes He Belongs at William & Mary
by Rhiannon Potkey, 7 October 2020
David Roditi approached Sean Joseph after Joseph's first-round match at the 2019 Boys 16s USTA National Hardcourts in Kalamazoo.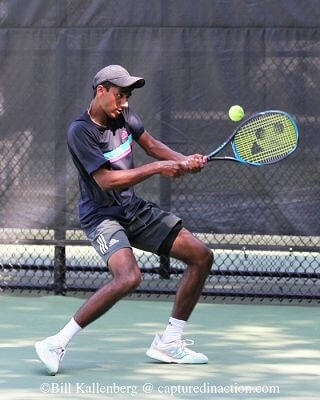 Four-Star Sean Joseph Has Committed to William & Mary
© Bill Kallenberg/CapturedInAction
Joseph had suffered a 6-3, 6-3 loss to Jake Krug, and the TCU head coach wanted to provide some words of encouragement. Roditi knew it was unlikely Joseph would ever play for the Horned Frogs if he wanted a spot high in a lineup, but it didn't matter.
"He gave me a couple of pointers and just said to keep doing what I was doing and I would have some great results. He thought I would land where I was supposed to land," Joseph said. "That was a huge confidence booster for me. Knowing I belonged on the national circuit by him saying that just blew my mind."
Joseph continued improving, with his national ranking rising nearly 100 spots into the 60s by this summer. The Chantilly, Virginia native was able to expand his college recruiting options, and found the right fit earlier this month.
The four-star senior committed to William & Mary. He chose the Division I program in Williamsburg, Virginia over Emory and Rice.
"My decision really came down to tennis, and I really wanted to develop as a player," Joseph said. "I have dedicated my whole life to one sport and I want to push myself to see how far I can go. The William & Mary coach (Jeff Kader) really just sold me on the program. He really wanted me, and he has the same work hard mentality that I have."