Commitment Profile
Kersten Follows Coach's Lead, Pursues Air Force Opportunity
by Rhiannon Potkey, 15 October 2020
Arjun Kersten trusted his high school coach's intentions when it came to his future.
Plano West Senior High coach Morgen Walker approached Kersten at a practice and gave him the contact information for the Air Force Academy. Walker had emailed Air Force head coach Dan Oosterhous to let him know about Kersten.
Four-Star Senior Arjun Kersten Has Committed to Air Force
© Contributed Photo
Walker believed Kersten was suited for the military environment and could live up to the high standards required.
"He thought it would be a good step for me to improve my game and show my leadership as a person," Kersten said. "He told me it would be a good life decision, not just for tennis or academics, but as a lifestyle as well."
Kersten spoke with Oosterhous shortly after getting the message. He arranged a visit to Air Force in February before the coronavirus pandemic shut down in-person recruiting. The four-star senior from Texas liked what he saw in Colorado Springs, and committed to the Falcons.
"Just being around the coaches and the campus gave me a really good overball vibe," Kersten said. "I just had a feeling when I was there and loved it."
Kersten has family history in the military. His dad served in the Navy, his uncle was a Marine and his grandfather fought in the war.
"It was something that wasn't foreign to me," Kersten said. "I think a lot of people say nowadays that the military is not really something people want to get into. I had a more open mind about it going through the process. Getting to know what it entails and everything made me realize it was something I'd be willing and love to do."
After Kersten and his father had expressed some interest in him playing for Air Force, Walker didn't hesitate to contact Oosterhous. He believes Kersten possesses the characteristics on and off the court to thrive at the academy.
"He is very coachable and really understands how to play," Walker said. "Some players are good tennis players, but don't really understand how to really compete all the time. They can hit the ball great, but don't understand the ins and outs of the game. Arjun understands that."
Born and raised in Texas, Kersten participated in soccer, football, gymnastics, track and tennis growing up. His interest in tennis was sparked by his parents, who both taught the sport at a local club. Kersten's mother, Punam, played for Louisiana Tech.
"My mom is a great coach and she really made me focus on technique when I was younger. It was all about fundamentals in the beginning," Kersten said. " All I would do was shadow swing or hit the ball off cones to really work on my strokes. She really started me on the right path."
Kersten initially planned to explore more college options, but the pandemic hindered the process. Air Force was one of the only programs to engage in regular phone calls and Zoom sessions.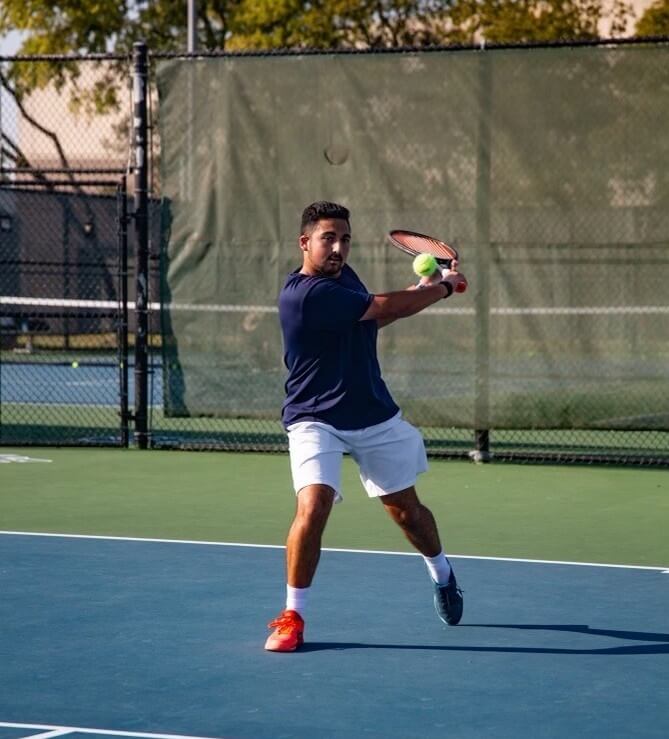 Kersten Plays For Plano West Senior High in Texas
© Contributed Photo
"Part of the reason I chose Air Force is because they were so consistent with their pursuit of me. For lack of a better word, I wanted to go somewhere where I was wanted," Kersten said. "I feel like Air Force appreciated me from Day 1. It started to become home a little bit with how much love and support they have given me through the entire journey."
Kersten will have a fellow Texan joining him as part of Air Force's 2021 class. Five-star senior William Kesterson from Fort Worth recently announced his commitment.
"We are really close friends and live about 40 minutes apart, and he was the first person I texted after telling my family," Kersten said. " I asked him when he was going to make his decision and he ended up making it the next day. It's great to have someone you know to go through basic training."
Walker has always admired the athletes that attend service academies. He knows it's not easy to balance all the demands, and is eager to see how Kersten evolves in the environment.
"The Air Force Academy is a great place for him to experience life and experience some discipline and serve others," Walker said. "I think he is going to take the opportunity and run with it. I think he is going to excel and I am really looking forward to hearing good things about him and his playing."
Having made a military commitment that stretches beyond the typical college commitment, Kersten is glad to know his future plans are coming into greater focus.
"I am more relieved than excited right now," Kersten said. "I am a very team-oriented guy, so I am super pumped. But I am way more relieved just to figure out life because I know I made a good choice. The stress of thinking about the future is kind of gone for now."
Leave a Comment
More Recruiting Profiles
16-Oct-2020
Ghosh's Creative Approach Leads To Notre Dame
Nibedita Ghosh took a creative approach to her recruiting process once the coronavirus pandemic limited in-person visits. The five-star senior from New Jersey who enjoys making music realized Notre Dame hit all the right notes.
13-Oct-2020
Renewed Search Leads Four-Star Wernli to Gonzaga
Caroline Wernli had to renew her college search once the coronavirus pandemic hit and many roster spot offers no longer existed. The four-star senior from Texas contacted Gonzaga, and discovered the smaller school fit her better.
7-Oct-2020
Four-Star Sean Joseph Realizes He Belongs at William & Mary
Sean Joseph gained more confidence in his ability to play at the Division I level after receiving positive feedback from a college coach. The four-star senior from Chantilly, Virginia believes he found the right fit for his future at William & Mary.
About Rhiannon Potkey
Rhiannon Potkey is a veteran sportswriter with more than two decades of experience in journalism. Potkey has covered many sports at many levels and has a passion for finding great stories. Potkey has covered the U.S. Open, junior sectional and national events, college conference championships and Davis Cup matches. Potkey is currently Content Strategist for Tennis Recruiting. You can reach Rhiannon by email at
[email protected]
.