Player Spotlight
Spotlight Players of the Week: Kacey Feng and Wyeth Anzilotti
by Rhiannon Potkey, 17 November 2020
SPOTLIGHT ON Kacey Feng (Manhattan Beach, California)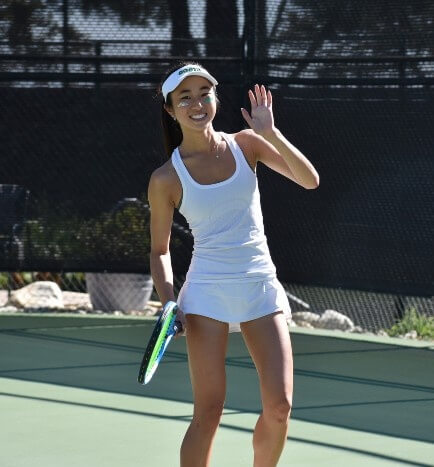 Music on your playlist: My favorite person is Post Malone. He is just really fun and I love his music. Then, I also listen to Khalid and I like country music too.
Dream vacation destination: My favorite place to go is always Hawaii. I used to go there every summer with my family. I'd go there or anywhere tropical like the Caribbean.
Favorite food: Ice cream
Favorite athletes: Roger Federer and Naomi Osaka. I like how they are both so composed on the court.
Future occupation: I am really excited to study business in college and work to become a top executive in an industry to work with all kinds of different people in the world. I am also interested in maybe minoring in journalism or psychology.
If you could have dinner with anyone dead or alive, who would it be: Kobe Bryant, because I always used to go to Laker games when I was growing up and he was always such a big role model for me.
Must-watch TV show: Gossip Girl or Money Heist
Favorite movie: Starstruck. It's been my favorite since I was 10 and I don't think it will ever change.
If I am not playing tennis, I am … going to the beach with friends or cooking and baking with my family.
Instagram handle: @kaceyfeng