Recruiting Feature
Top Men's Classes - 2021 Winter Rankings
by TennisRecruiting.net, 25 January 2021
While COVID-19 has brought many changes, the sports world has done its best to keep things as normal as possible - providing exercise and entertainment in our new, weird world.
College tennis is no exception. Many colleges are competing in 2020-21, and college coaches are connecting with high school seniors despite obstacles and new rules. More than 700 high school seniors (boys, girls) have made verbal or formal commitments to college programs for Fall 2021.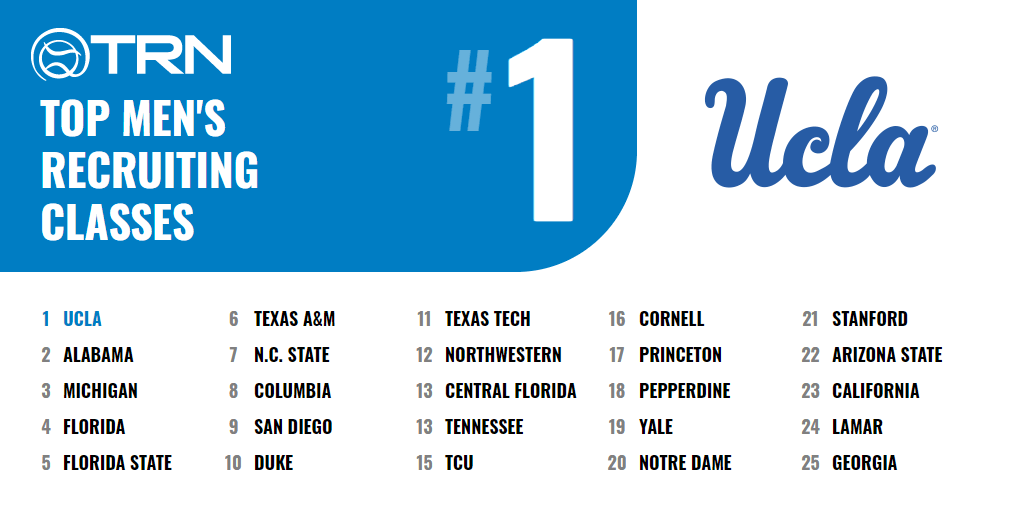 With so many committed recruits for the Class of 2021, now is a great time to check how the various schools stack up. Today, TRN presents the Top 25 Men's Recruiting Classes for the Class of 2021.
Media Poll
The Tennis Recruiting Network has again enlisted the aid of junior tennis experts to determine the top classes. Reporters, national and international tournament directors, referees, ranking chairmen, and writers from across the country have donated their time and talents to vote on these top classes. Panelists for this voting period are shown below.
Each of our panelists submitted his/her take on the Top 25 recruiting classes. Schools received 25 points for each first-place vote, 24 points for each second-place vote, on down to 1 point for each 25th-place vote. The panelists were told not to consider incoming transfer students in their voting - and also did not consider incoming freshmen who are competing this spring.
The list below shows the Top 25 recruiting classes - showing the point values for each class along with the number of first-place votes in parentheses.