Special from
Zoo Tennis
SAN DIEGO, Calif. - A last-minute location change made the 2021 Easter Bowl possible this year, with Iva Jovic and Cooper Woestendick winning the 14s titles and Shannon Lam and Sebastian Bielen taking the gold balls in the 12s division.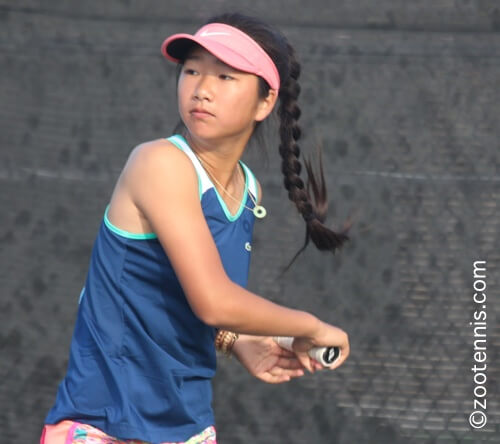 Girls 12s Champion Shannon Lam
© Zoo Tennis
Thanks to Ryan Redondo, general manager of San Diego's Barnes Tennis Center, Easter Bowl tournament director Lornie Kuhle, and the USTA, the tournament, traditionally held in the Coachella Valley, came off at its usual time of year, despite having less than two months to engineer the change of venue.
"When I spoke to Lornie about the situation going on, we went to work to get those other sites," Redondo said of the auxiliary clubs in the San Diego area that hosted 12s and 14s matches during the six-day event for those divisions, which overlapped with the ITF and the 16s division tournaments. "We're partners and we need to be of service to the USTA and tennis, and so we feel extremely lucky to be a part of it. It felt like a great experience for parents and kids, lots of smiles, it just looked fun. To me, it went as well as it could have gone. Maybe we got some kids playing that wouldn't otherwise have this opportunity."
Both 12s champions were No. 4 seeds and from the USTA Eastern section, with Lam and Bielen earning their first gold balls over No. 9 seeds.