Notes
The table above lists all recruits as of May 7, 2021. In addition to the Star Rating, we display the highest TRN, UTR, ITF junior, and WTT rankings for each player since January 1, 2020, and for international players we display the TRN ranking they would hold if eligible.
Also Receiving Votes
Other men's programs receiving votes are: Northwestern (73), Purdue (57), Loyola Marymount (55), Arkansas (47), Stanford (46), Pepperdine (45), Yale (38), Middle Tennessee (30), South Florida (23), Washington (14), California (12), Boston University (11), Air Force (10), Penn (7), Tulane (7), Lamar (6), Davidson (4), Arizona (3), Louisiana (1)
Twice as Nice
Over the past decade, the ACC has been a standout conference in NCAA Men's Tennis. Virginia won four out of five NCAA Team Titles between 2013 and 2017, while Wake Forest won a championship in 2018 and reached the final a year later. Meanwhile, North Carolina won the ITA National Team Indoors Title back in February.
With all those accolades, it is no surprise that the ACC does well on the recruiting trail. Over the past five years, ACC programs have posted ten recruiting classes ranked in the Top 10. With all that success, we might expect to see an ACC team - or two, in this case - at the top of our recruiting class rankings. But which programs appear at No. 1 might surprise you.
For the first time in the history of our rankings, there is a tie at the top of our list. The Florida State Seminoles and N.C. State Wolfpack each earned 470 points from our panel to share honors as the No. 1 recruiting class in the land. This is the first time that either program has been named No. 1.
Seminoles Building
COVID-19 has produced many strange outcomes throughout sports, and Florida State could not escape the madness. The Seminoles saw their streak of 17 consecutive NCAA Tournament appearances come to an end in 2021.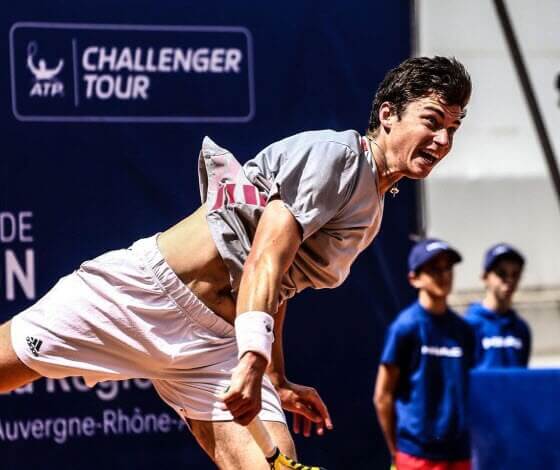 But Head Coach Dwayne Hultquist and his staff have things looking better for years to come. Florida State returns 4 of its Top 6 singles contributors in 2021-22 - including top-line player Loris Pourroy - and adds historic talent to the mix.
The Seminole class consists of four highly-decorated international players. Frenchmen Antoine Cornut-Chauvinc and Joshua Dous Karpenschif will join Youcef Rihane of Algeria and Australian Alex Bulte next Fall in Tallahassee. Cornut-Chauvinc, who has been ranked as high as #408 in the ATP rankings, boasts the highest UTR of any college-bound athlete this year. Dous Karpenschief has been ranked #48 in the ITF junior tennis rankings, while Bulte and Rihane are the No. 1 and No. 4 junior players in Australia and Africa, respectively.
This Seminoles class earned 470 points from our panel and 10 out of 20 first-place votes. That tally is good enough for No. 1 in our recruiting class rankings alongside N.C. State.
Hultquist is understandably excited about the prospects for next season.
"It was extremely satisfying to hear that we have been ranked as the number one recruiting class in the country. Antoine, Joshua, Youcef, and Alex all have vast international experience, and I can't wait to get to work with them. I would like to give credit to both our assistant and volunteer coaches as well as all the media staff who played a major role in bringing this class to another level and successfully overcome the recruiting restriction from the COVID-19."
Strength of the Pack
One of the best stories in college tennis is Head Coach Kyle Spencer and the N.C. State men's program. Spencer came to Raleigh prior to the 2017-18 season, and the Wolfpack have been on an upward trajectory ever since. In three full seasons of competition with Spencer at the helm, N.C. State has achieved season-ending Oracle/ITA Rankings of No. 29, No. 23, and No. 26. The Pack advanced to the NCAA Team Championships all three years, reaching the tournament's second round the past two seasons.
The future may be even brighter. N.C. State has a diverse, five-man class arriving in August, with two in-state recruits and three international players. The North Carolina players include Blue Chip senior Braden Shick (Greensboro) as well as 5-Star recruit Joe Wayand (Cary). They bring a local flair to go along with Damien Salvestre (France), Fons Van Sambeek (Netherlands), and Luca Staeheli (Switzerland).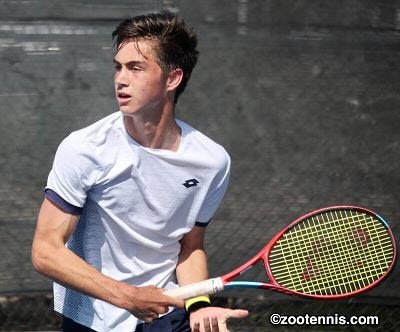 Shick, who won the singles title at the J3 Sabana Bowl in April, has been in the Top 10 of the TRN Class of 2021 rankings for the past three years. Wayand is 13-2 in singles play so far in 2021 - including winning both the singles and doubles titles at the USTA L3 Open in Virginia Beach. Staeheli is a Swiss National Champion, while Salvestre and Van Sambeek have each won multiple ITF titles.
Together, these five players earned 470 points from our panel and 6 first-place votes to claim a share of the No. 1 recruiting class along with FSU.
Spencer was quick to thank his staff.
"We are very excited about our incoming freshman class," said Spencer. "Much of the credit goes to Cris James for the countless hours he puts in helping evaluate and develop relationships with these special guys. We can't wait to have Braden, Fons, Damien, Joe, and Luca on campus this Fall."
Give Me Five
Three other recruiting classes who caught the attention of our panel are in our Top 5 - starting with the UCLA Bruins in the No. 3 spot.
UCLA recruit Alexander Hoogmartens of Belgium has been a standout internationally, winning singles matches at both the Australian Open and French Open juniors. Blue Chip seniors Karl Lee (Sacramento, Calif.) and Spencer Johnson (Bountiful, Utah) round out a powerful trio that earned 3 first-place votes for Head Coach Billy Martin's class.
The Columbia Lions, at No. 4 in our rankings, are the only other program to earn a first-place vote. While the Ivy League did not compete during the 2020-21 season due to COVID-19, the Columbia staff was still able to put together a strong class that includes Blue Chip senior Hugo Hashimoto (San Jose, Calif.), French standout Max Westphal, and 5-Star seniors Alex Finkelstein (Raynham, Mass.) and Jayden Templeman (Springville, Utah).
Rounding out our Top 5 is the Alabama Crimson Tide. Alabama, who earned 406 points in the voting, easily outdistanced the next team in the rankings by 49 points.
Conference Call
Nine conferences have at least one program featured in our recruiting class rankings, but the ACC and SEC both stand out with six ranked classes apiece - 12 of the 25 programs in our rankings and two more than any other conference.
Top ACC programs Florida State and N.C. State are joined in the rankings by the Notre Dame Fighting Irish (No. 13), Duke Blue Devils (16), Clemson Tigers (18), and Miami Hurricanes (19).
The SEC's ranked classes include three of the Top 10 and five of the Top 12. In addition to Alabama (5), the SEC is represented by the Tennessee Volunteers (7), Georgia Bulldogs (10), Texas A&M Aggies (11) Florida Gators (12), and Auburn Tigers (22).
Also notable is the Ivy League. With four ranked recruiting classes, half of the Ivy institutions appear on our list - the highest percentage of any conference.
Major Case
Three programs in our rankings come from outside the six so-called "power conferences" of college tennis which consist of the Power Five conferences as well as the Ivy League. The San Diego Toreros from the West Coast Conference lead the way at No. 14 in our rankings with a diverse class from California, Canada, and Finland. Also in the rankings are the Central Florida Knights (No. 20) out of the American Athletic Conference and the Rice Owls (22) from Conference USA. We'll hear much more about these programs when we release our mid-major rankings in a couple of weeks.
Drop Shots
Scattershooting through the rankings:
New Group: 16 schools are represented on this list that did not appear in our 2020 recruiting class rankings.
Welcome Aboard: After receiving votes in 2017 and 2019, Texas Tech breaks through with its first ranked recruiting class in program history. The Red Raiders check in at No. 15 on our list.
Welcome Back: N.C. State (No. 1) has its first ranked recruiting class in a decade - the Wolfpack was ranked No. 21 back in 2011. That is two years longer than Alabama (5) who is back in the rankings for the first time since 2013.
Best Ever: Five teams have posted the highest rankings in program history - Florida State (1), N.C. State (1), Alabama (5), and Texas Tech (15). Two other programs have matched their highest rankings: Columbia (No. 4 in 2020 and 2021) and San Diego (No. 14 in 2010 and 2021).
Streaking: The Columbia Lions are on our list for the third straight year - more consecutive appearances than any other program.
Panelists for 2021
The 20 panelists for this voting period are shown below alphabetically. Please join us in thanking them for donating their time and talents to this effort.
Casey Chapin - National Tournament Director, Director, Hudlow Tennis Center
Scott Colson - Payers and Players Podcast
Brian Cory - Director of Tennis at Carmel Valley Athletic Club, National Tournament Director
Sonny Dearth - Daily Press newspaper and dailypress.com Web site in Newport News, Va.
Joey Dillon - TRN contributor, freelance writer
Tim Donovan - Donovan Tennis Strategies, DTS College Prospects Showcases
Larry Haugness - Former ITF and USTA National Tournament Director, PTR National Tester, USPTA, Junior Davis Cup Coach
Granger Huntress - Texas College Tennis blog
Ernie Katko - Junior Development Coach in Chicago, USTA High Performance Coach
Bobby Knight - CollegeTennisToday.com
Matt Knoll - American College Placement, Former Head Coach at Baylor University.
Dave "The Koz" Kozlowski - Inside Tennis With The Koz, The Tennis Channel
Colette Lewis - ZooTennis.com
Rick Limpert - TRN contributor, freelance writer
Parsa Nemati - Junior and college tennis expert, Parsa Bombs
Phil Parrish - Tennis Director, The Longfellow Club, National Tournament Director, Former College Coach
Robert Sasseville - National Tournament Director, USTA Junior Competition Committee Member, USTA National Referee
Lisa Stone - ParentingAces.com
Clayton Taylor - Former ATP and Collegiate Coach. Former Director of U.S. International Hard Courts and National Opens
Julie Wrege - TRN principal, TennisInformation.com principal, former National Tournament Director, former USTA junior ranking chair and USTA Tennis Rules Committee member
Leave a Comment
More Recruiting Class Rankings
7-Feb-2022
Top Women's Classes - 2022 Winter Rankings
The size of our commitment list is pushing 500 for the senior girls. With that in mind, today is a great time to check in on how schools are doing on the recruiting trail. Today, the Tennis Recruiting Network is proud to present the Top 25 Women's College Tennis Recruiting Classes of 2022.
31-Jan-2022
Top Men's Classes - 2022 Winter Rankings
With Signing Week in the rear view mirror and over 800 college commitments in the books, today is a great time to take a look at the top recruiting classes. TRN is excited to present its 2022 Men's Recruiting Class Rankings.
17-Jun-2019
2019 Top NCAA D-III Men's Classes
The Tennis Recruiting Network is excited to present its recruiting class rankings for NCAA Division III conferences. Today we unveil our Top 25 D-III men's recruiting classes for 2019. For the fourth time in five years, our top-rated class comes from the Windy City.