2021 Clay Court Nationals
Pinzon Prevails to Claim Boys 16s Title
by Sonny Dearth, 22 July 2021
Coming from a set behind three times in a week, Felipe Pinzon took the most prestigious tournament title of his life at the USTA Boys' 16 National Clay Court Championships.
Playing near home in south Florida, Pinzon capped a memorable week with a 5-7, 6-2, 6-3 triumph over Ari Cotoulas of Brooklyn, New York.
"He had a really tough draw, but he's the type of kid that under pressure, he likes to go for bigger," said Heinz Shady, who coaches Pinzon in the High Intensity Tennis Training program in Sunrise, Florida. "He plays much better under pressure. He's one of those kids that's fearless, that likes pounding the ball."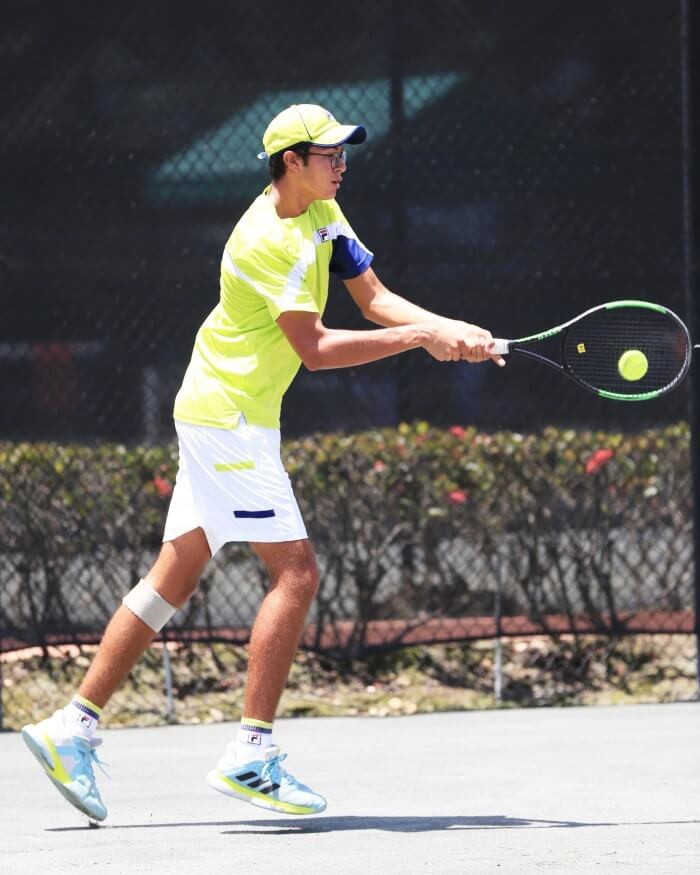 Boys 16s Singles Champion Felipe Pinzon
© Bill Kallenberg/CapturedInAction
Shady, HITT's Director of Tennis, said Pinzon went to Colombia after the 16s Clay to try to accumulate ranking points toward qualifying for the U.S. Open Junior Championships.
The Boys 18s and 16s Clay tournaments were based at Delray Beach Tennis Center, but frequent rain prompted numerous adjustments.
At one point, the event was more than 150 matches behind. Organizers shortened some matches to make sure more were played, and they eventually made up every one.
John Butler, working alongside tournament director Ivan Baron, called it "incredible work by all the clubs and patience shown by all participants. We finished under a couple days of glorious weather. There must've been more than 1,000 people in town between all the players, families, personal coaches and college coaches."
Pinzon, a rising senior four-star recruit, was one of the No. 17 seeds. He showed plenty of resilience and endurance as he won seven matches, four of those in three sets. In a trio of those, he dropped the first set.
The 16-year-old began with a 4-6, 6-1, 6-2 triumph against Meethre Barot of Frisco, Texas, before gaining a 6-1, 6-2 victory versus Asror Ismoilov.
Pinzon then raised eyebrows with a nerve-wracking 4-6, 6-3, 1-0 (11-9) upset of top-seeded Emon van Loben Sels of Sacramento, California, then beat No. 14 Owen Megargee of Washington, D.C., 6-4, 6-4 and upended No. 6 Andrew Delgado of High Point, North Carolina, 6-3, 5-7, 6-2.
In the semifinals, Pinzon breezed past a fellow co-17th seed and south Floridian, Roy Horovitz of Key Biscayne, 6-1, 6-3.
Cotoulas, a five-star rising junior from John McEnroe Tennis Academy, had a slightly easier path to the championship match. He beat his first five foes in straight sets, including a 6-4, 6-1 victory over No. 5 Stefan Regalia of Arlington, Virginia, and a 7-6(4), 7-6(4) win against co-33rd seed Kane Kelley of Chatsworth, California. Cotoulas finally dropped a set in his semifinal but rallied for a 4-6, 6-2, 6-2 triumph against No. 4 Cooper Woestendick of Olathe, Kansas.
In the final, Pinzon overcame yet another set deficit.
"His forehand, that's the weapon," Shady said. "We're working on volleys, developing more on his serve. We all love him at the club."
Born in the U.S. but raised in Colombia, Pinzon and his brother Nico — a four-star prospect who's set to play for Davidson as a freshman this season — have been developing with HITT for several years, since their family moved back to the U.S.
Felipe "looks up to his brother," Shady said. "They're very independent, very mature. I'm very happy for him and the family after all these years of effort."
Horovitz earned third place with a 6-3, 6-4 win against Woestendick.
No. 10 seeds Caden Hasler of American Fork, Utah, and Dylan Tsoi of El Dorado Hills, California, captured the doubles championship. They took the title with a 4-6, 6-3, 1-0 (10-2) triumph against Woestendick and Regalia.
Four of the champions' six victories, including the last three, came after they split sets and were decided by a match tiebreak to 10. Until the semifinals, the sets were played to four games instead of six.
It was the first gold ball for Hasler. His mother, Holly Parkinson Hasler, the Brigham Young University women's head coach, noted that she won her first gold ball in 1994 at the Girls' 14 Clays in nearby Plantation.
"When he got in the car after winning the semifinals, he said, 'Mom, I'm guaranteed a ball — now I just have to determine which color,'" Parkinson Hasler said.
Tsoi said he and Hasler never had competed together, "but in the Round of 16, we saved four set points, and that kind of set the tone. ... As the tournament went on, we got used to each other a little bit more. I'm just super-happy we pulled it out."
Leave a Comment
More Tournament Features
23-Jul-2021
Honer Wins First Gold Ball By Securing Girls 18s Title
Losing early in doubles at the USTA Clay Court National Championships had a silver lining for Amelia Honer. The UCSB-bound Pennsylvania native conserved her energy and walked away with a gold ball in the Girls 18s singles.
23-Jul-2021
Colby Makes Healthy Return to Win Boys 18s Title
Ryan Colby thought he may never play competitive tennis again after leaving the USTA National Clay Court Championships with a serious elbow injury three years ago. That made capturing the Boys 18s singles title this year even sweeter.
22-Jul-2021
Quevedo Leaves Huntsville with Girls 16s Title, Gold Ball
Kaitlin Quevedo didn't know anything about gold balls before playing the USTA Girls 16 National Clay Court Championships. She was handed the prize possession after winning the singles title in Alabama. Stephanie Yakoff and Natalia Perez won the doubles title.
About Sonny Dearth
Sonny Dearth is a writer and copy editor, primarily for the sports section, at the Daily Press newspaper and
dailypress.com
Web site in Newport News, Va.
Dearth has more than 40 years of experience in tennis. He is a former state high school champion who has served as a volunteer assistant coach in Virginia, where he started for four years at James Madison University in the late 1980s. He has competed in a few USTA national junior and adult events.