2021 Clay Court Nationals
Wang Learns Helpful Lessons in Girls 14s Title Run
by James Hill, 21 July 2021
Fourth-seeded Tianmei Wang learned a lot about herself en route to winning the singles title at the USTA Girls 14 National Clay Courts Championship over the weekend.
The San Marino, California native claimed the title with a 7-5, 6-3 victory over sixth-seeded Claire Hill (Cary, North Carolina) at the Frank Veltri Tennis Center in Plantation, Florida. In the semifinals, Wang won a 2-6, 6-2, 6-2 battle with fifth-seeded Claire An (New York).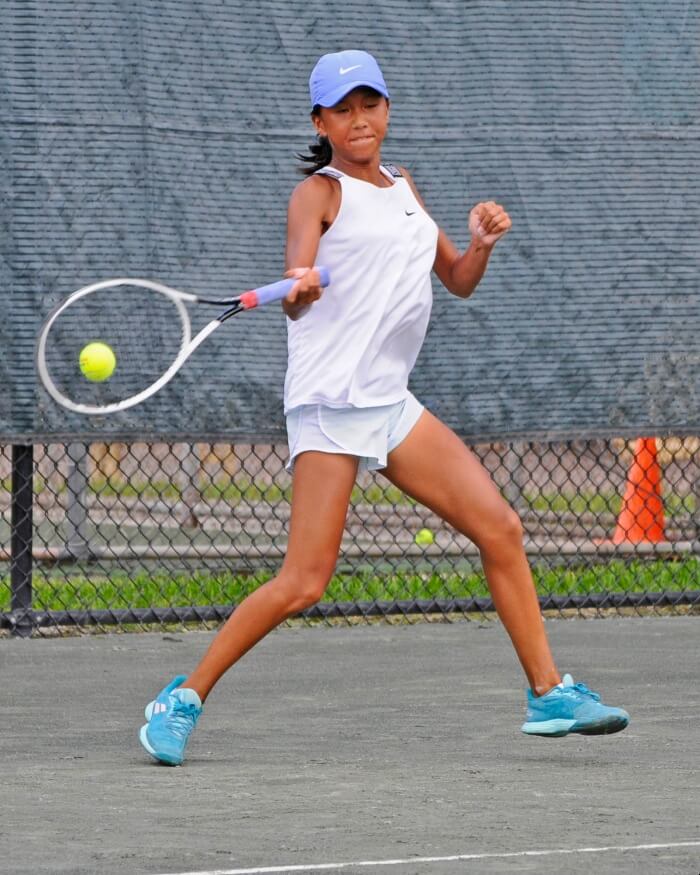 Girls 14s Singles Champion Tianmei Wang
© Alan Bogatay
"I learned to trust my shots a lot, and I am now more confident," said Wang, a blue chip rising freshman who trains with Cecil Mamiit in Burbank, California. "I know that if I want something, I just go for it. I tried to be consistent and played every ball calmly and wisely. I tried not to give away free points. I just went with my gut feeling and tried my best."
Wang, who won her first gold ball, traveled to the tournament early to adapt to the Florida climate, which she said differs from California, and also to get acclimated to the clay courts. Last March, she advanced to the semifinals of the Easter Bowl.
Top seeds An and Katie Rolls (Plymouth, Michigan) won the doubles championship with a 6-1, 7-5 decision over No. 17 seeds Alanis Hamilton (Bentonville, Arkansas) and Hadley Appling (Crestwood, Kentucky). Rolls teamed with Amber Yin (Ballwin, Missouri) to win the Easter Bowl doubles title.
An beat teammate Rolls, the tournament's No. 1 singles seed, 7-6 (4), 6-0 in the claycourt quarterfinals.
Hill, a blue chip rising freshman, competed in her first national final. She outfought Claire Zhang (San Diego), a No. 17 seed, 6-2, 6-7 (3), 6-1 in the semifinals.
"I stayed aggressive when coming into the net," Hill said of her tournament performance. "I used my slices and I think the drop shots were really effective. I gained a lot of confidence in my game by winning the matches."
Hill is coached by Maggie Kane, a volunteer assistant at the University of North Carolina. She also works out at the Van Der Meer Tennis Academy at Hilton Head Island, South Carolina.
Girls 14s Singles Finalist Claire Hill
© Alan Bogatay
An went on to win third place in singles with a 3-6, 6-4, 6-2 victory over Zhang.
Third place in doubles was captured by the unseeded team of Ashley Matz (Brookfield, Wisconsin) and Riley Trinkle (Charlestown, Indiana) who defeated the No. 6 duo of Zhang and Kenzie Nguyen (Irvine, California) 7-5, 7-5.
The USTA Sportsmanship Award was presented to Kirsten Woods (Blacksburg, Virginia).
Lynn Jaimes was on duty on the tournament desk, and had a first-hand look at America's future stars.
"I was amazed by the quality of the players," Jaimes said. "The level here was phenomenal. I can't put my finger on it. Maybe, because of the pandemic, they worked harder, but the level was impressive. I am happy to see that, especially with the girls game."
Leave a Comment
More Tournament Features
23-Jul-2021
Honer Wins First Gold Ball By Securing Girls 18s Title
Losing early in doubles at the USTA Clay Court National Championships had a silver lining for Amelia Honer. The UCSB-bound Pennsylvania native conserved her energy and walked away with a gold ball in the Girls 18s singles.
23-Jul-2021
Colby Makes Healthy Return to Win Boys 18s Title
Ryan Colby thought he may never play competitive tennis again after leaving the USTA National Clay Court Championships with a serious elbow injury three years ago. That made capturing the Boys 18s singles title this year even sweeter.
22-Jul-2021
Quevedo Leaves Huntsville with Girls 16s Title, Gold Ball
Kaitlin Quevedo didn't know anything about gold balls before playing the USTA Girls 16 National Clay Court Championships. She was handed the prize possession after winning the singles title in Alabama. Stephanie Yakoff and Natalia Perez won the doubles title.
About James Hill
James Hill is the Assistant Sports Information Director at Trinity University in San Antonio and a freelance writer. He has covered all levels of tennis competition.