Special from
Zoo Tennis
After a surprise run to the Wimbledon boys title this summer, Samir Banerjee didn't anticipate a comparable thrill before 2021 drew to a close. But the 18-year-old from New Jersey got one when he was selected to serve as a hitting partner for the ATP's biggest stars at its year-ending Finals competition in Turin, Italy.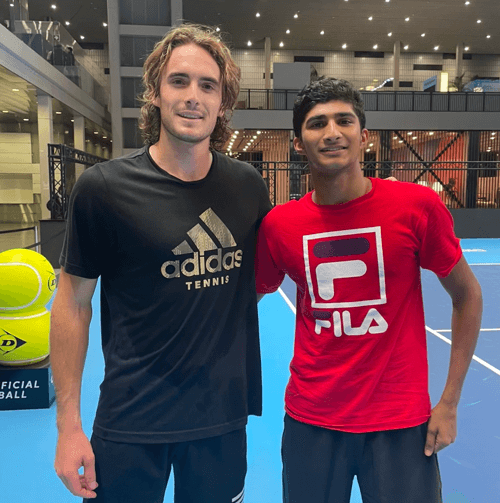 Stefanos Tsitsipas and Samir Banerjee
© Contributed Photo
"At the US Open, a representative from the ATP talked to my parents about the opportunity," said Banerjee, who concluded his ITF junior career No. 3 in the world rankings. "They said, we'll pay for everything, just come to Italy: all expenses paid, just come train with us, learn about the ATP, what goes on behind the scenes, learn how the players prepare. So it's really a cool program that they're doing."
Banerjee and Switzerland's Jerome Kym, another top junior, practiced with most of ATP's Top 10, splitting duties between them.
"I hit with everyone except [Matteo] Berrettini, because he got injured", Banerjee said. "And I didn't hit with [Alexander] Zverev, because he only hit with his brother, and [Hubert] Hurkacz had his own hitting partner that he brought, but I hit with everyone else: [Novak] Djokovic, [Stefanos] Tsitsipas, [Daniil] Medvedev, [Casper] Ruud, [Andrey] Rublev."