News & Features
Special Feature
Fight With Filer
by TennisRecruiting.net, 20 February 2022
TRN has covered David Filer a number of times over the years. The Blue Chip freshman from South Bend, Indiana, has the reputation of being a strong competitor.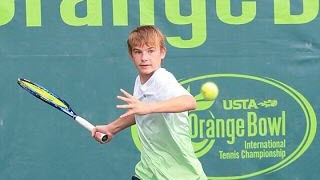 Unfortunately, Filer is in the news today for tougher reasons. Last week while at a USTA Level 2 in Scottsdale, Arizona, Filer fell ill and was diagnosed with Glioblastoma Multiforme, an aggressive brain cancer.
A number of families in USTA Midwest have created a fundraising page on GoFundMe to help the Filer family in this difficult time. If you have the means, please consider donating to help the Filers as they weigh different treatments for David.
Leave a Comment
More Special Features
20-Jan-2023
Eight Intriguing Questions for 2023
Colette Lewis provides her annual look at developments in junior and college tennis. The 2023 Eight Intriguing Questions highlights important issues that could change the landscape of the sport in ways big and small in the coming year.
14-Nov-2022
Q&A: Stearns Steers Toward Pro Success
Former NCAA champion Peyton Stearns has had a successful start to her professional career. Before a recent match on tour, she sat down with Colette Lewis for a Q&A about her post-Texas tennis life and future ambitions.
13-May-2022
Former Illini Anderson Reflects on His College, Pro Career
Former Illinois All-American Kevin Anderson announced his retirement from the ATP Tour last week. One of the top former collegians to compete on the ATP tour this century, Anderson reflected on his career milestones, how college helped him and his future plans.